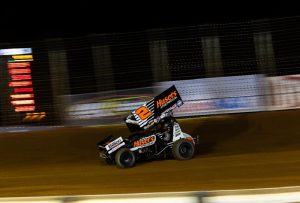 Inside Line Promotions – ATTICA, Ohio (May 23, 2022) – David Gravel posted his 17th top 10 of the season last Tuesday during a World of Outlaws NOS Energy Drink Sprint Car Series event at Bridgeport Motorsports Park.
Gravel led Big Game Motorsports to the third quickest qualifying time at the oval in Swedesboro, N.J., before he won a heat race to advance into the dash. Unfortunately, the team was snakebit again and Gravel drew the No. 7 to start on the inside of the final row. A seventh-place result in the dash was followed by a 10th-place outing in the A Main.
"The track was super slick," he said. "I was able to go out and qualify well and we took care of business in the heat race. In the dash we maintained and I didn't feel that good. We tried to change it up for the feature and just missed it. We were able to hang around in seventh, but as the track got slicker I fell back a couple of spots. There was a late-race caution and I lost another spot. We struggled there last year and haven't quite figured it out yet."
The team ventured to Attica Raceway Park on Friday. Gravel set quick time out of the 41 competitors. Another heat race victory was once again met with the No. 7 in the dash draw – marking the fourth straight race Gravel has drawn the last row for the dash. He placed seventh in the dash to line up on the inside of the fourth row in the main event.
"We had a good car," he said. "We qualified well and heat raced well. The boys made some changes and gave me a good car in the A Main. I thought we had all the tools to go out there and challenge for possibly a win or at least a podium, but we blew a tire pretty early. It blew the power steering line off the wing ram. That forces the wing to move forward, which is bad on a slick track. And it emptied all of the power steering fluid, which creates a vaporlock and the steering locks up. We kept going to the work area each caution and we're trying to get the wing ram off it and weren't able to. The last eight laps I was putting around there just trying to finish."
Gravel was credited with an 18th-place result.
Saturday's event at Sharon Speedway in Hartford, Ohio, rained out.
Next up for the team is a race this Saturday at Atomic Speedway in Waverly, Ohio. Gravel's last appearance at the track was in July 2011 when he finished second during a Tezos All Star Circuit of Champions race.
"It's a fast, high-banked track and is very intense," he said. "It's a place I liked a lot when I used to race there. I qualified well there, but I'd get beat late in the A Mains with really good guys when I was younger."
QUICK RESULTS –
May 17 – Bridgeport Motorsports Park in Swedesboro, N.J. – Qualifying: 3; Heat race: 1 (1); Dash: 7 (7); Feature: 10 (7).
May 20 – Attica Raceway Park in Attica, Ohio – Qualifying: 1; Heat race: 1 (1); Dash: 7 (7); Feature: 18 (7).
SEASON STATS –
21 races, 2 wins, 11 top fives, 17 top 10s, 19 top 15s, 20 top 20s
UP NEXT –
Saturday at Atomic Speedway in Waverly, Ohio, with the World of Outlaws NOS Energy Drink Sprint Car Series
MEDIA LINKS –
Twitter: https://twitter.com/BigGameMotorspt
HUSET'S SPEEDWAY –
Huset's Speedway is a dirt oval located in Brandon, S.D. The track opened in 1954 and has undergone a large renovation within the last few years, making it a premier destination for both marquee racing events and weekly programs. For more information, visit http://www.HusetsSpeedway.com.
JACKSON MOTORPLEX –
Jackson Motorplex is a 4/10-mile dirt track located in Jackson, Minn. It hosts special events from May through September, including races with the World of Outlaws NOS Energy Drink Sprint Car Series, Midwest Power Series, Tri-State Late Models and more. For more information, visit http://www.JacksonMotorplex.com .
TICKET LINK –
To purchase online tickets for events at either Huset's Speedway or at Jackson Motorplex, visit http://mpv.tickets.com/schedule/?agency=JKMV_PL_MPV&orgid=55369#/?view=list&includePackages=true .
INSIDE LINE PROMOTIONS –
Inside Line Promotions specializes in affordable public relations and media management for motor sports drivers, teams, sponsors, tracks, series, events, organizations and manufacturers. ILP Founder Shawn Miller leverages professional journalism with new media technologies and social networking to improve your exposure and the return on investment for your sponsors.
To meet the media relations needs of your program by joining Team ILP, contact Shawn at 541-510-3663 or Shawn@InsideLinePromotions.com . For more information on Inside Line Promotions, visit http://www.InsideLinePromotions.com.
*PHOTO BY TRENT GOWER PHOTOGRAPHY*