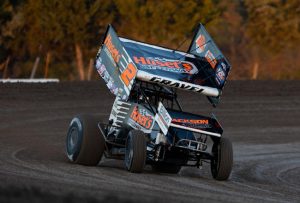 Inside Line Promotions – MESQUITE, Texas (April 5, 2022) – David Gravel highlighted a busy week of racing and traveling with the World of Outlaws NOS Energy Drink Sprint Car Series by recording a top-five run a week ago Tuesday.
The Big Game Motorsports driver posted a fifth-place outing during his debut at Vado Speedway Park in Vado, N.M. Gravel overcame a 13th -place qualifying time by hustling from fifth to third place in a heat race followed by a move from seventh to fifth in the A Main.
"We didn't qualify the way we wanted to," he said. "We just didn't have the speed. Then in the heat race we were able to make some stuff happen to get to third, which was huge because it was pretty hard to pass. In the feature we were able to make our way to fifth and I thought that was the most we could get out of it. We were pretty happy to finish where we did after starting out the night like we did."
A trip to Lawton Speedway in Lawton, Okla., on Friday was greeted by inclement weather, which postponed the event. The team trekked to Devil's Bowl Speedway on Saturday for the Duramax Drydene Texas Outlaw Nationals. Gravel timed in 12th quickest and finished where he started – third – in a heat race. He then battled just outside the top 10 throughout the feature before ending 13th.
"It was hammer down all night long," he said. "Pretty much where you started was where you finished. On the start someone in front of me got messed up and I got on the brakes and we lost a spot. The only other opportunity I had to pass was a double-file restart. We gained a couple of spots, but the caution came out so it got taken away."
A Missouri doubleheader is on tap for the team with U.S. 36 Raceway near Osborn hosting an event this Friday and Lake Ozark Speedway in Eldon showcasing the Jason Johnson Classic on Saturday.
Gravel finished third at U.S. 36 Raceway in 2016 and fourth in 2020. He has placed in the top seven during six career World of Outlaws races at Lake Ozark Speedway, including a win in 2019.
"U.S. 36 is a unique place and I like the shape of Lake Ozark," he said. "The last time we were there it was rough so hopefully Mother Nature plays nice. Hopefully we can have two good surfaces this weekend because both tracks have potential to race very well."
Gravel enters this weekend ranked third in the World of Outlaws championship standings – only 12 points out of second place and 44 behind the leader.
QUICK RESULTS –
March 29 – Vado Speedway Park in Vado, N.M. – Qualifying: 13; Heat race: 3 (5); Feature: 5 (7).
April 2 – Devil's Bowl Speedway in Mesquite, Texas – Qualifying: 12; Heat race: 3 (3); Feature: 13 (12).
SEASON STATS –
12 races, 2 wins, 8 top fives, 9 top 10s, 11 top 15s, 11 top 20s
UP NEXT –
Friday at U.S. 36 Raceway near Osborn, Mo., and Saturday at Lake Ozark Speedway in Eldon, Mo., for the Jason Johnson Classic with the World of Outlaws NOS Energy Drink Sprint Car Series
MEDIA LINKS –
Twitter: https://twitter.com/BigGameMotorspt
HUSET'S SPEEDWAY –
Huset's Speedway is a dirt oval located in Brandon, S.D. The track opened in 1954 and has undergone a large renovation within the last few years, making it a premier destination for both marquee racing events and weekly programs. For more information, visit http://www.HusetsSpeedway.com.
JACKSON MOTORPLEX –
Jackson Motorplex is a 4/10-mile dirt track located in Jackson, Minn. It hosts special events from May through September, including races with the World of Outlaws NOS Energy Drink Sprint Car Series, Midwest Power Series, Tri-State Late Models and more. For more information, visit http://www.JacksonMotorplex.com .
TICKET LINK –
To purchase online tickets for events at either Huset's Speedway or at Jackson Motorplex, visit http://mpv.tickets.com/schedule/?agency=JKMV_PL_MPV&orgid=55369#/?view=list&includePackages=true .
INSIDE LINE PROMOTIONS –
Inside Line Promotions specializes in affordable public relations and media management for motor sports drivers, teams, sponsors, tracks, series, events, organizations and manufacturers. ILP Founder Shawn Miller leverages professional journalism with new media technologies and social networking to improve your exposure and the return on investment for your sponsors.
To meet the media relations needs of your program by joining Team ILP, contact Shawn at 541-510-3663 or Shawn@InsideLinePromotions.com . For more information on Inside Line Promotions, visit http://www.InsideLinePromotions.com.
*PHOTO BY TRENT GOWER PHOTOGRAPHY*