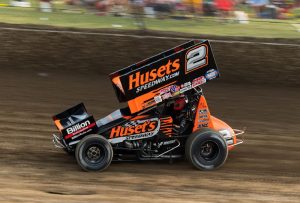 Inside Line Promotions – MESQUITE, Texas (Nov. 2, 2021) – David Gravel highlighted last weekend with a fifth-place performance at Lawton Speedway.
The Big Game Motorsports driver followed the outing with a ninth-place showing the ensuing night at Devil's Bowl Speedway, which hosted the Texas Outlaw Nationals.
"It was an okay weekend," he said. "The first night we qualified pretty good and did our job early in the night to get into the dash. We didn't get a good dash draw and I wasn't able to gain a row in the dash like I would have liked. It would have been a huge benefit to get to fourth and start the feature on the outside of the second row."
Gravel qualified third quickest, placed second in a heat race and finished fifth in the dash at the dirt oval in Lawton, Okla. He battled for a top five throughout the World of Outlaws NOS Energy Drink Sprint Car Series A Main before ending fifth – his 44th top five of the season.
"It also would have changed our race if we were a little better," he said. "We could maintain, but just couldn't make anything happen. I got a little free in the middle of the race. Then I got the wing back and that made the car better. We were good enough to hang around, but not charge forward."
The team headed to Devil's Bowl Speedway on Saturday.
"We went out early in qualifying and it wasn't a good thing," he said. "Everybody picked it up midway through the qualifying order. Cody (Jacobs) hasn't been there as a crew chief and Devil's Bowl is a very unique place. We think we might have had the wrong gear in for qualifying and it was the last night that we had that motor in before it was sent off to being rebuilt. With all of that combined we didn't qualify as well as we normally do, which will happen in racing from time to time."
Gravel timed in ninth quickest. A third-place result in a heat race lined him up on the inside of the fifth row in the A Main.
"The track wasn't very racy," he said. "We were able to start third and finish third in the heat. In the feature we got to eighth. On a restart we tried to go around some guys in turns one and two and lost two spots. We were able to get one back to finish ninth. We were just a little bit too tight."
The season concludes this Thursday through Saturday at The Dirt Track at Charlotte in Concord, N.C., during the NGK NTK World of Outlaws World Finals. Gravel has won four World of Outlaws features at the event.
"We can't go there and lay an egg," he said. "We need to be competitive and run well. There's a big emphasis on qualifying good and then racing good. Luckily, Charlotte has been a good track for me and the No. 2 car was fast there last year so hopefully that all comes together this weekend."
Gravel enters the weekend ranked second in the World of Outlaws standings.
QUICK RESULTS –
Oct. 29 – Lawton Speedway in Lawton, Okla. – Qualifying: 3; Heat race: 2 (1); Dash: 5 (5); Feature: 5 (5).
Oct. 30 – Devil's Bowl Speedway in Mesquite, Texas – Qualifying: 9; Heat race: 3 (3); Feature: 9 (9).
SEASON STATS –
80 races, 13 wins, 44 top fives, 66 top 10s, 75 top 15s, 78 top 20s
UP NEXT –
Thursday through Saturday at The Dirt Track at Charlotte in Concord, N.C., for the NGK NTK World of Outlaws World Finals with the World of Outlaws NOS Energy Drink Sprint Car Series
MEDIA LINKS –
Twitter: https://twitter.com/BigGameMotorspt
HUSET'S SPEEDWAY –
Huset's Speedway is a dirt oval located in Brandon, S.D. The track opened in 1954 and has undergone a large renovation within the last few years, making it a premier destination for both marquee racing events and weekly programs. For more information, visit http://www.HusetsSpeedway.com.
JACKSON MOTORPLEX –
Jackson Motorplex is a 4/10-mile dirt track located in Jackson, Minn. It hosts special events from May through September, including races with the World of Outlaws NOS Energy Drink Sprint Car Series, Midwest Power Series, Tri-State Late Models and more. For more information, visit http://www.JacksonMotorplex.com .
TICKET LINK –
To purchase online tickets for events at either Huset's Speedway or at Jackson Motorplex, visit http://mpv.tickets.com/schedule/?agency=JKMV_PL_MPV&orgid=55369#/?view=list&includePackages=true .
INSIDE LINE PROMOTIONS –
Inside Line Promotions specializes in affordable public relations and media management for motor sports drivers, teams, sponsors, tracks, series, events, organizations and manufacturers. ILP Founder Shawn Miller leverages professional journalism with new media technologies and social networking to improve your exposure and the return on investment for your sponsors.
To meet the media relations needs of your program by joining Team ILP, contact Shawn at 541-510-3663 or Shawn@InsideLinePromotions.com . For more information on Inside Line Promotions, visit http://www.InsideLinePromotions.com.
*PHOTO BY TRENT GOWER PHOTOGRAPHY*