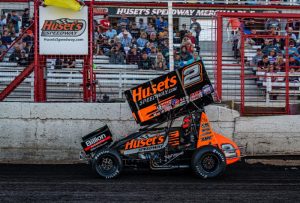 Inside Line Promotions – WINDOM, Minn. (Nov. 17, 2021) – To say that Big Game Motorsports and David Gravel gelled in the first year together is an understatement.
Gravel finished a career-best second in the World of Outlaws NOS Energy Drink Sprint Car Series championship standings. Additionally, Gravel's 11 feature triumphs during World of Outlaws competition are the third most in a single season in his career.
"It was a very successful first season," he said. "To get my career-best finish in the World of Outlaws points was very cool. It was a very strong first season and we're looking forward to continuing to build on it. I've had very successful seasons before and finished 300 points behind the champion. This is one of my closest seasons and I feel we have room to improve."
The second-place showing in the World of Outlaws standings tied a career best for Big Game Motorsports and the 11 World of Outlaws wins are the most for the team since 2012.
The team earned a total of 14 triumphs, many occurring on a big stage as Gravel was victorious during marquee events such as the World of Outlaws World Finals, the Commonwealth Clash, the Gold Cup Race of Champions, the Capitani Classic and the Knoxville Nationals to name a few.
"The week leading up to the Knoxville Nationals, winning the Capitani Classic and our Knoxville Nationals preliminary night, I felt like it was my week again," Gravel said. "Then we had a mechanical problem during the Knoxville Nationals A Main. It really tested us as a team to stay together after you have those really bad moments. To be resilient and bounce back is what shows how good of a team you can be in the losses. We recovered after that and had a strong West Coast swing and we were able to finish the season strong."
The team also garnered a pair of World of Outlaws wins at Huset's Speedway in Brandon, S.D., which is owned by Big Game Motorsports owner Tod Quiring. Gravel reached Victory Lane during the Pioneer Seeds Bin Buster Bash as well as the BillionAuto.com Huset's 50 opener. He also produced a victory during a weekly show at the track.
"With Tod owning the track and putting on big events, winning some races was very good for our fan base and supporting the Huset's brand," Gravel said. "We wish we could have won the big money night. We won the first night of the Huset's 50 and not the second night. They are paying more money this coming year so hopefully we can be just as competitive each night."
Perhaps one of the most special weekends of the season came in April when the team swept the World of Outlaws Bristol Throwdown, winning both nights of the World of Outlaws long-awaited return to Bristol Motor Speedway in Bristol, Tenn.
"We had some great moments and Bristol would be the No. 1 high moment," Gravel said. "To sweep the weekend shows how strong our engine program is. Playing the sprint car World of Outlaws game from 2002 you always got to race on Bristol and see the videos of the racing back then. For sprint car racing to get back on that track and then to be the one to sweep it is pretty cool."
Additionally, the team scored awards at the World of Outlaws banquet. Gravel was the Slick Woody's Qualifier of the Year Award winner thanks to his 19 quick times. Crew chief Cody Jacobs was named the Crew Chief of the Year Award winner along with being the recipient of the Jason Johnson Sportsmanship Award, which was voted on by the drivers, crews and World of Outlaws staff.
SEASON STATS –
82 races, 14 wins, 46 top fives, 68 top 10s, 77 top 15s, 80 top 20s
MEDIA LINKS –
Twitter: https://twitter.com/BigGameMotorspt
HUSET'S SPEEDWAY –
Huset's Speedway is a dirt oval located in Brandon, S.D. The track opened in 1954 and has undergone a large renovation within the last few years, making it a premier destination for both marquee racing events and weekly programs. For more information, visit http://www.HusetsSpeedway.com.
JACKSON MOTORPLEX –
Jackson Motorplex is a 4/10-mile dirt track located in Jackson, Minn. It hosts special events from May through September, including races with the World of Outlaws NOS Energy Drink Sprint Car Series, Midwest Power Series, Tri-State Late Models and more. For more information, visit http://www.JacksonMotorplex.com .
TICKET LINK –
To purchase online tickets for events at either Huset's Speedway or at Jackson Motorplex, visit http://mpv.tickets.com/schedule/?agency=JKMV_PL_MPV&orgid=55369#/?view=list&includePackages=true .
INSIDE LINE PROMOTIONS –
Inside Line Promotions specializes in affordable public relations and media management for motor sports drivers, teams, sponsors, tracks, series, events, organizations and manufacturers. ILP Founder Shawn Miller leverages professional journalism with new media technologies and social networking to improve your exposure and the return on investment for your sponsors.
To meet the media relations needs of your program by joining Team ILP, contact Shawn at 541-510-3663 or Shawn@InsideLinePromotions.com . For more information on Inside Line Promotions, visit http://www.InsideLinePromotions.com.
*PHOTO BY TYLAN PORATH PHOTOGRAPHY*