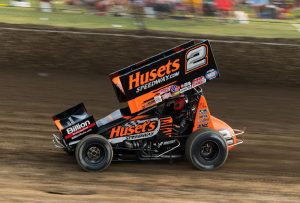 Inside Line Promotions – MECHANICSBURG, Pa. (Oct. 6, 2021) – David Gravel recorded a top-five finish in the Champion Racing Oil National Open finale last Saturday at Williams Grove Speedway.
"I felt like we had good speed all weekend, but lacked a little in the A Main both nights," he said. "We were going to have a solid weekend with a top five and a top 10, but a part failure got us in the feature on Friday. It was a little frustrating. We haven't put a whole night together at Williams Grove. It's a tough track to figure out. Luckily we have the early part of the night figured out and that helps us later in the night."
The Big Game Motorsports team enjoyed a solid ending to the marquee World of Outlaws NOS Energy Drink Sprint Car Series event that began on Friday when Gravel qualified fifth quickest in his group. He then finished where he started – third – in a heat race to lock into the 10th starting position in the main event. Gravel advanced multiple positions early, but a mechanical problem derailed the run and resulted in a DNF.
"It was definitely very, very frustrating," he said. "We know the chance of us winning the championship this year is real slim. That would have been a 40-point swing and instead we didn't gain anything. And second and third are close in points. When you get to the end of the year you don't want those things happening, but it's part of our sport."
The team rebounded on Saturday as Gravel timed in third quickest in his group. He advanced from second to win a heat race and make the dash. A fourth-place result in the dash lined him up on the outside of the second row in the A Main.
"We put ourselves in position and just couldn't capitalize," he said. "The front four guys were able to dice it up and we just weren't able to do that. We rode around in fourth and then lost a spot on a restart. We rode around in fifth and watched it all unfold. We weren't able to get in the line of fire and throw slide jobs. But if we're frustrated with a top five that shows you our expectations."
The fifth-place finish was the 42nd top five of the season for Gravel, who remains second in the World of Outlaws championship standings.
Next up for the team is the Nittany Showdown this Friday and Saturday at Port Royal Speedway in Port Royal, Pa. Gravel is looking for his first career World of Outlaws win at the track.
"It's a tricky joint and there will be a lot of good cars there," he said. "It's a whole new challenge. I've raced there quite a bit over the years, but we only go there twice a year with the World of Outlaws. It's a track I have good confidence at. I feel we'll be able to carry on our good qualifying effort and go from there. I feel we can treat this place more like a Knoxville or Eldora whereas Williams Grove is so unique."
QUICK RESULTS –
Oct. 1 – Williams Grove Speedway in Mechanicsburg, Pa. – Qualifying: 5; Heat race: 3 (3); Feature: 25 (10).
Oct. 2 – Williams Grove Speedway in Mechanicsburg, Pa. – Qualifying: 3; Heat race: 1 (2); Dash: 4 (3); Feature: 5 (4).
SEASON STATS –
75 races, 13 wins, 42 top fives, 61 top 10s, 70 top 15s, 73 top 20s
UP NEXT –
Friday and Saturday at Port Royal Speedway in Port Royal, Pa., for the Nittany Showdown with the World of Outlaws NOS Energy Drink Sprint Car Series
MEDIA LINKS –
Twitter: https://twitter.com/BigGameMotorspt
HUSET'S SPEEDWAY –
Huset's Speedway is a dirt oval located in Brandon, S.D. The track opened in 1954 and has undergone a large renovation within the last few years, making it a premier destination for both marquee racing events and weekly programs. For more information, visit http://www.HusetsSpeedway.com.
JACKSON MOTORPLEX –
Jackson Motorplex is a 4/10-mile dirt track located in Jackson, Minn. It hosts special events from May through September, including races with the World of Outlaws NOS Energy Drink Sprint Car Series, Midwest Power Series, Tri-State Late Models and more. For more information, visit http://www.JacksonMotorplex.com .
TICKET LINK –
To purchase online tickets for events at either Huset's Speedway or at Jackson Motorplex, visit http://mpv.tickets.com/schedule/?agency=JKMV_PL_MPV&orgid=55369#/?view=list&includePackages=true .
INSIDE LINE PROMOTIONS –
Inside Line Promotions specializes in affordable public relations and media management for motor sports drivers, teams, sponsors, tracks, series, events, organizations and manufacturers. ILP Founder Shawn Miller leverages professional journalism with new media technologies and social networking to improve your exposure and the return on investment for your sponsors.
To meet the media relations needs of your program by joining Team ILP, contact Shawn at 541-510-3663 or Shawn@InsideLinePromotions.com . For more information on Inside Line Promotions, visit http://www.InsideLinePromotions.com.
*PHOTO BY TRENT GOWER PHOTOGRAPHY*