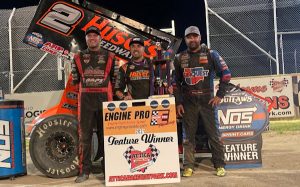 Inside Line Promotions – HARTFORD, Ohio (May 24, 2021) – David Gravel guided the Big Game Motorsports No. 2 sprint car to its fourth feature victory of the season last Friday to highlight a three-race week with the World of Outlaws NOS Energy Drink Sprint Car Series.
Gravel capitalized on late fortunate to capture the World of Outlaws Kistler Engines Classic at Attica Raceway Park in Attica, Ohio, where he started the night by setting quick time during qualifying. A heat race win advanced Gravel into the dash. He placed fourth to line up on the outside of the second row in the main event.
Gravel took the lead on Lap 10 and held the point for the ensuing eight laps. Sheldon Haudenschild then grabbed the top spot for a pair of laps before Gravel led Lap 20. Haudenschild reclaimed the lead just after the midpoint of the 40-lap feature.
"I thought we had a pretty good car in the beginning of the race," he said. "We got stale in the middle. Sheldon got away from us and Donny (Schatz) got back by us. We got the wing back and the car came alive. We got Donny back and started closing on Sheldon. He had bad luck."
Gravel, who briefly dropped to third place, regained second before Haudenschild was caught up in a crash. That gave Gravel the lead for the restart with two laps remaining. He maintained first place to garner his 62 nd career World of Outlaws win.
"We were finishing the A Main strong no matter if he crashed or not," he said. "We've still got some catching up to do. Sheldon is really good right now and he had a good car. We just ran our race and it looked like we were going to run second and we caught a break."
It was especially a sweet night given the frustration the team endured last Tuesday at Bridgeport Motorsports Park in Swedesboro, N.J. Gravel qualified 17th quickest, placed sixth in a heat race and advanced from 17 th to 11th in the main event.
"We struggled all night," he said. "Every time we hit the track we were just off. We were fortunate to finish 11th. I passed a couple of guys, but I'd say four of the six cars I passed fell out.
"After Williams Grove and Bridgeport, to have two lackluster nights wasn't a good feeling. We had to go back to the drawing board and back to Square One. We unloaded good at Attica and hit our stride all night long."
The week wrapped up on Saturday at Sharon Speedway, where Gravel timed in second quickest. He won a heat race – his series-best 12th in 26 races this year – before finishing where he started – fifth – in the dash. He gained a position in the feature to place fourth for his 15th top five of the season.
"We drew a good pill," he said. "The track was slowing down in qualifying. We were able to qualify second and get on the front row of the heat race on a super slick track. We got the job done in the heat. We didn't feel great in the dash so we made some changes for the feature. I felt like we had a pretty strong car. I thought we had a third-place car and we ran fourth. The track was so slick and slow. I think we needed one more shot at the race track to get it completely right."
Gravel remains second in the World of Outlaws standings – only 56 points out of the lead – as the series heads to Indiana for races on Friday at Terre Haute Action Track in Terre Haute and next Monday at Lawrenceburg Speedway in Lawrenceburg during the Memorial Day Spectacular.
"I love Lawrenceburg," he said. "It's a fun track that is high banked and fast. Terre Haute is a place I've been okay at. It's a big, fast, dirty place. It creates some challenges of getting hooked up late in the night."
QUICK RESULTS –
May 18 – Bridgeport Motorplex Park in Swedesboro, N.J. – Qualifying: 17; Heat race: 6 (6); Feature: 11 (17).
May 21 – Attica Raceway Park in Attica, Ohio – Qualifying: 1; Heat race: 1 (1); Dash: 4 (4); Feature: 1 (4).
May 22 – Sharon Speedway in Hartford, Ohio – Qualifying: 2; Heat race: 1 (1); Dash: 5 (5); Feature: 4 (5).
SEASON STATS –
28 races, 4 wins, 15 top fives, 24 top 10s, 28 top 15s, 28 top 20s
UP NEXT –
Friday at Terre Haute Action Track in Terre Haute, Ind., and Monday at Lawrenceburg Speedway in Lawrenceburg, Ind., for the Memorial Day Spectacular with the World of Outlaws NOS Energy Drink Sprint Car Series
MEDIA LINKS –
Twitter: https://twitter.com/BigGameMotorspt
THE SHOWDOWN –
THE SHOWDOWN is one of the biggest weeks of racing for winged sprint car drivers. The action begins on June 20 with a $6,000-to-win 410ci winged sprint car event followed by two days of the Huset's 50. All three nights are hosted by Huset's Speedway in Brandon, S.D., before Jackson Motorplex in Jackson, Minn., showcases the famed AGCO Jackson Nationals June 24-26. The final five nights of THE SHOWDOWN are World of Outlaws NOS Energy Drink Sprint Car Series races with a total purse exceeding $500,000. Additionally, if a driver is able to win the final night of the Huset's 50 and the AGCO Jackson Nationals he or she will bring home a whopping $180,000.
TICKET LINK –
Advanced tickets for THE SHOWDOWN can be purchased at https://mpv.tickets.com/schedule/?agency=JKMV_PL_MPV&orgid=55369#/?view=list&includePackages=true
INSIDE LINE PROMOTIONS –
Inside Line Promotions specializes in affordable public relations and media management for motor sports drivers, teams, sponsors, tracks, series, events, organizations and manufacturers. ILP Founder Shawn Miller leverages professional journalism with new media technologies and social networking to improve your exposure and the return on investment for your sponsors.
To meet the media relations needs of your program by joining Team ILP, contact Shawn at 541-510-3663 or Shawn@InsideLinePromotions.com . For more information on Inside Line Promotions, visit http://www.InsideLinePromotions.com.
*PHOTO COURTESY OF WORLD OF OUTLAWS*