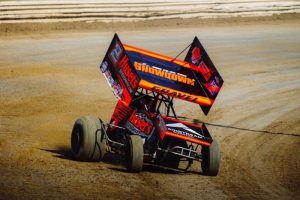 Inside Line Promotions – MECHANICSBURG, Pa. (May 17, 2021) – Big Game Motorsports driver David Gravel earned a pair of top 10s during a trio of World of Outlaws NOS Energy Drink Sprint Car Series starts in Central Pennsylvania last week.
The competition began Wednesday at Lincoln Speedway in Abbottstown, where Gravel qualified fifth quickest in his group to open the Gettysburg Clash presented by Drydene. He then finished where he started – third – in a heat race to lock into the ninth starting spot for the A Main.
Gravel maintained a top 10 throughout the entire race, but his car came on strong utilizing the bottom groove in the second half of the feature. Gravel rallied to finish fourth, which was his 13th top five of the season.
"We drew pretty late in qualifying in our group and we were able to be fourth quick, but the last car then bumped us to fifth and the second row in the heat," he said. "We didn't get a great start in the heat, but we got up to second. I made a bad decision to go low and got passed so that kept us out of the dash.
"In the feature the track started getting slicked up. We ran the bottom really good. The car got better and the track played out, getting slicker and slicker. You had to park it on the bottom to stay in that moisture. I used a lot of brakes that night. Luckily we have good stopping power. It takes patience and you're judging how much to slow down and how much you are gaining off each corner whether it is worth it. We were able to string together a good 10 to 12 laps late in the race to pass some cars."
Williams Grove Speedway hosted the Morgan Cup on Friday and Saturday. Once again, Gravel put himself in a great position by qualifying well at the famed half-mile oval. He timed in third quickest in his group on Friday. A heat race win moved Gravel into the dash and he placed third to line up on the inside of the second row for the main event.
"We didn't feel super great going into the feature so we changed some stuff," he said. "I got a bad start to the race and we lost three spots in the beginning. Then we got in line and the race went green to checkered. Nobody really passed anyone."
Gravel's seventh-place result was his 22nd top 10 this year.
The Morgan Cup concluded the busy week on Saturday. Gravel set quick time in his group. A fourth-place finish in a heat race started him 14 th in the main event.
"We qualified great to go quick time in our group," he said. "The inside on the start of our heat race wasn't great. We had two shots at it, but both times it was the same result and we were third by the flagstand. When you're in third you try different lines and that cost us another spot.
"Typically we don't start that far back in the feature and Williams Grove is a place you don't want to start that far back. It's so hard to keep your momentum going. We were racing around a lot of good cars."
Gravel placed 14th and he remains second in the World of Outlaws championship standings.
Up next for the team is a race on Tuesday at Bridgeport Motorplex Park in Swedesboro, N.J. Attica Raceway Park in Attica, Ohio, showcases the World of Outlaws Kistler Engines Classic on Friday before the series heads to Sharon Speedway in Sharon, Ohio, on Saturday.
"Bridgeport looks awesome," he said. "It looks like they did a great job with the shape and the banking. It's somewhat close to where I'm from in Connecticut. Attica is a tough track with the locals. It's always a challenge there. I haven't been to Sharon for a long time since Ohio Speedweek with the All Stars. It's way different back from when I raced it in the early 2010s."
QUICK RESULTS –
May 12 – Lincoln Speedway in Abbottstown, Pa. – Qualifying: 5; Heat race: 3 (3); Feature: 4 (9).
May 14 – Williams Grove Speedway in Mechanicsburg, Pa. – Qualifying: 3; Heat race: 1 (2); Dash: 3 (4); Feature: 7 (3).
May 15 – Williams Grove Speedway in Mechanicsburg, Pa. – Qualifying: 1; Heat race: 4 (1); Feature: 14 (14).
SEASON STATS –
25 races, 3 wins, 13 top fives, 22 top 10s, 25 top 15s, 25 top 20s
UP NEXT –
Tuesday at Bridgeport Motorplex Park in Swedesboro, N.J.; Friday at Attica Raceway Park in Attica, Ohio, for the World of Outlaws Kistler Engines Classic; and Saturday at Sharon Speedway in Sharon, Ohio, with the World of Outlaws NOS Energy Drink Sprint Car Series
MEDIA LINKS –
Twitter: https://twitter.com/BigGameMotorspt
THE SHOWDOWN –
THE SHOWDOWN is one of the biggest weeks of racing for winged sprint car drivers. The action begins on June 20 with a $6,000-to-win 410ci winged sprint car event followed by two days of the Huset's 50. All three nights are hosted by Huset's Speedway in Brandon, S.D., before Jackson Motorplex in Jackson, Minn., showcases the famed AGCO Jackson Nationals June 24-26. The final five nights of THE SHOWDOWN are World of Outlaws NOS Energy Drink Sprint Car Series races with a total purse exceeding $500,000. Additionally, if a driver is able to win the final night of the Huset's 50 and the AGCO Jackson Nationals he or she will bring home a whopping $180,000.
TICKET LINK –
Advanced tickets for THE SHOWDOWN can be purchased at https://mpv.tickets.com/schedule/?agency=JKMV_PL_MPV&orgid=55369#/?view=list&includePackages=true
INSIDE LINE PROMOTIONS –
Inside Line Promotions specializes in affordable public relations and media management for motor sports drivers, teams, sponsors, tracks, series, events, organizations and manufacturers. ILP Founder Shawn Miller leverages professional journalism with new media technologies and social networking to improve your exposure and the return on investment for your sponsors.
To meet the media relations needs of your program by joining Team ILP, contact Shawn at 541-510-3663 or Shawn@InsideLinePromotions.com . For more information on Inside Line Promotions, visit http://www.InsideLinePromotions.com.
*PHOTO BY TRENT GOWER PHOTOGRAPHY*