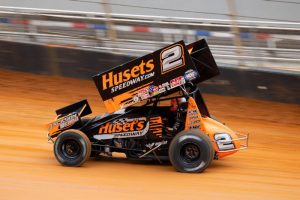 Inside Line Promotions – ODESSA, Mo. (May 4, 2021) – David Gravel earned a pair of podiums, a new track record and a Hard Charger Award last weekend during the first World of Outlaws NOS Energy Drink Sprint Car Series tripleheader of the season.
The Big Game Motorsports driver captured third-place finishes on Thursday at Jacksonville Speedway in Jacksonville, Ill., and on Friday at I-70 Motorsports Park before hustling from 19th to ninth on Saturday during the FVP Platinum Battery Showdown finale at I-70 Motorsports Park.
The weekend began last Thursday at Jacksonville Speedway, where Gravel qualified second quickest before he won a heat race. He gained a position to finish third in the dash to start the A Main on the inside of the second row.
"It went smooth," he said. "I was able to qualify good and put ourselves in the front of a heat race. We won that and we ran third in the dash, which was good. We were pretty good in the middle of the feature and leveled off at the end. We played survival mode. A lot of stuff was happening and we were able to clear those incidents. If a couple of things went another way we could have challenged for the win.
"I felt decent down on the bottom. If I hit my marks down there I felt just as fast. I hit those holes (in the higher groove) three or four times in a row. I felt like I was beating my head in the wall running a line I wasn't any faster in and risking crashing. I committed to the bottom and let those guys go crazy up there. If I hit it right and they messed up I knew I could have passed them."
The speed continued on Friday when Gravel made his debut at I-70 Motorsports Park, which has been revamped since the last World of Outlaws race there in 1986. Gravel was stout from the start as he established a new track record in qualifying.
"It started off really good," he said. "We drew an early pill and there was some grip in the track. Our motors are running strong. We put a good lap down and were able to set quick time. It was a good night all around."
Gravel finished second in a heat race before winning the dash to earn the pole position for the A Main.
"(Brock) Zearfoss got the jump on the start of the A Main," he said. "I was able to get him on a restart and led a good chunk of the race. In traffic I felt good everywhere, but I had to go high because of lapped cars. One slipped up and Brad (Sweet) was able to clear him and clear us on the bottom. I had something left in the tank, but the caution came out while we were in traffic, which was a bummer. On the restarts we were struggling with the air pressure getting low and the car wasn't the same after that caution."
Gravel salvaged a third-place result, which was his 11th top five of the year.
The event concluded on Saturday. Gravel qualified 10th quickest and advanced from fourth to second place in a heat race when a mechanical failure resulted in a DNF. That relegated Gravel to the Last Chance Showdown, which he won to transfer into the 19th starting spot in the main event.
"I thought we had a great car and it showed in the heat race, but something came up and hit something in the engine," he said. "It drained the oil out of the engine and hurt it. That was a bummer.
"We started 19th and had a really good race car. I think if things went our way we could have been around fifth or sixth. The competition is so stiff. I passed Donny (Schatz) and (Kyle) Larson, who then slid in front of me and slowed down. Donny got back by. It's hard to pass those guys two times. But to rebound and finish in the top 10 was good."
Gravel ended with a ninth-place result.
The team returns to action this Friday and Saturday at Eldora Speedway near Rossburg, Ohio, for #LetsRaceTwo with the World of Outlaws.
"Eldora is a place I'm excited to go to," Gravel said. "I've been pretty good at qualifying there and it seems I can run up front. I've won three or four races there and I feel I'm typically in the hunt every time I go there."
QUICK RESULTS –
April 29 – Jacksonville Speedway in Jacksonville, Ill. – Qualifying: 2; Heat race: 1 (1); Dash: 3 (4); Feature: 3 (3).
April 30 – I-70 Motorsports Park in Odessa, Mo. – Qualifying: 1; Heat race: 2 (1); Dash: 1 (1); Feature: 3 (1).
May 1 – I-70 Motorsports Park in Odessa, Mo. – Qualifying: 10; Heat race: DNF (4); B Main: 1 (1); Feature: 9 (19).
SEASON STATS –
20 races, 3 wins, 11 top fives, 18 top 10s, 20 top 15s, 20 top 20s
UP NEXT –
Friday and Saturday at Eldora Speedway near Rossburg, Ohio, for #LetsRaceTwo with the World of Outlaws NOS Energy Drink Sprint Car Series
MEDIA LINKS –
Twitter: https://twitter.com/BigGameMotorspt
THE SHOWDOWN –
THE SHOWDOWN is one of the biggest weeks of racing for winged sprint car drivers. The action begins on June 20 with a $6,000-to-win 410ci winged sprint car event followed by two days of the Huset's 50. All three nights are hosted by Huset's Speedway in Brandon, S.D., before Jackson Motorplex in Jackson, Minn., showcases the famed AGCO Jackson Nationals June 24-26. The final five nights of THE SHOWDOWN are World of Outlaws NOS Energy Drink Sprint Car Series races with a total purse exceeding $500,000. Additionally, if a driver is able to win the final night of the Huset's 50 and the AGCO Jackson Nationals he or she will bring home a whopping $180,000.
TICKET LINK –
Advanced tickets for THE SHOWDOWN can be purchased at https://mpv.tickets.com/schedule/?agency=JKMV_PL_MPV&orgid=55369#/?view=list&includePackages=true
INSIDE LINE PROMOTIONS –
Inside Line Promotions specializes in affordable public relations and media management for motor sports drivers, teams, sponsors, tracks, series, events, organizations and manufacturers. ILP Founder Shawn Miller leverages professional journalism with new media technologies and social networking to improve your exposure and the return on investment for your sponsors.
To meet the media relations needs of your program by joining Team ILP, contact Shawn at 541-510-3663 or Shawn@InsideLinePromotions.com . For more information on Inside Line Promotions, visit http://www.InsideLinePromotions.com.
*PHOTO BY TRENT GOWER PHOTOGRAPHY*