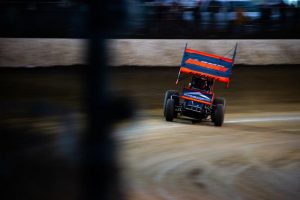 Inside Line Promotions – WINDOM, Minn. (March 1, 2021) – David Gravel has remained in his home state for the last few weeks since the 2021 season began.
Inclement weather postponed the last three weekends of the World of Outlaws NOS Energy Drink Sprint Car Series season since the season opener in Florida at the beginning of February. Following nasty weather along the southern United States and the western swing being cancelled because of the pandemic, the reboot for the season begins this weekend back in Florida.
Gravel, a native of Connecticut who now resides in Florida, will guide Big Game Motorsports into Volusia Speedway Park in Barberville on Friday before venturing to East Bay Raceway Park near Tampa on Saturday.
"For me it's a great thing," he said. "I get to drive to and from the track from my home. It's about three hours. Our rig has been parked at my place the last couple of weeks so that makes it easy."
Gravel enjoyed a strong debut with Big Game Motorsports when the team captured four straight fourth-place finishes at Volusia Speedway Park last month. Friday's event will make five consecutive races at the half-mile oval.
"I have no idea what we'll get for car count," he said. "I'm guessing we'll have less cars and qualifying will be fairly equal. We might not have a support class. The track might be different from what we're used to. I think we have a good notebook. Hopefully we have speed when we unload again and we'll try to get in the dash."
The weekend concludes at a track where the World of Outlaws last competed in 1983. Gravel posted a fifth-place finish during the 2014 King of the 360s at East Bay Raceway Park. He finished 14th during an Ollie's Bargain Outlet All Star Circuit of Champions race there in 2010, which was his most recent 410ci winged sprint car start at the track.
"I ran a 360 race there in the No. 59 in 2014 and I went there with the All Stars in the No. 89g," he said. "I ran a micro there when I was younger.
"The surface is different. It's usually very wet and greasy and then it will tack up. Sometimes it gets more wet as the night goes on. It's definitely a unique track to read with how the surface geos. I like going to places where a lot of the Outlaws don't have a lot of experience. A lot of teams won't have notes there."
SEASON STATS –
4 races, 0 wins, 4 top fives, 4 top 10s, 4 top 15s, 4 top 20s
UP NEXT –
Friday at Volusia Speedway Park in Barberville, Fla., and Saturday at East Bay Raceway Park near Tampa, Fla., with the World of Outlaws NOS Energy Drink Sprint Car Series
MEDIA LINKS –
Twitter: https://twitter.com/BigGameMotorspt
THE SHOWDOWN –
THE SHOWDOWN is one of the biggest weeks of racing for winged sprint car drivers. The action begins on June 20 with a $5,000-to-win 410ci winged sprint car event followed by two days of the Huset's 50. All three nights are hosted by Huset's Speedway in Brandon, S.D., before Jackson Motorplex in Jackson, Minn., showcases the famed AGCO Jackson Nationals June 24-26. The final five nights of THE SHOWDOWN are World of Outlaws NOS Energy Drink Sprint Car Series races with a total purse exceeding $500,000. Additionally, if a driver is able to win the final night of the Huset's 50 and the AGCO Jackson Nationals he or she will bring home a whopping $180,000.
TICKET LINK –
Advanced tickets for THE SHOWDOWN can be purchased at https://mpv.tickets.com/schedule/?agency=JKMV_PL_MPV&orgid=55369#/?view=list&includePackages=true
INSIDE LINE PROMOTIONS –
Inside Line Promotions specializes in affordable public relations and media management for motor sports drivers, teams, sponsors, tracks, series, events, organizations and manufacturers. ILP Founder Shawn Miller leverages professional journalism with new media technologies and social networking to improve your exposure and the return on investment for your sponsors.
To meet the media relations needs of your program by joining Team ILP, contact Shawn at 541-510-3663 or Shawn@InsideLinePromotions.com . For more information on Inside Line Promotions, visit http://www.InsideLinePromotions.com.
*PHOTO BY TRENT GOWER PHOTOGRAPHY*