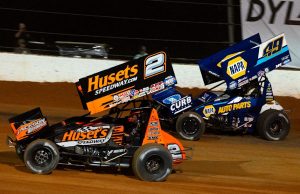 Inside Line Promotions – PAIGE, Texas (March 23, 2021) – Big Game Motorsports driver David Gravel produced another solid weekend during a World of Outlaws NOS Energy Drink Sprint Car Series doubleheader in the Lone Star State.
Gravel garnered a ninth-place result on Friday and a fourth-place finish on Saturday during the Drydene Texas Two-Step Presented by American Lube Supply hosted by Cotton Bowl Speedway. It marked his first time at the dirt oval since sweeping a World of Outlaws event there in 2018.
"I definitely had high expectations," he said. "The track had some different circumstances while we were there each night last weekend and from the couple of times we had run there in the past. That's dirt racing for you. It gives you lots of curve balls."
Friday's action got underway with Gravel posting the 11th quickest qualifying time. He gained a position to place third in a heat race, which slotted him into the seventh starting spot for the A Main.
"We struggled being too tight to get through turns one and two," he said. "We fell back at the beginning. I was struggling early, but by the end of the race we were starting to get better. I was able to salvage a top 10."
Gravel rebounded for a ninth-place finish, which was his eighth top 10 of the season.
The event concluded on Saturday. Unfortunately, trouble early in the night put the team behind. Gravel was able to get one lap at the end of qualifying and he was scored 15th quickest.
"We had something break in the power steering pump in hot laps so we didn't have time to work on the car and I didn't know which line to run in qualifying," he said. "The best we could have qualified was 14th and we qualified 15th. That was at least decent to keep us in the hunt a little bit. We had to climb out of a hole the whole night."
A good battle in a heat race yielded a fourth-place result, which lined Gravel up on the outside of the sixth row for the main event.
"The track was a lot slicker than the night before," he said. "We worked on the car all night and we were able to get it decent in the feature. The track started taking rubber and we found it before some other people. If the race was 35 laps like it was slated for I think we could have won. I was running in the middle in turns one and two where it was taking rubber and the guys in front didn't know it."
Gravel hustled to a fourth-place showing, marking his seventh top five of the season and fifth in World of Outlaws competition this year. He ranks third in the championship standings heading to the Midwest this weekend.
The Outlaws venture to U.S. 36 Raceway near Osborn, Mo., on Friday and Lake Ozark Speedway in Eldon, Mo., on Saturday for the Jason Johnson Classic. Gravel captured a World of Outlaws win at Lake Ozark Speedway in October 2019.
"It's two fun, action-packed tracks," he said. "U.S. 36 Raceway is high banked and similar to what we've been racing the last couple of weeks. Lake Ozark has been a good track for me no matter what car I've been in. I missed the Jason Johnson Classic last year for a (NASCAR) truck race and I won the original one in 2019 so I'm looking forward to getting back there."
QUICK RESULTS –
March 19 – Cotton Bowl Speedway in Paige, Texas – Qualifying: 11; Heat race: 3 (4); Feature: 9 (7).
March 20 – Cotton Bowl Speedway in Paige, Texas – Qualifying: 15; Heat race: 4 (5); Feature: 4 (12).
SEASON STATS –
10 races, 1 win, 7 top fives, 9 top 10s, 10 top 15s, 10 top 20s
UP NEXT –
Friday at U.S. 36 Raceway near Osborn, Mo., and Saturday at Lake Ozark Speedway in Eldon, Mo., for the Jason Johnson Classic with the World of Outlaws NOS Energy Drink Sprint Car Series
MEDIA LINKS –
Twitter: https://twitter.com/BigGameMotorspt
THE SHOWDOWN –
THE SHOWDOWN is one of the biggest weeks of racing for winged sprint car drivers. The action begins on June 20 with a $5,000-to-win 410ci winged sprint car event followed by two days of the Huset's 50. All three nights are hosted by Huset's Speedway in Brandon, S.D., before Jackson Motorplex in Jackson, Minn., showcases the famed AGCO Jackson Nationals June 24-26. The final five nights of THE SHOWDOWN are World of Outlaws NOS Energy Drink Sprint Car Series races with a total purse exceeding $500,000. Additionally, if a driver is able to win the final night of the Huset's 50 and the AGCO Jackson Nationals he or she will bring home a whopping $180,000.
TICKET LINK –
Advanced tickets for THE SHOWDOWN can be purchased at https://mpv.tickets.com/schedule/?agency=JKMV_PL_MPV&orgid=55369#/?view=list&includePackages=true
INSIDE LINE PROMOTIONS –
Inside Line Promotions specializes in affordable public relations and media management for motor sports drivers, teams, sponsors, tracks, series, events, organizations and manufacturers. ILP Founder Shawn Miller leverages professional journalism with new media technologies and social networking to improve your exposure and the return on investment for your sponsors.
To meet the media relations needs of your program by joining Team ILP, contact Shawn at 541-510-3663 or Shawn@InsideLinePromotions.com . For more information on Inside Line Promotions, visit http://www.InsideLinePromotions.com.
*PHOTO BY TRENT GOWER PHOTOGRAPHY*