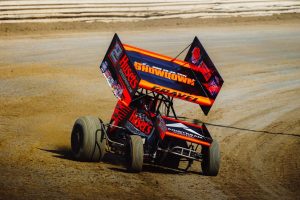 Inside Line Promotions – WINDOM, Minn. (Feb. 15, 2021) – A pair of new tracks are on tap for David Gravel this weekend.
The Big Game Motorsports driver heads to Magnolia Motor Speedway in Columbus, Miss., on Friday and The Rev in Monroe, La., on Saturday. It will be the first career World of Outlaws NOS Energy Drink Sprint Car Series event at both tracks.
Gravel last raced in Mississippi in February 2011 when he won his first career World of Outlaws dash and placed fifth in the main event at Pike County Speedway in Magnolia – roughly six hours southeast of this Friday's event.
A decade later he is off to a strong start during his first season with Big Game Motorsports. The team captured four straight fourth-place finishes during the DIRTcar Nationals at Volusia Speedway Park in Barberville, Fla., earlier this month.
"Volusia is a unique place," Gravel said. "We have the big track speed. We're pretty confident on big tracks. Now we're going into short tracks so it'll be interesting to see where we stack up. We have a good engine program and me and Cody (Jacobs) have worked well together so far so it's encouraging."
World of Outlaws races in Georgia and Alabama were cancelled last weekend because of weather, meaning three of the first five Outlaws shows this year haven't been contested.
"Everybody is in the same boat," Gravel said. "We want more races to gel and work well together, but we're third in points after two races. We're not trying to play catch up. The more we race the better we'll get, but it's gone well so far and we'll keep building off that."
SEASON STATS –
4 races, 0 wins, 4 top fives, 4 top 10s, 4 top 15s, 4 top 20s
UP NEXT –
Friday at Magnolia Motor Speedway in Columbus, Miss., and Saturday at The Rev in Monroe, La., with the World of Outlaws NOS Energy Drink Sprint Car Series
MEDIA LINKS –
Twitter: https://twitter.com/BigGameMotorspt
THE SHOWDOWN –
THE SHOWDOWN is one of the biggest weeks of racing for winged sprint car drivers. The action begins on June 20 with a $5,000-to-win 410ci winged sprint car event followed by two days of the Huset's 50. All three nights are hosted by Huset's Speedway in Brandon, S.D., before Jackson Motorplex in Jackson, Minn., showcases the famed AGCO Jackson Nationals June 24-26. The final five nights of THE SHOWDOWN are World of Outlaws NOS Energy Drink Sprint Car Series races with a total purse exceeding $500,000. Additionally, if a driver is able to win the final night of the Huset's 50 and the AGCO Jackson Nationals he or she will bring home a whopping $180,000.
TICKET LINK –
Advanced tickets for THE SHOWDOWN can be purchased at https://mpv.tickets.com/schedule/?agency=JKMV_PL_MPV&orgid=55369#/?view=list&includePackages=true
INSIDE LINE PROMOTIONS –
Inside Line Promotions specializes in affordable public relations and media management for motor sports drivers, teams, sponsors, tracks, series, events, organizations and manufacturers. ILP Founder Shawn Miller leverages professional journalism with new media technologies and social networking to improve your exposure and the return on investment for your sponsors.
To meet the media relations needs of your program by joining Team ILP, contact Shawn at 541-510-3663 or Shawn@InsideLinePromotions.com . For more information on Inside Line Promotions, visit http://www.InsideLinePromotions.com.
*PHOTO BY TRENT GOWER PHOTOGRAPHY*