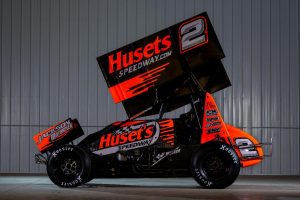 Inside Line Promotions – WINDOM, Minn. (Jan. 27, 2021) – The 2021 season kicks off in exactly one week for Big Game Motorsports and its new driver David Gravel.
The team is venturing south to Florida to tackle the 50th annual DIRTcar Nationals, which runs next Wednesday through Sunday at Volusia Speedway Park in Barberville. The first two nights will be with the Ollie's Bargain Outlet All Star Circuit of Champions before the World of Outlaws NOS Energy Drink Sprint Car Series kicks off a new season with a tripleheader.
"I'm looking to maintain what I've done the last three or four years," Gravel said. "They have the equipment. It's up to me."
Gravel has been a contender on the World of Outlaws trail for several years, placing third in the championship standings each year from 2016-2019. He posted a sixth-place finish in last year's standings despite missing multiple races. That gives him a top-10 result in the World of Outlaws standings for seven straight years.
This season begins at a track where Gravel has enjoyed success. Gravel has earned a top 10 during each of his last eight races at the track – four in 2020 and four in 2019 – and he has at least one top-10 result during the DIRTcar Nationals since 2011. Seven of those years featured a top five, including five with a podium finish. Gravel produced a win at Volusia Speedway Park in 2017.
"Volusia is always a fun place," he said. "I like going there. Racing five nights in one place you get to fine-tune on stuff and start building on a package. We'll take it one night at a time. We want to be competitive every night. If we're struggling for a balance or if we're really good we'll test the boundaries (during the two All Star nights). You want to have things ironed out for the Outlaws nights.
"Qualifying is extremely important like it is at most tracks. The track could be racy, wide and slick. Sometimes it gets one lane and makes it hard to pass. If you can qualify and get on the front row in your heat race it makes your life so much easier."
UP NEXT –
Feb. 3-7 at Volusia Speedway Park in Barberville, Fla., for the 50 th annual DIRTcar Nationals
MEDIA LINKS –
Twitter: https://twitter.com/BigGameMotorspt
THE SHOWDOWN –
THE SHOWDOWN is one of the biggest weeks of racing for winged sprint car drivers. The action begins on June 20 with a $5,000-to-win 410ci winged sprint car event followed by two days of the Huset's 50. All three nights are hosted by Huset's Speedway in Brandon, S.D., before Jackson Motorplex in Jackson, Minn., showcases the famed AGCO Jackson Nationals June 24-26. The final five nights of THE SHOWDOWN are World of Outlaws NOS Energy Drink Sprint Car Series races with a total purse exceeding $500,000. Additionally, if a driver is able to win the final night of the Huset's 50 and the AGCO Jackson Nationals he or she will bring home a whopping $180,000.
TICKET LINK –
Advanced tickets for THE SHOWDOWN can be purchased at https://mpv.tickets.com/schedule/?agency=JKMV_PL_MPV&orgid=55369#/?view=list&includePackages=true
INSIDE LINE PROMOTIONS –
Inside Line Promotions specializes in affordable public relations and media management for motor sports drivers, teams, sponsors, tracks, series, events, organizations and manufacturers. ILP Founder Shawn Miller leverages professional journalism with new media technologies and social networking to improve your exposure and the return on investment for your sponsors.
To meet the media relations needs of your program by joining Team ILP, contact Shawn at 541-510-3663 or Shawn@InsideLinePromotions.com . For more information on Inside Line Promotions, visit http://www.InsideLinePromotions.com.