MECHANICSBURG, PENNSYLVANIA (October 3, 2020) – After winning the opener on Friday night to kick off the 58th Annual Champion Racing Oil National Open weekend, David Gravel and the JJR #41 team focused their attention on making sure they positioned themselves to be in the mix for the big prize available at the end of Saturday night – the $75,000 winner's share of the purse in their Weikert's Livestock/J.R.C. Transportation/FK Rod Ends #41 Maxim entry. The history of this race in unbelievable with the names of some of the winners just being downright magical in sprint car racing and for motorsports fans alike – Gordon Johncock (1963), Lou Blaney (1966), Bobbie Adamson (1967 and 1968), Kenny Weld (1971, 1972, 1973 and 1975), Steve Smith (1974, 1976, and 1981), Van May (1977), Kramer Williamson (1978), Smokey Snellbaker (1979), Lynn Paxton (1982 and 1983), Doug Wolfgang (1984, 1985, and 1986), Steve Kinser (1990, 1992, 1994, and 2003), Don Kreitz Jr. (1993), Lance Dewease (1996 and 2001, 2002, 2018), Mark Kinser (1995 and 199), Donny Schatz (2000, 2004, 2005, 2007, and 2012), Greg Hodnett (2009), Jason Meyers (2011), Fred Rahmer (2013) and David Gravel who is a two-time winner (2014 and 2017) before joining forces with Jason Johnson Racing (JJR). David Gravel was primed for a great night of racing as he tried to add his name to this exclusive list for the third time. Philip Dietz, along with the crew of Clyde Knipp and Nate Repetz, were turning the wrenches and eager to see their hard work payoff. On Saturday evening there was again an impressive field of 54 teams entered to complete in this prestigious sprint car event at Williams Grove Speedway.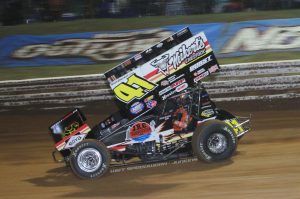 For the 2020 season, a season that has been disrupted by COVID-19 which interrupted some of the biggest races across the United States, this crown jewel event represented the highest paying sprint car race with $75,000 awaiting the feature winner. It was time to get down to business at the historic Williams Grove Speedway. The evening of high speed action sprint car style, would begin with each driver taking two solo laps around the half mile track against the clock in time trials. Because of the size of the field, the drivers were split into two equally sized groups, called flights in World of Outlaw competition, for qualifying in time trials. The two-time National Open winner sitting in the ButlerBUILT Professional Seat System with a Sharp Advantage custom fitted seat insert installed in the Weikert's Livestock/Winters Performance Products #41 Maxim would be the seventh car out in Flight B. He patiently waited in the staging area for his opportunity to roll his Hoosier Racing Tires/Weld Racing Wheels onto the surface in high speed motion. When his Kistler Engines motor fired, he flipped the shield down on his helmet and lowered his right foot to bring the car up to speed with its 900 horsepower. He took the green and entered turn one on the low side and exited turn two carrying his speed down the backstretch and underneath the famous blue bridge. He completed his first time trial lap in 17.308 seconds. With no time to reflect, the Connecticut-born chauffeur worked from his office inside his Maxim Racing chassis to see what was left out on the track time wise. When he crossed the finish line with a lap of 17.156 seconds, he had done his best and the faster of his two qualifying laps was good enough for second quick overall in Flight B.
The Drydene heat race lineups are designed and built off of each driver's best time trail lap for each flight they qualify in. When the World of Outlaws timing and scoring officials completed and posted the lineups, David Gravel would get started from the pole position in the fourth 8-lap heat race aboard the Mesilla Valley Transportation (MVT)/Buckwalter Trucking #41. He would start in the first row beside Daryn Pittman. David was ready for action with his hands wrapped around his Indy Performance Composites (IPC) , a full-service custom made composite designer and fabricator based Brownsburg, Indiana, carbon fiber steering wheel. When the green flag dropped over the field, David blasted into the lead as the field entered turn one with Pittman right behind looking to steal the clean air. Over the first two laps the racing was close throughout the field, but it was Gravel at the front of the pack. The driver of the forty-one continued to do his thing and was in control over the course of all 8 laps as he took the victory over Pittman with Brad Sweet coming home third, Aaron Reutzel fourth, with Dylan Cisney racing home in the final transfer position.
Earning his way into his 38th DIRTVision Fast Pass Dash, David headed to the frontstretch to pull his starting pill from the over-sized NOS Energy Drink can. He would be the fourth driver to pull his number and when the red circle with the number one printed on it ended up in his hand he was thrilled as he would start from the pole in the 6-lap dash. He was on the front row with five-time National Open champ Donny Schatz to his outside. Shark Racing teammates, Logan Schuchart and Jacob Allen would start in row two with James McFadden, Daryn Pittman, Sheldon Haudenschild and Kyle Larson completing the field in the next two rows. When the cars came up to speed it was Gravel to the early lead with Schuchart getting by Schatz for the runner-up spot. Gravel was in command of the race but the Shark Racing teammates were now holding down the second and third with Schatz back in fourth. David took the white flag and raced the final half mile at the front to take the win over Schuchart, Allen, Schatz and Larson with Haudenschild, McFadden and Pittman completing the race's finishing order.
The fans that made their way to Williams Grove from this prestigious event were bustling with excitement on this cool early October evening. The horn sounded and the teams pushed their entries out on the track to stage. The cool, calm and collected Connecticut-born driver of the J.R.C. Transportation/KSE Racing Products #41 Maxim was ready to go as he slipped on his Simpson Race Product gloves. After all of the pre-race activities were done, Gravel pulled into his front row starting spot waiting to take the green flag to start the 40-lap race to the checkers. When the field got up to speed, it was outside front row starter Logan Schuchart jumping into the lead over the forty-one. Schuchart was fast with David close behind over the first 9 laps before a caution was displayed for Bill Balog who spun after apparent contact with Spencer Bayston in turn one. Gravel would restart behind Schuchart with Donny Schatz in third, Jacob Allen in fourth and Sheldon Haudenschild rounding out the top five. On the ensuing restart, David carried speed to the line and got a good run on the leader, but Schuchart was not ready to surrender the position. Before a full lap could be completed another yellow was displayed, this time for Danny Dietrich who had a flat right rear tire. After changing the tire, Dietrich rejoined the field. When they went back to green flag racing, Schuchart maintained the lead with Gravel not allowing him much space to get comfortable. Gravel was keeping him close and was trying everything to take the lead when on lap 11 another caution slowed action, this time for Aaron Reutzel who slowed through turns three and four to a stop. The car seemed fine, but Reutzel headed to the pit area. The problem had nothing to do with his car, but rather he needed a new helmet as he was hit with some type of debris from the track that broke his shield. He rejoined the field. The drivers paced around Williams Grove and when they came back to take the green flag it was Gravel charging past Schuchart and into the lead on lap 12. Schatz followed him and took over the second position with Schuchart now running third. Gravel was cruising at the front for a few laps before Schatz started to track him down slowly. Lap after lap the lead shrunk until Schatz was right there waiting to pounce. He did just that on lap 22 when he drove underneath Gravel for the lead. After a planned mid-race stoppage on lap 25 for fuel, the teams re-fired their engines and aligned back into their starting positions. Schatz raced back into the lead when they went green with Gravel in tow. Gravel seemed to be fighting for control of the car and on lap 28 bobbled allowing Schuchart, Larson and Haudenschild to drive by for position. He was now running in the fifth spot and regained his form and race pace. His car began to work on the bottom and he passed Haudenschild back to move into fourth on lap 34. Schatz went on to collect his sixth National Open victory over a fast approaching Larson with Schuchart, Gravel and Haudenschild completing the top five. A good run for the forty-one!
Mesilla Valley Transportation (MVT); Saich Family; Dissolvalloy Downhole Revolution; Weikert's Livestock; J.R.C. Transportation, Inc.; Durst Inc.; Maxim Racing; The Boyd Family; Pro Powder Coating (PPC); Waco Metal; High Performance Lubricants, LLC; Team Jack Foundation; Mark Burch Motorsports; Tiger Towing; All Pro Auto Reconditioning; AutoMeter; Bell Racing USA; Brown & Miller Racing Solutions (BMRS); Buckwalter Trucking, LLC; C&R Racing; Chalk Stix Torsion Bars; Crow Enterprizes, Engler Machine & Tool, Inc.; Factory Kahne FK Shocks; Fibreworks Composites; FK Rod Ends; Fuel Safe Racing Cells; Greber Racing Components; Hoosier Racing Tire; ISC Racers Tape; Jansen Transportation; Kistler Racing Engines; KSE Racing Products; LogoDaddy Graphics; Max Papis Innovations (MPI); MSD Performance; RaceDiecast.com; Schoenfeld Headers; Shell Shock Paint; Simpson Race Products; T-FAB Custom Metal Fabrication; Vortex Racing Products; Walker Performance Filtration; Weld Wheels; Wilwood Racing; and Winters Performance Products.
To stay up-to-date with David Gravel and his success and journey on and off the track, as well as to purchase his gear and merchandise, go to www.DavidGravel89.com.
To stay connected with Jason Johnson Racing (JJR), go to www.jasonjohnsonracing.com.