BRANDON, SOUTH DAKOTA (September 6, 2020) – Many times the life for the professional race drivers and teams are often misunderstood and even sometimes glamourized. The men and women of this sport are incredibly engaged at what they do and give it their all night in and night out. Because of the race schedule Along with the continuous and required travel, these teams give up what most would consider a "normal" life to chase their dreams racing around the country against the best in the business. Sure they are competitors on the track and down merchandise alley, but they create a bond that is stronger than normal as they are together going up and down the road most of the year. That bond doesn't make the work or associated sacrifices any easier, but it does make it more enjoyable knowing others are there with you and have your back. So on this Labor Day weekend, when most were cooking out and enjoying time in the pool, all of these impressive individuals were back at Huset's Speedway for the second night of high speed racing action as 38 drivers and teams were ready to do battle in their sprint cars as they were vying for the $20,000 winner's check.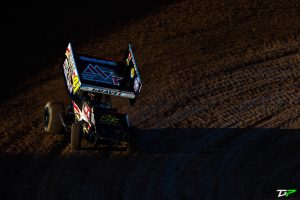 In racing the luck of the draw sometimes dictates how your night will go, or at least how challenging it will be to achieve your goals. The first element of that shamrock luck comes with the infamous pill draw where a numbered balls rolls out of a bingo wheel. That number is arranged chronologically from the lowest to highest number, which in turn becomes the order for which the drivers and their cars go out for their time trial qualifying laps. Because of the size of the field, the cars were split into two separate flights for time trials. David Gravel would be the fourth car out on the track in Flight B aboard the High Performance Lubricants/Walker Performance Filtration #41 Maxim for his race against the stopwatch. He got up to speed and focused on hitting his lines on the fast racing surface they gave them at Huset's Speedway. Not missing a beat, the first time around the clock read 10.903 seconds as he crossed under the flagstand. With the hammer down, Gravel kept his forward momentum rolling as his Factory Kahne Shocks were doing their part to transfer the speed and consistency performance wise. The second lap was officially recorded at 10.737 seconds, which was the better of his two laps. The quicker of David's two laps ended up being second quick overall on the night behind fast timer Kyle Larson at 10.725 seconds.
While luck has nothing to do with the lineups for the four Drydene heat races, it certainly can feel that way when you look at the posted lineups and see the biggest names in the sport all of which seem to be in your heat race. Not deterred as Gravel is one of the superstars of the sport, he located his car number and would start on the pole in the fourth 10-lap heat race with talented young gun Gio Scelzi to his outside. Brad Sweet and Kraig Kinser made up row two, Donny Schatz and Tim Kaeding were in row three, as Scott Bogucki, Bobby Mincer, Chris Martin and Frank Rodgers filled the balance of the starting lineup. Scelzi used the quicker outside lane to power into the top spot with Gravel and Sweet chasing his tail. Scelzi would not be denied as he took the win with David coming home second ahead of Sweet, Kinser and Schatz who all secured transfer positions into the feature.
For the 29th time this season, the talented Connecticut-born driver earned a starting position in the DIRTVision Fast Pass Dash. His luck drawing a number has been subpar all year, but when he pulled his pill and you saw the smile flash across his face you knew he got a good number. That number was a '1', which positioned him on the pole for the 8-lap dash event. Gio Scelzi would again share the front row with him as Kerry Madsen, Kyle Larson, Parker Price-Miller, Carson Macedo, Dominic Scelzi and Lynton Jeffrey lined up in their starting spots. Gio Again motored into the lead over Gravel and was making good use of the clean air. Gravel was trucking close behind in the J.R.C. Transportation/High Performance Lubricants #41. Scelzi was relentless and too the dash victory over Gravel and Kerry Madsen with Larson, Macedo, Price-Miller, Jeffrey and Dominic Scelzi rounding out the finishing order.
With his finish in the dash event, David secured a front row starting spot for the 35-lap, $20,000-to-win feature finale. Gio Scelzi and David Gravel were on row one with the battle lying in front of them at Huset's Speedway. Scelzi was fast and Gravel was determined. With the big money on the line, Larson was primed and the field was set. It was time to go racing at Huset's Speedway! When the green flag was unfurled, Gio Scelzi drove into the lead as Gravel was in a fierce fight for position with Kerry Madsen. Gravel held the runner-up position after the first lap, but Madsen took it the next lap around and held onto the third circuit as the two talented drivers were trading sliders. As he found his grove, Gravel closed in and retook the spot back and quickly focused on tracking down the leader. He was making progress before a red flag was thrown on lap 5 for Wayne Johnson who flipped after contact with Sammy Swindell right in front of Gravel. They restarted and Gravel was trying to keep pace with the always fast Scelzi. Action was again slowed for Wayne Johnson who had made repairs after his earlier incident, this time under yellow, as he had a flat left rear tire. It was Scelzi leading in his #18 followed by Gravel, Larson, Macedo and Madsen. They went back to work with Scelzi commanding the lead. Macedo had a great start and drove from fourth to second at the start. They were racing fast and furious up front and closing in on the rear of the field when another red was shown, this time for Paige Polyak and Mason Daniel who made contact and both flipped in turn two. Macedo was now following Scelzi as he had worked his way into second ahead of Gravel, Larson and Madsen. On the restart the top leaders roared up to speed with Gravel racing underneath Macedo to take the runner-up spot back. With 15 laps to go, Macedo got into the lap car of Jason Sides and collected Sheldon Haudenschild slowing action. Gravel restarted second aboard the Mesilla Valley Transportation (MVT)/Weikert's Livestock #41 Maxim with Larson, Dominic Scelzi and Parker Price-Miller racing in the top five. Before they could get a full lap in under green, the yellow lights were back on this time for Macedo and Daryn Pittman who got together coming up to speed off of turn four on the front straightaway. This time it would be a single file restart. Gio Scelzi still was on point, but Kyle Larson used his speed to drive by Gravel and into second on the ensuing restart. With 11 laps to go, the yellow was again back out for Austin McCarl and Macedo who made contact while racing. Gio was still leading, but that would change as Larson took the lead a. The final caution of the night occurred with 3 laps to go when Jacob Allen spun with Larson leading Gio Scelzi, Gravel, James McFadden and Parker Price-Miller. Larson used the open track to his advantage and bolted into lead on the final restart. Gravel used his Kistler Engines power to drive under Gio as McFadden followed and also made the pass on Gravel. Larson went on to collect his tenth World of Outlaws win of the year over McFadden and Gravel who rounded out the podium. Another great run for the forty-one!
Mesilla Valley Transportation (MVT); Saich Family; Dissolvalloy Downhole Revolution; Weikert's Livestock; J.R.C. Transportation, Inc.; Durst Inc.; Maxim Racing; The Boyd Family; Pro Powder Coating (PPC); Waco Metal; High Performance Lubricants, LLC; Team Jack Foundation; Mark Burch Motorsports; Tiger Towing; All Pro Auto Reconditioning; AutoMeter; Bell Racing USA; Brown & Miller Racing Solutions (BMRS); Buckwalter Trucking, LLC; C&R Racing; Chalk Stix Torsion Bars; Crow Enterprizes, Engler Machine & Tool, Inc.; Factory Kahne FK Shocks; Fibreworks Composites; FK Rod Ends; Fuel Safe Racing Cells; Greber Racing Components; Hoosier Racing Tire; ISC Racers Tape; Jansen Transportation; Kistler Racing Engines; KSE Racing Products; LogoDaddy Graphics; Max Papis Innovations (MPI); MSD Performance; RaceDiecast.com; Schoenfeld Headers; Shell Shock Paint; Simpson Race Products; T-FAB Custom Metal Fabrication; Vortex Racing Products; Walker Performance Filtration; Weld Wheels; Wilwood Racing; and Winters Performance Products.
To stay up-to-date with David Gravel and his success and journey on and off the track, as well as to purchase his gear and merchandise, go to www.DavidGravel89.com.
To stay connected with Jason Johnson Racing (JJR), go to www.jasonjohnsonracing.com.