KNOXVILLE, IOWA (August 14, 2020) – It was a sunny and hot day in The Hawkeye State as Philip Dietz, Clyde Knipp and Nate Repetz worked tirelessly to prepare the Mesilla Valley Transportation (MVT) #41 Maxim for the second night of action at Knoxville Raceway. After finishing fifth on Thursday night, Gravel and the JJR #41 team sat in sixth place overall points wise with 411 points. Friday night was a new day, but the points accumulated on Thursday night rolled forward and the driver and team were looking to build on them with a better performance on night number two of 'The One and Only' unique race format. It was time to go racing again at Knoxville Raceway – The Sprint Car Capital of the World!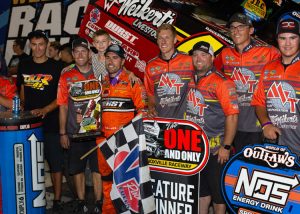 The defending Knoxville Nationals Champion would again go out late for his two time trial laps as he was slated to be the 47th car out on the track in the multi-car qualifying format. The Dunkin family once again did a fantastic job preparing the surface which was saturated with water and ready for the evening of action. Gravel climbed into the cockpit in his orange Durst Inc. Simpson Race Products driver's suit and buckled into his ButlerBUILT Professional Seat System with a Sharp Advantage insert. The Kistler Engines power under the hood came to life and Gravel was moving fast in the High Performance Lubricants/Waco Metal #41 Maxim as he took the green flag. The smooth driver circled the famous half-mile oval in an impressive 15.811 seconds the first time around, which catapulted him up to third quick overall. His second lap was consistent but slightly slower at 15.874 seconds. His first lap time withstood the remaining drivers and he ended up third quick overall earning him 98 points bringing his overall total to 509 points after time trials.
In this race format they again inverted the fastest 48 cars which put Gravel in the eighth starting position in the third Drydene heat race. Legendary Sammy Swindell sat on the pole with Kyle Offill to his outside. The top two in the starting grid were followed by Brock Zearfoss, Josh Schneiderman, Logan Schuchart, Joey Saldana, Shane Golobic and David Gravel. The driver of the forty-one was poised and ready to roll in the J.R.C. Transportation/FK Rod Ends #41 Maxim and when Justin Clark waved the green flag Gravel drove forward. After the first lap he moved up to fourth and was looking for more. It would take him a few laps, but by the end of the third lap he was able to track down Shane Golobic and make the pass for third. Swindell would lead all 10 laps to take the win over Zearfoss and Gravel. For his efforts, Gravel was able to add another 90 points to his overall point total bringing it to 599 points. He was on top of the individual night point system as well as tied with Kyle Larson for the two night point lead.
With his performance on the night, he got the opportunity to be the first to pull a number for the DIRTVision Fast Pass Dash. This 'luck-of-the-draw' thing has not been kind to the Connecticut-born driver so far this season. But Lady Luck was looking over him as his broad grin gave it away that he had pulled the #1 pill to start the dash from the pole. Californian Rico Abreu would share the front row with him as Shane Golobic, Brian Brown, Cory Eliason, Spencer Bayston, Shane Stewart and Kyle Larson rounded out the field. When the green lights illuminated around the speedway, Gravel drove off the bottom side and into the top spot over Abreu. He left nothing to question as he dominated the race and took the dash victory over Abreu, Brown and Larson with Golobic, Eliason, Stewart and Bayston completing the finishing order.
The last thing left for him to accomplish lied ahead of him in 'The One and Only' 25-lap feature event. Philip Dietz and the JJR #41 crew gave him a fast car and Gravel was ready to do his part. When the green flag unfurled it was Gravel to the lead. He was motoring Kistler Engines style and building his lead with each completed lap. He was in clean air and had his groove on as he looking for his favorite radio station on the Sirius XM radio dial. With 7 laps in the books he tracked down the drivers running at the back of the pack when a yellow was displayed for fourth running Brian Brown who had a flat right rear tire. He would go to the work area and have it changed as he rejoined the field. It was Gravel in the Dissolvalloy Downhole Revolution/FK Shocks #41 running in front of Rico Abreu, Kyle Larson, Spencer Bayston and Shane Golobic. When they restarted, Gravel again drove into the lead as Bayston got a run on both Abreu and Larson down the frontstretch. Larson and Bayston made contact while racing with Bayston's #71 getting into the wall bringing out the caution and ending his night. With 18 laps to go they restarted the race with Gravel doing his thing out front. Rico Abreu and Kyle Larson were mired in an incredible battle for the runner-up position under green flag conditions with Larson taking the position on lap 9. Gravel was fast and checked out a bit at this point, but Larson was coming California style. He was carrying his speed into the turns and building momentum as the gap began to shrink as Gravel encountered lapped traffic. With five to go Gravel was focusing as he had company by the name of Larson. Larson had tracked him down and was inspecting his rear nerf bar and with the white flag waving dove to the inside coming down the front straightaway. Gravel used Daryn Pittman as a pick and rolled through the middle of one and two as Larson got slowed behind Pittman on the low side. Gravel exited turn four and darted across the start finish line to take the win over Larson by a scant 0.203 seconds as the top two were followed by Brad Sweet and Rico Abreu as Shane Golobic rounded out the top five. Gravel was joined by Jaxx Johnson in victory lane as the flash bulb lit up the area that was filled with jubilant family, friends and supporters. A great run for the forty-one!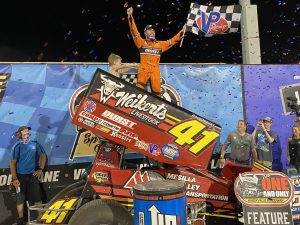 With the win, Gravel added another 250 points to his total bringing his two-day total to 849 points. He was the top point guy and was locked in to Saturday night's DirtVision Fast Pass Dash where he would be joined by Kyle Larson (846 points), Aaron Reutzel (821 points) and Logan Schuchart (812 points). David and the JJR #41 team will keep their heads down as they prepare for success in the Capitani Classic finale on Saturday evening.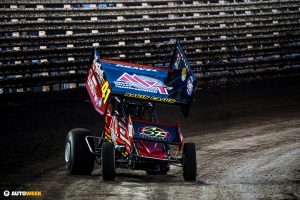 Mesilla Valley Transportation (MVT); Saich Family; Dissolvalloy Downhole Revolution; Weikert's Livestock; J.R.C. Transportation, Inc.; Durst Inc.; Maxim Racing; The Boyd Family; Pro Powder Coating (PPC); Waco Metal; High Performance Lubricants, LLC; Team Jack Foundation; Mark Burch Motorsports; Tiger Towing; All Pro Auto Reconditioning; AutoMeter; Bell Racing USA; Brown & Miller Racing Solutions (BMRS); Buckwalter Trucking, LLC; C&R Racing; Chalk Stix Torsion Bars; Crow Enterprizes, Engler Machine & Tool, Inc.; Factory Kahne FK Shocks; Fibreworks Composites; FK Rod Ends; Fuel Safe Racing Cells; Greber Racing Components; Hoosier Racing Tire; ISC Racers Tape; Jansen Transportation; Kistler Racing Engines; KSE Racing Products; LogoDaddy Graphics; Max Papis Innovations (MPI); MSD Performance; RaceDiecast.com; Schoenfeld Headers; Shell Shock Paint; Simpson Race Products; T-FAB Custom Metal Fabrication; Vortex Racing Products; Walker Performance Filtration; Weld Wheels; Wilwood Racing; and Winters Performance Products.
To stay up-to-date with David Gravel and his success and journey on and off the track, as well as to purchase his gear and merchandise, go to www.DavidGravel89.com.
To stay connected with Jason Johnson Racing (JJR), go to www.jasonjohnsonracing.com.