ABBOTTSTOWN, PENNSYLVANIA (July 29, 2020) – Staying in Pennsylvania is always enjoyable for the Jason Johnson Racing (JJR) #41 team as they settle in at the beautiful Jonestown KOA off I-81 at Exit 90 and get to race against some great competition night-in and night out. After collecting a win in the Champion Racing Oil Summer Nationals finale on Saturday night at Williams Grove Speedway in World of Outlaws competition, the team took advantage of a few days to relax and refresh with friends and sponsors as they waited for Wednesday. When hump day rolled around they woke up with their game faces on and were grateful to have the opportunity to race in their Weikert's Livestock/MSD Performance #41 Maxim again at Lincoln Speedway before heading out of town to end their visit. There were one of 30 teams lining the pit area ready to compete in the Drydene 40 around Lincoln Speedway's 3/8-mile fast and racy oval.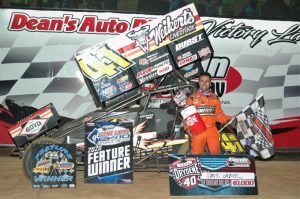 Using a different format for the event, the first order of business was time trials with four cars on the track at the same time. Gravel was grouped with Dietz Motorsports' teammate Parker Price-Miller, Logan Schuchart and Jacob Allen. They rolled onto the track and the engines fired. Gravel was on the accelerator and trucking in the Mesilla Valley Transportation (MVT)/AutoMeter #41 Maxim as he took the green flag. His first lap was a good one at 14.372 seconds, but he stayed on the hammer and carried his speed through the turns and down the straightaways. Coming off of four he experienced some mechanical issues, but he still laid down his best lap at 14.121 seconds. The mechanical issue may have cost him a better lap time as he rolled to a stop in turn two, but the quicker of his two laps was 6th quick overall. For his efforts he earned 90 points to start the evening.
Each driver would complete in two 10-lap heat race events with the first of the two lining heads up based on time. Points would be awarded for finishing position and be added to those earned in time trials. When the heat race lineups were posted, the Watertown, Connecticut native would be charted for the third heat race where he would start on the outside front row beside Jacob Allen. Allen would use his speed and skills to wheel his Shark Racing #1s into the lead at the start of the race as Gravel settled into the runner-up position aboard the J.R.C. Transportation/High Performance Lubricants #41. He still was dealing with some mechanical woes, but he was battling. Allen was able to build a sizable lead, but at the halfway point of the race Gravel was closing the gap lap after lap. He ran out of time as Allen took the heat race win over Gravel with Tim Wagaman, Brock Zearfoss and Landon Myers rounding out the top five. He earned an additional 95 points for his heat race finish to bring his evening's sub-total to 185 points after qualifying and the first round of heat races were completed.
The second round of heat races would get a little tougher as this time they inverted the entire field based on their times, which put David Gravel in the inside of the last row with Jacob Allen to his outside. Scott Fisher and Dylan Cisney sat on the front row with Jason Solwold and Landon Myers in row two. When the field went racing under green flag conditions, Gravel drove up to the seventh spot and immediately started digging for more. He gained one more position as he started chasing Ryan Smith into turn one. Smith entered on the high side and got up over the cushion resulting in him spinning the Heffner Racing #27 to bring out the caution. Gravel now moved into the fifth position and was ready for more. Scott Fisher and Brock Zearfoss were running in the third and fourth spots and when racing resumed Gravel immediately started to put on the pressure. The three drivers were racing side-by-side and cleanly as they exchanged positions all around the track. In the move of the night, Zearfoss dove under Fisher entering turn three as Gravel entered high. Zearfoss made the pass on Fisher as Gravel also drove around Fisher exiting turn four. He continued his forward momentum and dove low entering turn one to move ahead of Zearfoss. From fifth to third in a blink of an eye. With two laps to go, Gravel started to close in on second running Solwold, but couldn't close the gap enough and settled for third as Cisney took the win. His drive forward earned him an additional 190 points bringing his total to 385 points, which ended up second highest behind Brian Montieth who was quick timer and won his first heat race.
With the starting lineup set for the 40-lap feature, David Gravel climbed into his ButlerBUILT Professional Seat System and pulled his Simpson Race Products safety belts tight. Crew Chief Philip Dietz and the JJR #41 crew made their final adjustments as he rolled back from the tailgate of the hauler. Gravel pushed off and was ready to go fast at Lincoln Speedway as it was time to go racing in the Pigeon Hills of Pennsylvania. The Watertown, Connecticut driver would start from the second position with Brian Montieth's #21 to his inside on the front row. He along with the balance of the field were eager to race forward and pass some cars in hopes of winning the Drydene 40 and the $10,000 winner's share of the purse. The field was aligned in their two-by-two starting order and the flagman gave them the one to go signal. As they exited turn four Gravel drove the Weikert's Livestock #41 Maxim into the lead over Montieth and Logan Schuchart as he led the first circuit. He was in the point position on lap two when the caution flag was displayed for a slowing Adam Wilt who stopped on the back straightaway. The track was rubbering up and when they restarted Gravel drove low through turns one and two and high through turns three and four to build momentum. Another caution would come out on lap 3 for a spinning Billy Dietrich in turn one to slow and regroup the field. It would be the last caution of the night as the final 37 laps would be uninterrupted. Gravel was in the lead but the last half of the race was filled with close racing action with Schuchart and Brent Marks. The talented trio navigated the increasingly more technical track as the laps counted down. Lapped traffic now was posing some challenges for the leaders. If you slipped up you most certainly would have lost one, if not two, positions in the running order. Gravel meticulously executed each lap and collected his second consecutive victory by winning the Drydene 40 at Lincoln Speedway. Another great run for the forty-one!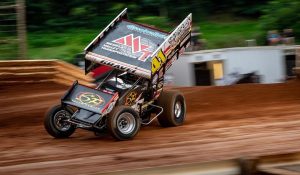 David Gravel Driving the JJR #41 to Victory in the Drydene 40 at Lincoln Speedway!
Mesilla Valley Transportation (MVT); Saich Family; Dissolvalloy Downhole Revolution; Weikert's Livestock; J.R.C. Transportation, Inc.; Durst Inc.; Maxim Racing; The Boyd Family; Pro Powder Coating (PPC); Waco Metal; High Performance Lubricants, LLC; Team Jack Foundation; Mark Burch Motorsports; Tiger Towing; All Pro Auto Reconditioning; AutoMeter; Bell Racing USA; Brown & Miller Racing Solutions (BMRS); Buckwalter Trucking, LLC; C&R Racing; Chalk Stix Torsion Bars; Crow Enterprizes, Engler Machine & Tool, Inc.; Factory Kahne FK Shocks; Fibreworks Composites; FK Rod Ends; Fuel Safe Racing Cells; Greber Racing Components; Hoosier Racing Tire; ISC Racers Tape; Jansen Transportation; Kistler Racing Engines; KSE Racing Products; LogoDaddy Graphics; Max Papis Innovations (MPI); MSD Performance; RaceDiecast.com; Schoenfeld Headers; Shell Shock Paint; Simpson Race Products; T-FAB Custom Metal Fabrication; Vortex Racing Products; Walker Performance Filtration; Weld Wheels; Wilwood Racing; and Winters Performance Products.
To stay up-to-date with David Gravel and his success and journey on and off the track, as well as to purchase his gear and merchandise, go to www.DavidGravel89.com.
To stay connected with Jason Johnson Racing (JJR), go to www.jasonjohnsonracing.com.