NEW RICHMOND, WISCONSIN (July 3, 2020) – With the sun shining over Wisconsin, the JJR crew was hard at work cleaning and maintaining the Mesilla Valley Transportation (MVT)/Greber Racing Components (GRC) #41 Maxim after Thursday night's qualifying action and a fifth place finish in the Elimination Showdown feature to kick off the Independence Day Spectacular weekend. The fans who attended night one returned with smiles on their faces as they were ready to enjoy more high caliber sprint car entertainment World of Outlaws NOS Energy Drink Sprint Car Series style! The 30 teams were back in the pit area as they readied for the second night of racing competition.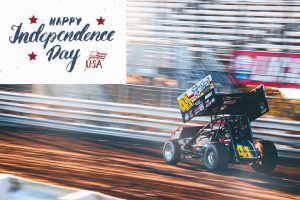 On Thursday night when all of the time trials were run, David went out 24th and laid down a fast lap of 11.471 seconds as he wheeled the Weikert's Livestock/MSD Performance #41 around Cedar Lake Speedway. He was up on his IPC carbon fiber steering wheel and maneuvered through the turns to find the fastest way around the track. He positioned himself well for Friday night's racing card.
He was scheduled to start from the inside of row three in the third Drydene Heat Race, but that all changed when Scotty Thiel who was supposed to start on the outside of the front row scratched for the night. That moved the Watertown, Connecticut speedster up to the front row that he shared with polesitter Parker Price-Miller. A bunch of talent lined up behind the Dietz Motorsports #14 and the Jason Johnson Racing (JJR) #41 with the likes of Daryn Pittman, Bill Balog, Dominic Scelzi, Shane Stewart and Mark Dobmeier filling spots in the starting lineup. When the green flag was waving it was Gravel driving the Mesilla Valley Transportation (MVT)/Dissolvalloy Downhole Revolution #41 Maxim into the lead over Parker Price-Miller. Gravel was digging and building his lead with each passing lap. That lead grew to over two seconds as the white flag waved and Gravel brought the forty-one home first over Parker Price-Miler. Pittman, Balog and Scelzi with Shane Stewart securing the sixth and final transfer position. Stewart and Mark Dobmeier made incidental racing contact in turn three on the final lap while racing for position sending Dobmeier flipping. Dobmeier was alert and conscious but taken to the hospital for further observation.
For the DIRTVision Fast Pass Dash the drivers pill a pill to see where they would start. David has been an expert this season pulling high numbers, which is not what you want. This time Lady Luck wrapped her arms around him as he pulled the '3' pill to position him on the inside of row two. Ian Madsen and Carson Macedo made up the front row as Gravel shared row two with Parker Price-Miller. Logan Schuchart and Kerry Madsen sat in row three. Macedo powered into the lead and led the first lap of the 8-lap event. Gravel was competing from the third position as he was trying everything to catch up to Macedo and Madsen. Macedo was checking out but Gravel was making a little progress closing the gap slightly on Ian Madsen. Macedo would take the win as Madsen beat Gravel to the finish line as the top three were followed by Parker Price-Miller, Kerry Madsen and Logan Schuchart.
The front three rows were now set for the start of the 35-lap NOS Energy Drink feature event. David was in a good starting position and Philip Dietz and the JJR crew went to work to set him up for success. The Waco Metal/Tiger Towing #41 Maxim rolled out onto the track as the cars were called to the speedway. After their traditional four-wide salute to the fans it was time to go racing at Cedar Lake Speedway! Carson Macedo was up on the wheel and drove into the lead at the start in the #2. Gravel got shuffled back and on lap 5 found himself in sixth position trying to find his competitive groove. He battled from that position until lap 10 when he used his Kistler Engines/Engler Machine & Tool power to motor back into the top five. Five laps later he moved into fourth as leader Macedo was battling with Logan Schuchart for the top spot. Gravel was driving a great race and on lap 25 moved into a podium spot on the scoreboard. He held the third position and Macedo surrendered the lead to the always hard charging Brad Sweet. Kerry Madsen was now showing speed in the KI Crossbows #2M as he slid by Gravel and also raced by Macedo into the runner-up position. Madsen did not have enough laps left to see if he could challenge Sweet as the leader took the checkers, his sixth win of the season, over Kerry Madsen and Carson Macedo, with David Gravel securing the fourth position ahead of Logan Schuchart who rounded out the top five. A great run for the forty-one!
A Strong Showing with a Fourth Place Finish in the Friday Night Portion of the Independence Day Spectacular at Cedar Lake Speedway!
Mesilla Valley Transportation (MVT); Saich Family; Dissolvalloy Downhole Revolution; Weikert's Livestock; J.R.C. Transportation, Inc.; Durst Inc.; Maxim Racing; The Boyd Family; Pro Powder Coating (PPC); Waco Metal; High Performance Lubricants, LLC; Team Jack Foundation; Mark Burch Motorsports; Tiger Towing; All Pro Auto Reconditioning; AutoMeter; Bell Racing USA; Brown & Miller Racing Solutions (BMRS); Buckwalter Trucking, LLC; C&R Racing; Chalk Stix Torsion Bars; Crow Enterprizes, Engler Machine & Tool, Inc.; Factory Kahne FK Shocks; Fibreworks Composites; FK Rod Ends; Fuel Safe Racing Cells; Greber Racing Components; Hoosier Racing Tire; ISC Racers Tape; Jansen Transportation; K&N Filters; Kistler Racing Engines; KSE Racing Products; LogoDaddy Graphics; Max Papis Innovations (MPI); MSD Performance; RaceDiecast.com; Schoenfeld Headers; Shell Shock Paint; Simpson Race Products; T-FAB Custom Metal Fabrication; Vortex Racing Products; Walker Performance Filtration; Weld Wheels; Wilwood Racing; and Winters Performance Products.
To stay up-to-date with David Gravel and his success and journey on and off the track, as well as to purchase his gear and merchandise, go to www.DavidGravel89.com.
To stay connected with Jason Johnson Racing (JJR), go to www.jasonjohnsonracing.com.