HAUBSTADT, INDIANA (June 19, 2020) – It sure is good to be back sprint car racing on a weekly basis. The re-mapped journey, post-COVID, this week brought David Gravel and the JJR #41 team to Tri-State Speedway in southern Indiana for two nights of high speed competition with the best in the business – the World of Outlaws NOS Energy Drink Sprint Car Series. Tri-State Speedway, affectionately known as "The Class Track", is a high-banked quarter mile dirt oval located just 16 miles north of Evansville and always produces exciting racing. The race track challenges even the best drivers, but also delivers great rewards for those that figure it out. As the sun started its descent over the fields of southern Indiana on Friday evening, there were 33 teams lining the pit area off turns one and two all ready to do what they do best. The crew rolled the Engler Machine & Tool/Maxim Racing/C&R Racing #41 out of the hauler ready to take on the night.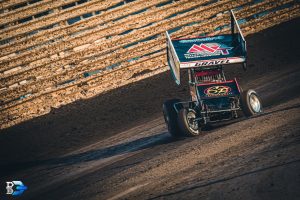 When the pill rolls out of the official scorer's bingo cage, that little numbered ball can either brighter your day or tell you that you have some work to do in racing. For defending Knoxville Nationals champion David Gravel and the Mesilla Valley Transportation (MVT)/Weikert's Livestock #41 team it was a good night as it was the lowest pill drawn on this night, which would send him out first for his two laps at speed. The determined competitor readied himself for his two laps of success that is measure on the clock in thousandths of a second. He buckled his Simpson Race Products safety belts and pulled them snug for his high speed adventure. He took the green flag and the hands on the clock were ticking by second-by-second. It would be his measure of speed and smoothness and it stopped the first time around at 13.067 seconds. He kept digging and on lap two his time was better at 12.831 seconds. The quicker of his two times scored him in the fifth overall in in the time trial finishing order.
Locked into the first Drydene heat race of the night from the second starting position beside quick timer Kerry Madsen, Gravel was ready to give the FK Rod Ends/WELD Racing #41 Maxim a run through the air around Tri-State Speedway. When the green flag waved, he jumped on the accelerator and built up momentum from the top spot in clean air over Madsen and Brad Sweet. He was turning consistent laps that were all in the low 13 second bracket and building his lead with each completed circuit. A late caution with 3 laps to go for a slowing Critter Malone regrouped the field. Brad Sweet was now running second with Madsen, Donny Schatz and Justin Peck running in the top five. Gravel did not hesitate when the yellow lights turned green and charged forward to lead the last laps of the heat race. He took the win over Sweet, Madsen and Schatz with Peck beating Ayrton Gennetten for the fifth and final transfer position.
Earning a coveted spot in the DIRTVision Fast Pass Dash, the talented Connecticut driver now needed some more luck as he pulled for his starting position. With a shake of the head he showed the World of Outlaws official the '7' pill which put him on the inside of the final row for the 8-lap dash to set the features starting lineup for the first four rows. He put his pill draw luck behind him and focused on driving forward. Sheldon Haudenschild would start on the pole with Carson Short to his outside as Carson Macedo, Chase Stockton, Cory Eliason, Brad Sweet, Gravel and Rico Abreu took their spots in the starting lineup. It was Carson Short using the outside lane to take the top spot as Gravel maneuvered using the low side to gain a spot in the running order. Short would not be challenged for the lead, but Gravel was fighting for one more position with Macedo throughout the race. The two talented drivers were wheeling it with Macedo holding the position. Short took the win over Haudenschild, Stockton and Sweet with Macedo, Gravel, Abreu and Eliason rounding out the finishing order.
The track surface was still moist and fast at feature time so the talented field could put on a 30-lap show for the fans around Tri-State Speedway's quarter mile stage. Starting for the outside of row three aboard the Team Jack Foundation/Brown & Miller Racing Solution (BMRS) #41 Maxim, Gravel was ready to attach the track. HE did just that when the green flag waved as he maneuvered from the top side to the bottom and moved into the fourth running position after lap one. Carson Short was in the lead over Sheldon Haudenschild with Gravel fighting for position with Brad Sweet ad Carson Macedo. If you ever question why these guys are the best in the business, just watch the first 10 laps of this race and you will have all the proof you need. These three incredibly talented racers were cleanly racing three-wide for position on this tight little bullring. It was breathtaking and exciting! Gravel fell back to sixth momentarily on the track before making a bold and daring move look easy as he sliced through the middle of Macedo and Sweet to take over the fourth position. Short meanwhile was putting on a show of his own racing with Haudenschild for the lead. A red flag for Jeff Swindell who flipped out of the ballpark in turn two regrouped the field of competitors. Wen racing resumed Gravel was now embroiled in a battle for the podium spot with Chase Stockton. Gravel would grab it on lap 18 only to give it back to Stockton in a tight battle. With the laps dwindling, Short was still in the lead but Haudenschild wanted it and had a fast car. Gravel wanted to gain a position too and passed Stockton for third on lap 24. A late caution would put him on the rear nerf bar of second running Haudenschild and a potential shot at the win as you never know what is going to happen on these tight ovals. When green flag racing resumed, Short and Haudenschild were dueling with Gravel hoping to join the mix. Short would not be denied winning his first World of Outlaws race over Haudenschild with Gravel coming home third in the Mesilla Valley Transportation (MVT)/Chalk Stix Torsion Bars #41. A great run for the forty-one on the first of two night of action at Tri-State Speedway!
Mesilla Valley Transportation (MVT); Saich Family; Dissolvalloy Downhole Revolution; Weikert's Livestock; J.R.C. Transportation, Inc.; Durst Inc.; Maxim Racing; The Boyd Family; Pro Powder Coating (PPC); Waco Metal; High Performance Lubricants, LLC; Team Jack Foundation; Mark Burch Motorsports; Tiger Towing; All Pro Auto Reconditioning; AutoMeter; Bell Racing USA; Brown & Miller Racing Solutions (BMRS); Buckwalter Trucking, LLC; C&R Racing; Chalk Stix Torsion Bars; Crow Enterprizes, Engler Machine & Tool, Inc.; Factory Kahne FK Shocks; Fibreworks Composites; FK Rod Ends; Fuel Safe Racing Cells; Greber Racing Components; Hoosier Racing Tire; ISC Racers Tape; Jansen Transportation; K&N Filters; Kistler Racing Engines; KSE Racing Products; LogoDaddy Graphics; Max Papis Innovations (MPI); MSD Performance; RaceDiecast.com; Schoenfeld Headers; Shell Shock Paint; Simpson Race Products; T-FAB Custom Metal Fabrication; Vortex Racing Products; Walker Performance Filtration; Weld Wheels; Wilwood Racing; and Winters Performance Products.
To stay up-to-date with David Gravel and his success and journey on and off the track, as well as to purchase his gear and merchandise, go to www.DavidGravel89.com.
To stay connected with Jason Johnson Racing (JJR), go to www.jasonjohnsonracing.com.