JACKSON, MINNESOTA (June 26, 2020) – Following a 15th place finish in the Thursday portion of the show, after getting postponed and getting involved in an early race accident, David Gravel and the JJR #41 team were determined to improve their performance with a strong showing in the Friday night portion of the show at the Jackson Motorplex. Even after all of the challenges they encountered on the first night, the driver and team were situated in 9th place overall in the Jackson Nationals point system with 452 points. There was 44 cars again registered to continue on this night with one new addition to the field of competitors and one that was unable to continue due to mechanical problems.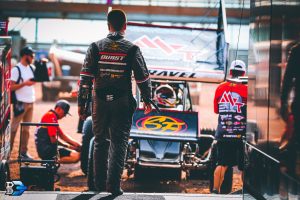 With the luck of the draw, David would again be the 24th car out for his two timed laps against the clock in the Waco Metal/Walker Performance Filtration #41 Maxim. He was on the accelerator and looking to get everything he could out of these two laps at speed with his Kistler Engines. He was not about to leave anything out on the track. The speedster was digging around the 4/10-mile Jackson Motorplex oval and after his first lap, which he completed in 13.117 seconds, he stayed on the hammer and hit all of his lines. He rode the cushion around the first set of turns and then dove to the bottom through the second set to improve his time to 13.002 seconds. His speed carried him to second quick overall on the night, which is important because everything generates and adds to your event point total at the Jackson Nationals.
He would line up sixth in second Drydene heat race that was loaded with talent with Brad Sweet to his inside on row three as Parker Price-Miller, Bill Balog, Austin McCarl and Sheldon Haudenschild lined up in the front two rows. Gravel wasted little time flexing his muscles on the track as he drove the Mesilla Valley Transportation (MVT)/Fuel Safe Racing Cells #41 Maxim into fifth and with each passing lap was searching to move up on the leader board. By the fourth circuit he was up to fourth in the running order and was now pressuring Bill Balog for the show position. He would steal that spot away from Balog on lap 6 and started to track down Parker Price-Miller. He ran out of time as Sweet took the win over Price-Miller, with Gravel coming home third followed by Balog and Haudenschild as those transferring to the feature.
The Watertown, Connecticut native would start in the 10th starting spot aboard The Boyd Family/Engler Machine & Tool #41 in the 25-lap feature event. The track surface was widening out and racy. Every driver that made the feature was focused on doing their best and with the goal of adding to their point total. When the green flag waved the forward march was on as the air filled with the sweet sound of 410 engines. During the initial lap, Gravel dropped back to twelfth but was not about to stay there. He moved back into the top ten on lap 3 and just kept competing lap after lap. The racing was tight, but the talent chauffeur was balancing his patience with his determination to continue to move forward. With 10 laps in the books he was up to ninth and actively looking for more. On lap 12, he would drive as far forward as sixth before getting embroiled in a three car battle for that position with Donny Schatz and a hard-charging Jacob Allen. Logan Schuchart was your leader as Daryn Pittman and Brad Sweet were racing hard behind him. Schuchart would check out by 5 seconds and go on to take the victory on night two of the Jackson Nationals as Pitman and Sweet rounded out the podium. Parker Price-Miller was able to secure a fourth place finish with Schatz coming home fifth. David Gravel finished seventh as he crossed the finish line behind Ian Madsen. His strong and determined effort all night in the Weikert's Livestock/FK Rod Ends #41 Maxim entry netted him an additional 480 points for the night bringing his cumulative total after two nights to 932 points, which was fourth overall. The top four are locked into Saturday night's dash and feature. A strong night and set of results for the forty-one!
Mesilla Valley Transportation (MVT); Saich Family; Dissolvalloy Downhole Revolution; Weikert's Livestock; J.R.C. Transportation, Inc.; Durst Inc.; Maxim Racing; The Boyd Family; Pro Powder Coating (PPC); Waco Metal; High Performance Lubricants, LLC; Team Jack Foundation; Mark Burch Motorsports; Tiger Towing; All Pro Auto Reconditioning; AutoMeter; Bell Racing USA; Brown & Miller Racing Solutions (BMRS); Buckwalter Trucking, LLC; C&R Racing; Chalk Stix Torsion Bars; Crow Enterprizes, Engler Machine & Tool, Inc.; Factory Kahne FK Shocks; Fibreworks Composites; FK Rod Ends; Fuel Safe Racing Cells; Greber Racing Components; Hoosier Racing Tire; ISC Racers Tape; Jansen Transportation; K&N Filters; Kistler Racing Engines; KSE Racing Products; LogoDaddy Graphics; Max Papis Innovations (MPI); MSD Performance; RaceDiecast.com; Schoenfeld Headers; Shell Shock Paint; Simpson Race Products; T-FAB Custom Metal Fabrication; Vortex Racing Products; Walker Performance Filtration; Weld Wheels; Wilwood Racing; and Winters Performance Products.
To stay up-to-date with David Gravel and his success and journey on and off the track, as well as to purchase his gear and merchandise, go to www.DavidGravel89.com.
To stay connected with Jason Johnson Racing (JJR), go to www.jasonjohnsonracing.com.