KNOXVILLE, IOWA (May 8, 2020) – When you looked down through the list of 48 drivers in the pit area at Knoxville Raceway, you almost had to shake your head in disbelief. Every name on the list is not only very talented, but also most are very accomplished and successful racers. Kudos to the World of Outlaws, Knoxville Raceway, Marion County officials and the state of Iowa representatives for working together and making the world a little more right on Friday night at The Sprint Car Capital of the World. While everyone was masked, which was cool because it kind of reminded me of the early days when the handkerchief was the only thing protecting the racers faces at speed on the track, it was time to get back on the track.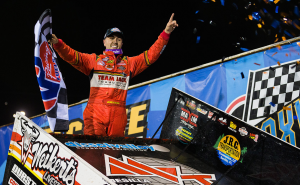 After the last 23 World of Outlaws NOS Energy Drink Sprint Car Series races were canceled or postponed due to the COVID-19, or Coronavirus, pandemic that swept over the country and resulted in stay-at-home orders as well as silencing the engines and the sport, it was time to go racing at Knoxville Raceway. Philip Dietz, Clyde Knipp and Nathan Repetz had David Gravel's JJR Mesilla Valley Transportation (MVT)/Weikert's Livestock #41 Maxim ready to compete. No fans. No roar from the crowd. Just 48 great drivers and teams ready to put on a show.
The field was split down the middle into two equal sets for time trials. Gravel would go out early in Qualifying Flight B and when his Kistler Engine came to life he was ready to roll. He was up to speed and took the green flag from Justin Clark as the seconds on the stopwatch started to tick. He was smooth and fast and when he crossed the timing light the first time he sat on top of the speed charts. He stayed on the hammer and was trucking around the black gumbo clay surface at Knoxville Raceway. His second lap was quicker than the first one at 15.446 seconds, which stood the test of time as he was the fastest in Qualifying Flight B.
The field was set for the four DRYDENE heat races as Gravel and the JJR #41 would start on the pole in Heat #3. The lineup for that heat race was a Who's Who in sprint car racing with names like David Gravel, Terry McCarl, Brian Brown, Kyle Larson, Donny Schatz, Rico Abreu, Kasey Kahne, Jason Sides and Kraig Kinser. When the green flag waved over the field for the 8-lap event, Gravel drove the Waco Metal/Tiger Towing #41 Maxim to the front of the pack. He was in clean air and finding his stride around the half-mile oval. Lap after lap his lead was growing as the drivers in the field behind him were fighting for position. He took the checkers 2.7 seconds ahead of Brian Brown and Schatz as McCarl and Larson locked down the final two transfer positions to the feature.
Setting himself up in the DIRTVision Fast Pass Dash, a six lap event that sets the starting order for the first four rows of the feature, he climbed into his Sharp Advantage seat insert and pulled on his Simpson Race Products helmet. He picked up the NOS Energy Drink can with #5 scribbled on the bottom, so he would start from the inside of row three with Logan Schuchart to his outside. Ian Madsen led the field to the green and was in command. He would lead wire-to-wire with Daryn Pittman coming home second followed by Shane Golobic and David Gravel who gained a spot during the race. Lynton Jeffrey, Schuchart, Brian Brown and Cory Eliason rounded out the field after blowing and engine running in the second spot.
For this special event, race officials added 5 laps to normal 25-lap feature event and fans and companies watching online starting to contribute money to add to the overall purse. An anonymous donor added $5,000 to the winner's share to push it to $15,000. Everything was in place and the drivers and teams were eager to get going and put a World of Outlaw quality style show on for the fans – even if they were all watching DIRTVision. Ian Madsen and Daryn Pittman paced the field around with Gravel following close behind in his outside row two start position. They went four-wide and saluted the fans in their traditional formation before settling back into their two-by-two starting grid. When the lights illuminated green, Daryn Pittman drove the Roth Motorsports #83 into the lead with Madsen and Gravel trying to find their groove. A caution on lap 6 regrouped the field with Pittman maintaining the lead on the restart, but Madsen was fast and focused. Gravel dropped back a few spots and was running in the fifth position before starting his march back towards the front. Madsen passed Pittman to lead lap 9, with Gravel racing with Logan Schuchart for the show position. Gravel would move into third and methodically started to track down the leaders. With 12 laps to go he had passed Pittman and was running in the runner-up position. Gravel closed the gap on leader Ian Madsen and the two talented chauffeurs gave the fans a show to remember while watching on DIRTVision. Gravel was able to catch Madsen and even pass him a few times, but Madsen would steal the lead back as Gravel was running low and had to slow to navigate the lap cars. With 6 laps to go it appeared Madsen had sealed the win as he had built a pretty sizable lead when Gravel got slowed up behind some traffic. But the relentless Watertown, Connecticut native was not about to give up and when the flagman's two sticks with a colored and white/black checkered cloth went up into the air he was right on Madsen's rear nerf bar. Gravel was right there and took the lead away from Madsen coming out of turn four to the white flag. He would go on to take the win in the Mesilla Valley Transportation (MVT)/J.R.C. Transportation/High Performance Lubricants #41 Maxim. The pleasant driver exited his cockpit with a smile and stated, "Me and Ian made a lot of mistakes. If it was a 25-lap race, I would have lost that one. I was really good in 1 and 2 on the bottom, but man, I could not come off. It was so treacherous, and he was kind of running up the track and turning down and getting more momentum. If I hit my marks, I was faster, but man, it was hard to do." He paused and reflected as this was a special day as Jaxx Johnson was turning 7 years old and his crew chief, Philip Dietz celebrated his birthday on Thursday (May 7). Gravel continued, "For us to be the only race this weekend and win it is just good for everyone. Good for JJR. Good for Jaxx's birthday. His favorite number is five. We drew that in the Dash. It was all meant to be."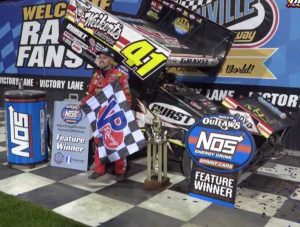 Winning One for the History Books, Gravel drives the Mesilla Valley Transportation (MVT) #41 to Victory at Knoxville Raceway!
Mesilla Valley Transportation (MVT); Saich Family; Dissolvalloy Downhole Revolution; Weikert's Livestock; J.R.C. Transportation, Inc.; Durst Inc.; Maxim Racing; The Boyd Family; Pro Powder Coating (PPC); Waco Metal; High Performance Lubricants, LLC; Team Jack Foundation; Mark Burch Motorsports; Tiger Towing; All Pro Auto Reconditioning; AutoMeter; Bell Racing USA; Brown & Miller Racing Solutions (BMRS); Buckwalter Trucking, LLC; C&R Racing; Chalk Stix Torsion Bars; Crow Enterprizes, Engler Machine & Tool, Inc.; Factory Kahne FK Shocks; Fibreworks Composites; FK Rod Ends; Fuel Safe Racing Cells; Greber Racing Components; Hoosier Racing Tire; ISC Racers Tape; Jansen Transportation; K&N Filters; Kistler Racing Engines; KSE Racing Products; LogoDaddy Graphics; Max Papis Innovations (MPI); MSD Performance; RaceDiecast.com; Schoenfeld Headers; Shell Shock Paint; Simpson Race Products; T-FAB Custom Metal Fabrication; Vortex Racing Products; Walker Performance Filtration; Weld Wheels; Wilwood Racing; and Winters Performance Products.
To stay up-to-date with David Gravel and his success and journey on and off the track, as well as to purchase his gear and merchandise, go to www.DavidGravel89.com.
To stay connected with Jason Johnson Racing (JJR), go to www.jasonjohnsonracing.com.