BARBERVILLE, FLORIDA (February 9, 2020) – David Gravel was back in the pit area in his orange Durst Inc. driver's suit ready to get rolling on the final night of the 49th Annual DIRTcar Nationals at Volusia Speedway Park. The grandstands were packed and the weather was almost perfect for the final night of action at the half-mile oval located just to the west of Ormond Beach and Daytona area. There were 35 teams that pulled into the pits ready to do battle 410 sprint car style.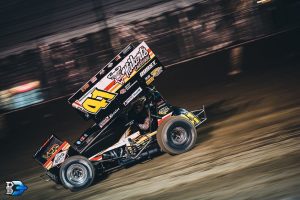 Gravel climbed into his office and buckled his Simpson Race Products safety belts as he prepared for his two laps around Volusia Speedway Park on the clock. The J.R.C. Transportation, Inc./High Performance Lubricants #41 Maxim machine would be the 27th car out for time trials. He waited patiently and when it was his turn he was excited to put his Kistler Engines power on display. On his first lap he shot to the top of the speed charts with a quick lap of 13.351 seconds. It was fast and stayed at the top of the board as he collected his second quick time overall in his two attempts.
He would start on the pole of the first of four Drydene Heat Race lineups in his Mesilla Valley Transportation (MVT)/All Pro Auto Reconditioning #41 Maxim with Pennsylvanian Lucas Wolfe to his outside. The second row was comprised of Anthony Macri and Cory Eliason, while Kyle Larson, Donny Schatz, Brent Marks, Ian Madsen and Kraig Kinser rounded out the starting grid. When the green flag waved, Gravel rocketing into the lead and was showing the way before a caution was displayed for Larson who spun to a stop in the turn. When the yellow lights dimmed and the green lights illuminated it was Gravel back into the lead and he was racing with clean air flowing over his Vortex Racing Products wings. With a lap to go though, another yellow would fly this time for a slowing Kraig Kinser who appeared to lose an engine, as the field regroup for the restart. Gravel would again dominate the start and win the heat race by almost two seconds over Cory Eliason with Donny Schatz, Lucas Wolfe and Ian Madsen rounding out the top five.
Qualifying for his second 6-lap DIRTVision Fast Pass Dash in two attempts, David Gravel was the first driver to stick his hand in the oversized NOS Energy Drink can to pull the pill for his starting position. He churned them up, but unfortunately a high numbered one was what landed in his hand as he pulled the '7' pill. He would start seventh as polesitter Carson Macedo and outside front row starter Daryn Pittman brought the field to the green flag. The track was still fast with the cushion only pushed up about three quarters of the way up the track making passing difficult. Pittman powered around the top to take the lead over Macedo as David settled into the seventh running spot. Pittman led wire-to-wire and took the win over Logan Schuchart, Macedo, Cory Eliason and Brad Sweet with Shane Stewart, Gravel and Jacob Allen completing the finishing order.
The field was set for the final 30-lap sprint car feature of the 49th Annual DIRTcar Nationals and David Gravel was poised to go fast aboard the Weikert's Livestock/AutoMeter #41. When the engines fired the crowd lit up the flashlight portion of their cellular phones and gave them a salute as they pushed off. In return the drivers saluted them with their traditional four-wide salute. They reformed n their two-by-two starting order and readied themselves to take the green flag. When it waved they were off with Pittman and Schuchart fighting for the lead. Gravel moved up into the sixth position on lap one and was battling each lap to maintain the position as the field behind him was eager to move forward too. Logan Schuchart was setting a torrid pace at the front of the pack but Pittman and Cory Eliason were not giving up. Eliason made the pass on Pittman for the runner-up position and set his sights on Schuchart. He caught him and momentarily stole the lead before Schuchart wrestled it back. As the top two battled, Gravel was battling for position two. He got shuffled back as far as eighth, but the determined driver of the forty-one was not giving up. The field regrouped when a caution flag flew for Eliason when his motor expired with just a few laps to go. Gravel was sitting in seventh behind Donny Schatz and when racing resumed he drove hard and gained the position. Schuchart went on to capture the win over Pittman and Brad Sweet with 18 starting Sheldon Haudenschild coming home fourth and Carson Macedo rounding out the top five. David Gravel, after setting quick time, brought the Tiger Towing/T-FAB Custom Metal Fabrication #41 Maxim home with a hard earned sixth place finish. A good run for the forty-one!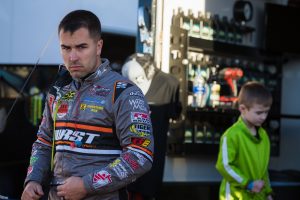 After Setting Quick Time, Gravel Drives to A Sixth Place Finish in the DIRTcar Nationals Finale!
Mesilla Valley Transportation (MVT); Saich Family; Dissolvalloy Downhole Revolution; Weikert's Livestock; J.R.C. Transportation, Inc.; Durst Inc.; Maxim Racing; The Boyd Family; Pro Powder Coating (PPC); Waco Metal; High Performance Lubricants, LLC; Team Jack Foundation; Mark Burch Motorsports; Tiger Towing; All Pro Auto Reconditioning; AutoMeter; Bell Racing USA; Brown & Miller Racing Solutions (BMRS); Buckwalter Trucking, LLC; C&R Racing; Chalk Stix Torsion Bars; Crow Enterprizes, Engler Machine & Tool, Inc.; Factory Kahne FK Shocks; Fibreworks Composites; FK Rod Ends; Fuel Safe Racing Cells; Greber Racing Components; Hoosier Racing Tire; ISC Racers Tape; Jansen Transportation; K&N Filters; Kistler Racing Engines; KSE Racing Products; LogoDaddy Graphics; Max Papis Innovations (MPI); MSD Performance; RaceDiecast.com; Schoenfeld Headers; Shell Shock Paint; Simpson Race Products; T-FAB Custom Metal Fabrication; Vortex Racing Products; Walker Performance Filtration; Weld Wheels; Wilwood Racing; and Winters Performance Products.
To stay up-to-date with David Gravel and his success and journey on and off the track, as well as to purchase his gear and merchandise, go to www.DavidGravel89.com.
To stay connected with Jason Johnson Racing (JJR), go to www.jasonjohnsonracing.com.