CHICO, CALIFORNIA (September 6, 2019) – The team made their way down the West Coast into California for two consecutive nights of racing in the 66th running of the Gold Cup Race of Champions at Silver Dollar Speedway. Philip pulled the JJR #41 hauler into their parking spot in the pit area as there were a total of 30 teams entered to race on this night at the fast and technical high-banked, quarter mile bullring. It was time to go racing California style at Silver Dollar Speedway!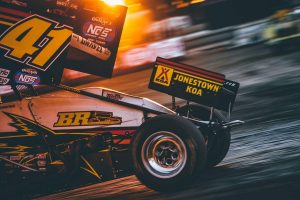 David Gravel would be the 15th car out for his two laps of speed around Silver Dollar Speedway. On a track where just hundreds of a second separates these talented speed professionals, there is just no room to lose speed or time on the track. With a cushion building around the top and an equally fast, but technical bottom coming in your choice and setup had to match. The Watertown, Connecticut chauffeur brought the Dissolvalloy Downhole Revolution/Waco Metal #41 Maxim onto the track did his best to get the most out of himself and the car to put up the best time possible. When his two laps were completed, his fastest lap at 12.661 seconds held up for 22nd overall when time trail qualifying concluded.
The heat races, which the lineups are set off of your quickest time with the fastest times at the front, meant Gravel and the JJR #41 would start further back and have some work to do to finish in one of the top six positions that transfer into the feature event. When the lineups were posted, Gravel would be slated to schedule eighth in the first and fastest heat race. Sheldon Haudenschild sat on the pole with Ian Madsen to his outside and the remaining field was strong with names like Jonathan Allard, Donny Schatz, Bud Kaeding, Brent Marks, Jacob Allen, Jason Sides and Willie Croft filling out the remainder of the starting lineup. Ten laps were between the field and their fate, so it was elbows up time bullring style. The green flag dropped and instantaneously it was high speed chaos World of Outlaws NOS Energy Drink Sprint Car Series style! Before you knew it the checkered flag was flying over heat races winner Ian Madsen wo crossed the line ahead of Schatz, Allard, Kaeding and Haudenschild with Gravel driving The Boyd Family/Team Jack Foundation #41 Maxim home in the sixth and final transfer position.
Locked into the 30-lap feature, Gravel would be starting back in the 16th starting position for the battle on night one at the 66th Annual Gold Cup Race of Champions. After climbing into the cockpit of his Maxim Racing machine, he rolled the Mesilla Valley Transportation (MVT)/Weikert's Livestock #41 onto the track. He slipped his hands into his Simpson Race Products gloves and was ready to get to work. With the fans on their feet, 24 of the best in the business saluted them for coming out and then fell back into their two-by-two starting order. California native Tim Kaeding jumped into the early lead as fellow Californians Shane Golobic and Brad Sweet were mired in a spirited fight for the runner-up position. Gravel was mid-pack and racing for position with each passing lap. Just after the midway point of the race, it was Brad Sweet taking the lead from Kaeding as there was racing for position all around the track. Before you knew it Kaeding and Golobic were now battling for position. With the laps running down, Sweet settled in to take the win over Kaeding as Golobic rounded out the podium finishers. David Gravel was able to collect a 14th place finish on the opening night of action. It was the first time since June 4th that Gravel and the JJR #41 car finished out of the top ten. That alone is quite impressive. While never the goal, David and the JJR #41 crew showed off their perseverance and will be back at it on Saturday night with the heads held high and their eyes focused on their remaining 2019 goals.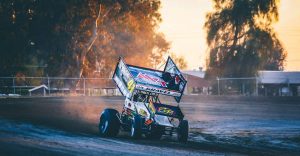 Kicking Off the Fall Swing through California at Silver Dollar Speedway in the 66th Annual Gold Cup Race of Champions!
Mesilla Valley Transportation (MVT); Saich Family; Jonestown KOA; Dissolvalloy Downhole Revolution; Weikert's Livestock; J.R.C. Transportation, Inc.; Durst Inc.; Maxim Racing; The Boyd Family; Pro Powder Coating (PPC); Waco Metal; High Performance Lubricants, LLC; Team Jack Foundation; Mark Burch Motorsports; Tiger Towing; All Pro Aluminum Cylinder Heads, Inc.; All Pro Auto Reconditioning; AutoMeter; Bell Racing USA; Blackbeard; Brown & Miller Racing Solutions (BMRS); Buckwalter Trucking, LLC; C&R Racing; Chalk Stix Torsion Bars; Cody Monoco Racing; Crow Enterprizes, Engler Machine & Tool, Inc.; Factory Kahne FK Shocks; Fibreworks Composites; FK Rod Ends; Fuel Safe Racing Cells; Greber Racing Components; Hoosier Racing Tire; ISC Racers Tape; Jansen Transportation; K&N Filters; Kaiden Kares; Kistler Racing Engines; KSE Racing Products; LogoDaddy Graphics; Max Papis Innovations (MPI); MSD Performance; RaceDiecast.com; Schoenfeld Headers; Shell Shock Paint; Simpson Race Products; T-FAB Custom Metal Fabrication; Vortex Racing Products; Weld Wheels; Wilwood Racing; and Winters Performance Products.
To stay up-to-date with David Gravel and his success and journey on and off the track, as well as to purchase his gear and merchandise, go to www.DavidGravel89.com.
To stay connected with Jason Johnson Racing (JJR), go to www.jasonjohnsonracing.com.