CHICO, CALIFORNIA (September 7, 2019) – There are certainly places in the country that you go that have deep heritages and traditions that are tied to the competition and riches. In California, the racing competition is always tough and demands the best out of you and your team if you expect to be successful . . . or even to survive. On the West Coast this tenacity of purpose may be tied back to The California Gold Rush in 1848 when James W. Marshall found some of the precious metal at Sutter's Mill in Coloma, California. People from out of nowhere flocked into the area to find riches and were willing to work hard to get what they want. On Saturday night, there were 29 cars lining Silver Dollar Speedway's pit area all ready to mine for their type of gold, sprint car style, in the Gold Cup Race of Champions finale.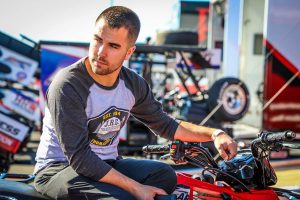 On this night, David Gravel's luck seemed to start off well as he would be the second car out for time trials in the Mesilla Valley Transportation (MVT)/BR Motorsports #41. The Watertown, Connecticut native rolled out onto the track and starting panning for speed as he took the green flag. He found some right away from his Kistler Engines power and carried it through his first lap with a time of 12.274 seconds. His second lap was a consistent, but a slightly slower at 12.606 seconds. The faster of his two laps was fifth overall when local Jonathan Allard completed his attempts as Brad Sweet set quick time for the night with a lap of 12.177 seconds.
The good start in individual qualifying gave Gravel a little bit of an upper hand in heat race competition as he would start on the front row aboard the J.R.C. Transportation/High Performance Lubricants #41 Maxim alongside Pennsylvania native Brent Marks in the 10-lap run. The top two would be followed in the starting order by Shane Golobic, Geoff Ensign, Austen Wheatley, Stephen Ingraham, Willie Croft, Andy Forsberg, Jessie Attard and Michael Ing. Marks would be the first to the front at the start with Gravel tracking close behind. He was wheeling his Maxim Racing machine around the demanding quarter mile as the field was searching all the lanes for speed to make a pass. Marks took the win by 1.475 seconds over Gravel who crossed the finish line ahead of Golobic, Ensign and Croft with Wheatley capturing the sixth and final transfer position.
On to the 8-lap DIRTVision Fast Pass Dash, Gravel and the JJR #41 boys continued to make their push towards the gold. It would not be easy as they were starting from the inside of row three from the fifth starting position beside talented California hotshoe and World of Outlaw Rookie of the Year contender Carson Macedo. Daryn Pittman and Brent Marks were in row one as they were followed by an all-California row two made up of Justin Sanders and Brad Sweet. When the green flag waved it was Pittman to the lead as Gravel was up on the wheel and drove into the second position at the start. The front two guys had speed and were working their way around Silver Dollar's bullring. Pittman would not surrender the top spot and go on to take the win by 1.582 seconds as Gravel completed his impressive move forward in the runner-up position. The front two drivers were followed by Marks, Sweet, Macedo and Sanders in the finishing order.
Locking himself into the front row for the 40-lap Gold Cup Race of Champions, David Gravel and the JJR crew were looking to add a Gold Cup to the Silver Cup they had won back in July at Lernerville Speedway. The final adjustments were made as Gravel climbed into the cockpit in his grey Durst Inc. driver's suit and buckled himself into his Simpson Race Products safety belts. Mining for gold is a tedious and arduous task, and nothing would be different on this night in Chico, California for the 24 drivers racing in the Gold Cup Race of Champions. When all of the pre-race activities were finalized, it was time to go racing at Silver Dollar Speedway! Pittman used his inside front row starting position to drive into the lead of the World of Outlaws NOS Energy Drink feature event over David Gravel. Brent Marks and Gravel were fighting for position, but Gravel wrestled it back. Pittman had built about a straightaway lead over Gravel in the first 10 laps before a yellow was thrown for Kraig Kinser who spun on the track. On the restart, Gravel would race by and use a slide job in turn one to take the lead. Unfortunately it would not stick as the yellow was redisplayed, this time for Ian Madsen who was into the wall in turn four before a lap could be completed. The next restart would be single file and Pittman would maintain control of the top spot with Gravel in tow aboard the Weikert's Livestock/T-FAB Custom Metal Fabrication #41 as Sweet was sitting in third waiting to pounce. Before anything could happen tough the racing action was halted when Jacob Allen flipped hard in turn three after contact with Jonathan Allard bringing out the red flag. On the restart, Sweet made his way by Gravel into the runner-up spot on lap 15 as there were torrid battles all around the speedway for position. With Pittman still in control and Sweet battling, Gravel was working his tail off trying to find a way to catch the front two and get by. He was high, then low, back high and then back to the bottom hugging the berm. After a few cautions for Cody Copeland, there were only a few laps remaining to find speed if you were going to own the Gold Cup at the end of the night. Pittman and Sweet brought the field back to the green as Gravel drove off the bottom in turn two as he did a wheel stand almost all the way down the backstretch. He maintained the show position until late in the race when hard charging Logan Schuchart made the pass. Pittman went on to win the Gold Cup Race of Champions over Sweet and Schuchart as Gravel came home fourth and Sheldon Haudenschild rounded out the top five. Another great run for Gravel and the forty-one team at Silver Dollar Speedway in the Gold Cup Race of Champions!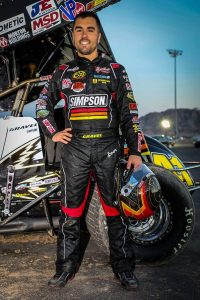 David Gravel Back Into the Top Five at the Gold Cup Race of Champions at Silver Dollar Speedway!
Mesilla Valley Transportation (MVT); Saich Family; Jonestown KOA; Dissolvalloy Downhole Revolution; Weikert's Livestock; J.R.C. Transportation, Inc.; Durst Inc.; Maxim Racing; The Boyd Family; Pro Powder Coating (PPC); Waco Metal; High Performance Lubricants, LLC; Team Jack Foundation; Mark Burch Motorsports; Tiger Towing; All Pro Aluminum Cylinder Heads, Inc.; All Pro Auto Reconditioning; AutoMeter; Bell Racing USA; Blackbeard; Brown & Miller Racing Solutions (BMRS); Buckwalter Trucking, LLC; C&R Racing; Chalk Stix Torsion Bars; Cody Monoco Racing; Crow Enterprizes, Engler Machine & Tool, Inc.; Factory Kahne FK Shocks; Fibreworks Composites; FK Rod Ends; Fuel Safe Racing Cells; Greber Racing Components; Hoosier Racing Tire; ISC Racers Tape; Jansen Transportation; K&N Filters; Kaiden Kares; Kistler Racing Engines; KSE Racing Products; LogoDaddy Graphics; Max Papis Innovations (MPI); MSD Performance; RaceDiecast.com; Schoenfeld Headers; Shell Shock Paint; Simpson Race Products; T-FAB Custom Metal Fabrication; Vortex Racing Products; Weld Wheels; Wilwood Racing; and Winters Performance Products.
To stay up-to-date with David Gravel and his success and journey on and off the track, as well as to purchase his gear and merchandise, go to www.DavidGravel89.com.
To stay connected with Jason Johnson Racing (JJR), go to www.jasonjohnsonracing.com.