ROSSBURG, OHIO (July 20, 2019) – On another hot day with the temperature index hovering around 100 did not stop the fans from packing the house at Eldora Speedway for the 36th running of the Kings Royal. There 61 cars registered in the pit area of the famous half mile oval with one of them being the JJR #41 Team with their driver David Gravel. The race format that would be followed would be the one established by Earl Baltes for this great event with a few new twists added this year. No matter what, this event is always entertaining and just keeps getting better and better year after year.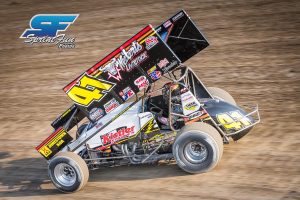 A Top Five Finish at the 36th Annual Kings Royal for David Gravel and the JJR #41 Team!
It would be a single time trial event, no matter which pill you pulled, which meant you had to have a plan of action from the start. The top 36 drivers in time trials would be inverted in each of the six heat races. David and the JJR #41 team drew the '41' pill and when the time the qualifying lineup was ordered he would go out 30 for his two laps against the clock. When his turn came he got the Weikert's Livestock/Buckwalter Trucking, LLC #41 Maxim up to speed and took the green flag. He turned his first lap in 13.656 seconds, followed by a lap of 13.502 seconds. Both of his two circuits were uncharacteristically off the pace, but he and the team had to sit patiently as the remaining qualifiers took their laps. When all was said and done the quicker of his two laps stood up and was a disappointing 41st quick overall.
The team and driver were not deterred and focused on making their car the best it could be for their heat race. There were six heat races scheduled with only the top three advancing into the feature field lineup. David would start from the seventh starting spot in the fifth heat race aboard the Mesilla Valley Transportation (MVT)/Kistler Engines #41. It was no easy challenge that sat in front of the driver from Connecticut, but his competitive fire was burning and he was ready to go racing. Brandon Wimmer and Paige Polyak sat on the front row with Brian Brown and Rico Abreu in row two. Kraig Kinser and Donny Schatz made up row three and David shared row four with Dustin Daggett. As the field made their way to the white chalk stripe, the green flag was waving in the air. David pounded the speed button and accelerated into the fourth spot on lap one after making an incredible move to get by both Brown and Abreu. He was still not where he wanted to be and started tracking down Wimmer and Polyak as they had lost their front running spot to Schatz. David caught up to them and made passes on two consecutive laps to move into the runner-up position with 5 laps to go. Schatz would take the win to earn a front row starting spot in the feature as he was followed across the finish line by Gravel and Abreu who advance on to the feature.
Locked into the 40-lap 36th Annual Kings Royal after digging a deep hole in qualifying was a relief to all involved in the Jason Johnson Racing (JJR) camp. David would start from the 11th position on the starting grid in his J.R.C. Transportation/Engler Machine & Tool hot rod. After the drivers were introduced to the fans on the front straightaway, they climbed aboard their speed chariots and were ready to go racing for the winner's riches. Polesitter Sammy Swindell drove into the lead over Donny Schatz and would lead the first ten laps of the race that green flag racing was only interrupted once for Tom Harris who spun in turn four on lap 3. David would spend the first half of the race running in the 10th and 11th positions before hitting his stride. The racing was fast and furious, as well as tight, but these speed professionals make it look easy. Up front, Swindell relinquished the lead on lap 11 to Logan Schuchart who started the event from the twelfth position. Schuchart was putting on a high speed clinic of his own at the front of the pack as Gravel maneuvered around and moved his way up to ninth on lap 25 when Aaron Reutzel brought out the yellow as he shredded his right rear tire. The red flag was thrown while they were under caution so the teams could refuel to make the remainder of the distance. Crew Chief and Team Manager Philip Dietz made some necessary adjustments under the open red flag and when they went back to racing Gravel had the forty-one moving forward. So did Brad Sweet who stormed into the top spot with Schuchart and everyone else giving chase. Sweet was out front and with 7 laps to go David drove his Maxim Racing machine into fifth. Brad Sweet would win the $175,000 winner's check as he beat Schuchart, Brent Marks, Sheldon Haudenschild and David Gravel to the finish line. Congratulations to Brad Sweet and Kasey Kahne Racing (KKR) on their big win. And, kudos to David and the JJR #41 team on another great run for the forty-one!
We are proud to represent all of our dedicated and loyal supporters:
Mesilla Valley Transportation (MVT); Saich Family; Jonestown KOA; Dissolvalloy Downhole Revolution; Weikert's Livestock; J.R.C. Transportation, Inc.; Durst Inc.; Maxim Racing; The Boyd Family; Pro Powder Coating (PPC); Waco Metal; High Performance Lubricants, LLC; Team Jack Foundation; Mark Burch Motorsports; Tiger Towing; All Pro Aluminum Cylinder Heads, Inc.; All Pro Auto Reconditioning; AutoMeter; Bell Racing USA; Blackbeard; Brown & Miller Racing Solutions (BMRS); Buckwalter Trucking, LLC; C&R Racing; Chalk Stix Torsion Bars; Cody Monoco Racing; Crow Enterprizes, Engler Machine & Tool, Inc.; Factory Kahne FK Shocks; Fibreworks Composites; FK Rod Ends; Fuel Safe Racing Cells; Greber Racing Components; Hoosier Racing Tire; ISC Racers Tape; Jansen Transportation; K&N Filters; Kaiden Kares; Kistler Racing Engines; KSE Racing Products; LogoDaddy Graphics; Max Papis Innovations (MPI); MSD Performance; RaceDiecast.com; Schoenfeld Headers; Shell Shock Paint; Simpson Race Products; T-FAB Custom Metal Fabrication; Vortex Racing Products; Weld Wheels; Wilwood Racing; and Winters Performance Products.
To stay up-to-date with David Gravel and his success and journey on and off the track, as well as to purchase his gear and merchandise, go to www.DavidGravel89.com.
To stay connected with Jason Johnson Racing (JJR), go to www.jasonjohnsonracing.com.