BEAVER DAM, WISCONSIN (June 22, 2019) – So many of us love the sport of sprint car racing for the speed and incredible display of courage shown when these talented and brave drivers climb into the cockpit of these speed machines each night. But what some may not see is the countless hours these teams and sponsorship partners put into their business away from the track preparing to make their teams and cars as strong as possible so when they get to the track they can perform at the highest level. The other thing people sometimes miss is the extreme passion, emotion and sometimes heartache of the wonderful people who travel across the country with the World of Outlaws NOS Energy Drink Sprint Car Series. The outcome is we grow together as a family – a racing family. One that cares about each other just as much as they do winning. Under the guidance of team owner Bobbi Johnson and her son Jaxx, the Jason Johnson Racing (JJR) team – Philip Dietz, David Gravel, Tyler Elliott and Patrick Dudzinski – headed back to a place that broke their hearts and tried to steal their soul last year for the Jim "JB" Boyd Memorial event. The entire racing community was shook to the core, but they were back filling the stands ready to do what we all love and do best – RACE! There were 27 teams present with the Mesilla Valley Transportation (MVT)/Weikert's Livestock #41 Maxim primed and ready to go.
The talented chauffeur from Watertown, Connecticut had some time to wait before he would get his shot at two individual time trial laps around Beaver Dam's one-third mile clay oval as he would be the second to last car out. No worries as Philip and the JJR crew made their final adjustments as Gravel climbed into his ButlerBuilt/Sharp Advantage custom fitted seat and buckled into his Simpson Race Products safety belts. Daryn Pittman sat atop the speed charts when Gravel pushed off in the Durst/FK Rod Ends #41 Maxim Racing entry. The determined driver was propelled forward with his Kistler Engines power and catapulted to the top of the speed charts with a lap of 11.589 seconds the first time around. He stayed on the hammer the second time around and was quicker at 11.554 seconds securing quick time on the night. A great way to begin at Beaver Dam Raceway.
Starting from the pole position in the first and fastest heat race, Gravel would share the front row with Sheldon Haudenschild with Donny Schatz, Logan Schuchart, Jason Sides, Bill Balog, Jacob Allen, Jeremy Schultz and Scotty Neitzel all primed and ready to give chase in the 10-lap heat race. When the green flag was unfurled, Gravel charged into the top spot aboard the Dissolvalloy Downhole Revolution/Vortex Racing Products #41 as 10-time World of Outlaws champion Donny Schatz was fighting for the top spot early. The driver of the forty-one was fast and as each lap was completed he was extending his lead and when the checkered flag flew he won by 2.507 seconds over Schatz as Sides came home third followed by Haudenschild and Schuchart with Balog securing the sixth and final transfer spot.
Gravel and the JJR #41 team were one of the six drivers and teams that were dash bound for the DIRTVision Fast Pass Dash at Beaver Dam. When he pulled his number for his starting spot it was a '5', Jaxx Johnson's favorite number. He lined up on the inside of row three to start the 8-lap race in which the finishing order sets the first six starting spots for the feature event. Front Row starter Shane Stewart jumped into the lead over Brad Sweet as everyone else was in pursuit at speed. Stewart would collect the win in the CJB #5 over Sweet as Daryn Pittman came home third with Ian Madsen, Donny Schatz and Gravel rounding out the finishing order.
With all of the qualifying action completed it was time to go racing in the 40-lap Jim "JB" Boyd Memorial at Beaver Dam with a $20,000 pay check waiting for the winner in victory lane. Gravel and the team were ready to go in their Waco Metal/Pro Powder Coating (PPC) #41 where they would start from the sixth starting spot. The racing action is always close and exciting at Beaver Dam and when the green flag dropped Shane Stewart drove into the lead over Sweet as Gravel was battling from the sixth position early. Stewart would relinquish the lead to Sweet on lap two as Gravel would move up two spots into fourth on lap 4. The motivated driver from Connecticut wheeling the Mesilla Valley Transportation (MVT)/High Performance Lubricants #41 Maxim had his elbows up and on lap 9 moved into the third position. He was running behind race leader Sweet and second running Daryn Pittman as the top three were navigating lap traffic at this point of the race. Sheldon Haudenschild was keeping the pressure on Gravel as he was running the top side and making it work in the NOS Energy Drink #17. Sweet was in command at the front of the pack as the finish was nearing. The current series point leader, Brad Sweet, would go on to collect his fifth win of the season over Pittman and Gravel who secure the show position and a podium finish. On the front stretch, Gravel commented, "We wanted to win tonight, but we're happy with a podium." He continued, "Third is good. We've been rolling pretty good here lately. We just have to keep it going."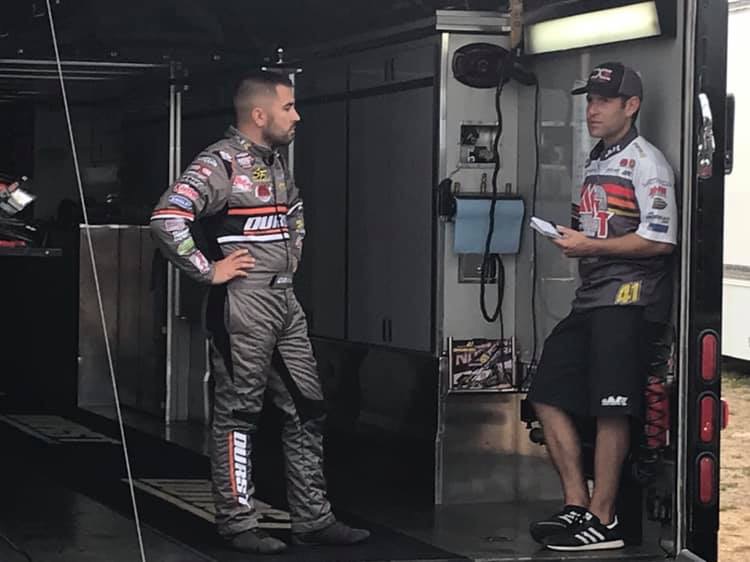 JJR #41 Team and David Gravel Return to Beaver Dam and Fortifies A Podium Finish!
We are proud to represent all of our dedicated and loyal supporters:
Mesilla Valley Transportation (MVT); Saich Family; Jonestown KOA; Dissolvalloy Downhole Revolution; Weikert's Livestock; J.R.C. Transportation, Inc.; Durst Inc.; Maxim Racing; The Boyd Family; Pro Powder Coating (PPC); Waco Metal; High Performance Lubricants, LLC; Team Jack Foundation; Mark Burch Motorsports; Tiger Towing; All Pro Aluminum Cylinder Heads, Inc.; All Pro Auto Reconditioning; AutoMeter; Bell Racing USA; Blackbeard; Brown & Miller Racing Solutions (BMRS); Buckwalter Trucking, LLC; C&R Racing; Chalk Stix Torsion Bars; Cody Monoco Racing; Crow Enterprizes, Engler Machine & Tool, Inc.; Factory Kahne FK Shocks; Fibreworks Composites; FK Rod Ends; Fuel Safe Racing Cells; Greber Racing Components; Hoosier Racing Tire; ISC Racers Tape; Jansen Transportation; K&N Filters; Kaiden Kares; Kistler Racing Engines; KSE Racing Products; LogoDaddy Graphics; Max Papis Innovations (MPI); MSD Performance; RaceDiecast.com; Schoenfeld Headers; Shell Shock Paint; Simpson Race Products; T-FAB Custom Metal Fabrication; Vortex Racing Products; Weld Wheels; Wilwood Racing; and Winters Performance Products.
To stay up-to-date with David Gravel and his success and journey on and off the track, as well as to purchase his gear and merchandise, go to www.DavidGravel89.com.
To stay connected with Jason Johnson Racing (JJR), go to www.jasonjohnsonracing.com.