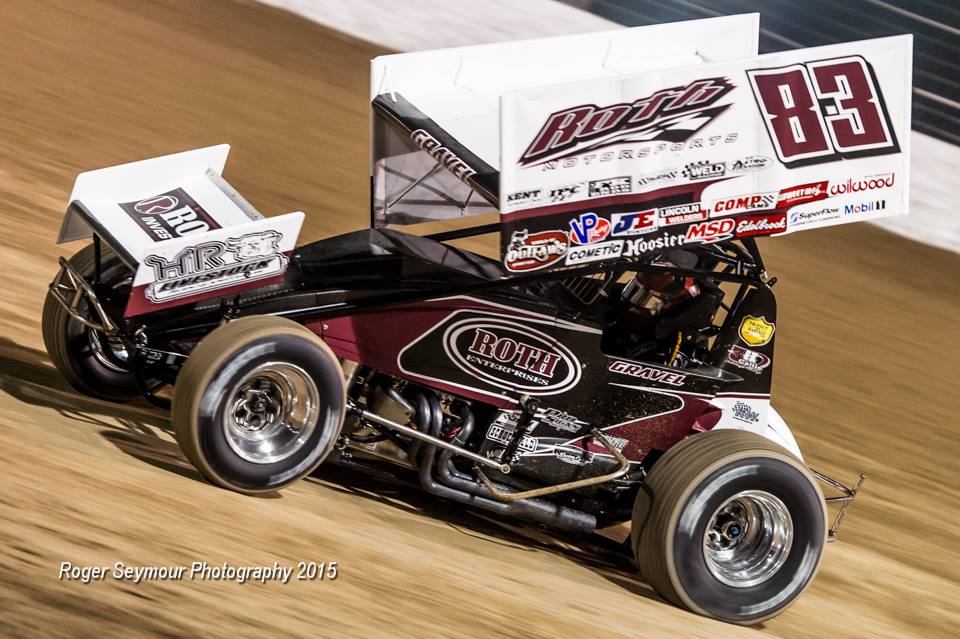 PETERSEN MEDIA- Getting the West Coast swing under way last week in Arizona and Nevada, David Gravel got off to a nice start as he and his Roth Motorsports recorded three Top-10 finishes.
"Like I said after Florida, all of our guys and myself are still gelling, and we are certainly getting better I feel," David Gravel said. "Dennis and Teresa Roth have given us a great opportunity this year, and I can't thank them enough."
Wednesday night saw Gravel return to action with the World of Outlaws as they invaded the Las Vegas Dirt Track for the first of two nights of action.
Timing the Roth Enterprises/HR Livestock Transportation/3H Cattle entry in 15th fastest, Gravel took car of business in his heat race as he picked up the win, and earned a spot in the night's dash.
Lining up eighth in the dash, Gravel would advance his starting position in the feature event a full row, as a sixth place finish put him in the third row. On a rough Las Vegas Dirt Track, Gravel was able to move forward in the feature event, but a couple of double file restarts did not go his way, and he would end his night with a seventh place finish.
"We snuck in the dash, and had a pretty good car on Wednesday night, but restarts did not go our way," Gravel added.
Thursday night again saw series in Las Vegas, NV and on this night, Gravel would time his machine in seventh fastest before scoring a fourth place finish in his heat race.
Lining up 10th in the feature event, Gravel would find himself in battles with Paul McMahan and Shane Stewart during much of the race as they all battled just inside the Top-10.
When the fast paced feature event came to a close, Gravel took the checkered flag in the 10th spot.
"We qualified in that position you really don't want to be in, and we weren't able to race our way into the dash," Gravel added. "The boys worked hard, and it was a nice Top-10."
Heading to the USA Raceway in Tucson, AZ on Saturday night, the extremely slick track surface saw Gravel sneak into the heat race inversion after going out late for time trial, and eventually win his heat race.
Starting eight in the feature by way of his eighth place finish in the dash, the Watertown, CT driver was able to make some moves early in the feature as he got up as high as the fifth spot, but as rubber began being laid down on the speedway, Danny Lasoski was able to find it first, as Gravel slipped to sixth.
Running in the sixth spot much of the race, Gravel tried to make a move in the closing laps, but getting out of the rubber let another car by, and he would get back in line, and go on to finish in the seventh spot.
"Overall I think it was a good three race stretch for us," Gravel noted. "We are looking forward to our California trip, and with Dennis and Teresa Roth being from California, we are hoping to score a couple of wins for them. Again, I have to thank them for this great opportunity, as well as my guys for working so hard for me."
The Roth Motorsports team would like to thank Roth Enterprises, HR Livestock Transportation, 3H Cattle, Mobil1, FK Rod Ends, Weld Wheels, Brown and Miller Racing Solutions, Kent Performance, Kaeding Performance, and Astro Titanium for their support in 2015.
2015 ROTH MOTORSPORTS BY THE NUMBERS: Starts-13, Wins-0, Top 5's-2, Top 10's-8.
ON TAP: Gravel and the Roth Motorsports team invade the Thunderbowl in Tulare, CA with the World of Outlaws on Friday and Saturday night.
STAY CONNECTED: Stay connected with Roth Motorsports by checking out their new website, www.rothmotorsports83.com, and by following David on Twitter @davidgravel83.
PETERSEN MEDIA: Petersen Media is a promotional agency that can handle your public relations, marketing, and any other promotional needs. Petersen Media utilizes multiple tactics to help you reach your intended audience, to boost awareness.
For more information contact sales@petersenmediainc.com, by phone at 916-342-3424, visit www.petersenmediainc.com, www.facebook.com/PetersenMedia, or follow www.twitter.com/petersen_Media.
PHOTO- Roger Seymour