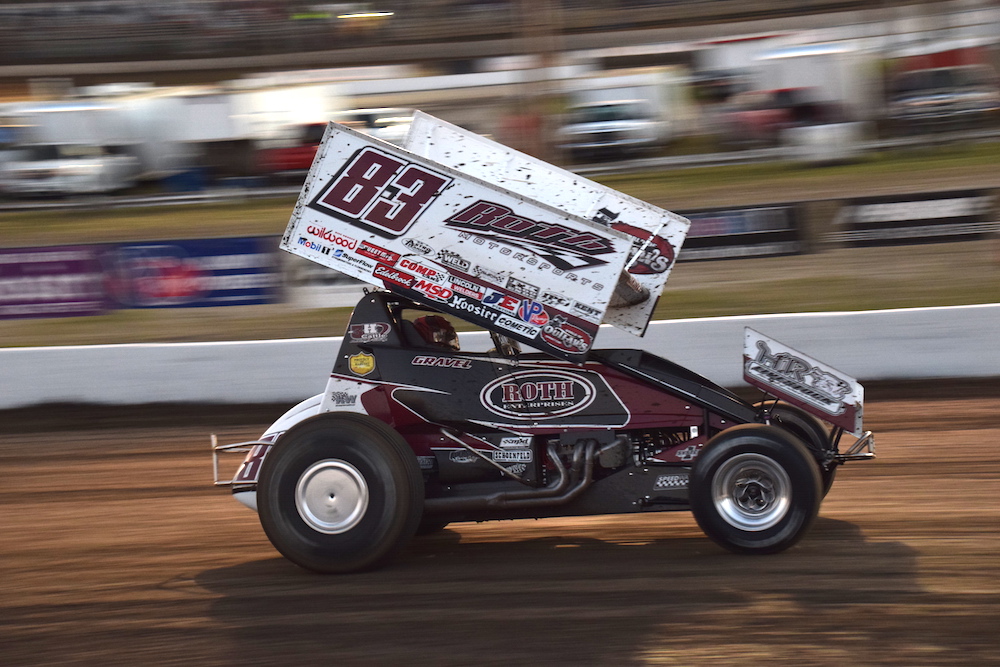 PETERSEN MEDIA- David Gravel and his Roth Motorsports team resumed their 2015 campaign last week as they took part in the five-night DIRTCar Nationals at the Volusia Speedway Park in Barberville, FL.
"I was pleased with how we raced all week long, but we just struggled to get in a good starting position, so that is definitely something we want to improve on," Gravel said.
Taking on the All Star Circuit of Champions both Wednesday and Thursday night, Gravel timed in 15th fastest and 10th fastest respectively, putting him well inside the heat race inversion.
Following a heat race win on Wednesday night, Gravel would advance to the feature event where he lined the Roth Enterprises/HR Livestock Transportation/3H Cattle No. 83 machine up in the 15th position.
With the track right around the top, Gravel was able to do some moving and shaking, as he sliced, and diced his way through the field, as he took hard charger honors by way of his seventh place finish.
Thursday night saw Gravel finish fourth in heat race action, and start right behind the dash cars in the feature event, as he gridded the field in the fifth row. Running inside the Top-10 during the duration of the race, Gravel battled with Joey Saldana and Cody Darrah, as he grabbed a second consecutive seventh place finish.
Friday night brought on the World of Outlaws Series opener, and things got off to a rocky start, as the Watertown, CT driver timed in 21st fastest.
Working his way to a fourth place finish in his heat race, Gravel would put on a passing clinic in the feature event.
After lining up 19th, Gravel would again navigate through traffic very well around the world's fastest ½ mile, and earn the first KSE Hard Charger award of the season, as he surged his way forward to a ninth place finish.
Timing in 11th fastest on Saturday night, Gravel would slip back to finish third in his heat race, putting him in the eighth row for the 30-lap feature event.
In a race that nearly went non-stop, Gravel would continue to do as he did all week, and move forward, as he gained four positions on this night with an 11th place finish.
The Sunday night finale kicked off with the Roth Enterprises entry getting timed in ninth fastest before another third place finish in heat race action.
Rolling off 11th for the eventual non-stop 30 lap A main, Gravel would spend much of the race battling with Shane Stewart and Logan Schuchart as they jockeyed for position inside the Top-10.
When the checkered flag flew after an action packed feature race, Gravel would close out the 2015 DIRTCar Nationals with a 14th place finish.
"It was great to have that much speed out of the box." Gravel added. "I feel like if I could get us timed in better, and take advantage of some front row starting spots to get us in the dash, then we could have contended for some wins, but it is something to build on. My guys, Sonny, Brandon, John, and Jeff did a great job all week long, and I thank them for their hard work. I also have to thank Dennis and Teresa Roth for supporting us, and giving me the opportunity to compete for them."
The Roth Motorsports team would like to thank Roth Enterprises, HR Livestock Transportation, 3H Cattle, Mobil1, FK Rod Ends, Weld Wheels, Brown and Miller Racing Solutions, Kent Performance, Kaeding Performance, and Astro Titanium for their support in 2015.
2015 ROTH MOTORSPORTS BY THE NUMBERS: Starts-10, Wins-0, Top 5's-2, Top 10's-5.
ON TAP: Gravel and the Roth Motorsports team will now head west as they are scheduled to be in action at the Las Vegas Dirt Track March 4-5th, and take on the USA Raceway in Tucson, AZ on March 7th.
STAY CONNECTED: Stay connected with Roth Motorsports by checking out their new website, www.rothmotorsports83.com, and by following David on Twitter @davidgravel83.
PETERSEN MEDIA: Petersen Media is a promotional agency that can handle your public relations, marketing, and any other promotional needs. Petersen Media utilizes multiple tactics to help you reach your intended audience, to boost awareness.
For more information contact sales@petersenmediainc.com, by phone at 916-342-3424, visit www.petersenmediainc.com, www.facebook.com/PetersenMedia, or follow www.twitter.com/petersen_Media.