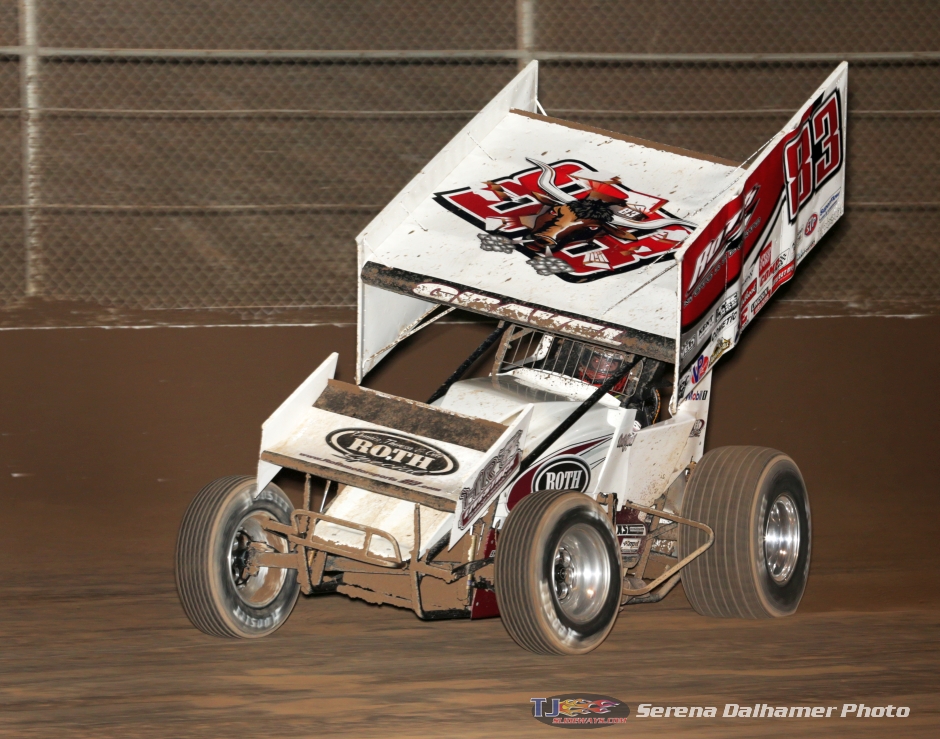 PETERSEN MEDIA- With the Cocopah Speedway putting on a five race Winter Heat Showdown this first week of January, David Gravel and his Roth Motorsports team have a chance to open their season up a month earlier than usual, and with two events in the books already, Gravel is pleased with how things are going.
"We had some bad luck on Friday night, and got wrecked in the feature, but on Friday night we had some really good speed, and ended up with a top-five," Gravel explained.
The Inaugural running of the Winter Heat Showdown took place on Friday night, and with a draw show format in place, Gravel's draw was not kind to him and his Roth Enterprises team on Friday night, as he started sixth, but was able to finish fourth in his opening heat race.
After points were tabulated, Gravel was back on track for his qualifier, where he would finish in the fourth spot, putting his Roth Enterprises/HR Livestock Transportation/3H Cattle No. 83 in the sixth row of the 30-lap feature event.
Gravel's night quickly came to an early end, as contact ensued with another competitor on the opening lap of the race, and he was retired for the evening with front-end damage.
Getting his machine patched back up for Saturday night's program, the Watertown, CT had a much better draw for his heat race, as he took advantage of his front row starting spot, and picked up his first heat win of the young season.
Sitting third overall in points after heat races, Gravel lined up in the third row of his qualifier, where he would go on to finish in the fourth spot, and line up in the third row of the feature event.
In what was an action packed feature event, Gravel found himself in a battle with Joey Saldana during the early stages of the event, as the track continued to provide three-wide racing action at times.
Battling with the likes of Saldana, and Danny Lasoski, Gravel would close the opening weekend of the Winter Heat Showdown with his first To-Five of the season.
"I really have to thank this entire Roth Motorsports team for all of their hard work in what was a tricky off season," Gravel added. "We had some changes to our team, but the guys really worked hard, and we came out of the box really strong."
The Roth Motorsports team would like to thank Roth Enterprises, HR Livestock Transportation, 3H Cattle, Mobil1, FK Rod Ends, Weld Wheels, Brown and Miller Racing Solutions, Kent Performance, Kaeding Performance, and Astro Titanium for their support in 2015.
2015 ROTH MOTORSPORTS BY THE NUMBERS: Starts-2, Wins-0, Top 5's-1, Top 10's-1.
ON TAP: Gravel and the Roth Motorsports team will be back at the Cocopah Speedway for the third night of the Winter Heat Showdown this Tuesday night.
STAY CONNECTED: Stay connected with Roth Motorsports by checking out their new website, www.rothmotorsports83.com, and by following David on Twitter @davidgravel83.
PETERSEN MEDIA: Petersen Media is a promotional agency that can handle your public relations, marketing, and any other promotional needs. Petersen Media utilizes multiple tactics to help you reach your intended audience, to boost awareness.
For more information contact sales@petersenmediainc.com, by phone at 916-342-3424, visit www.petersenmediainc.com, www.facebook.com/PetersenMedia, or follow www.twitter.com/petersen_Media.