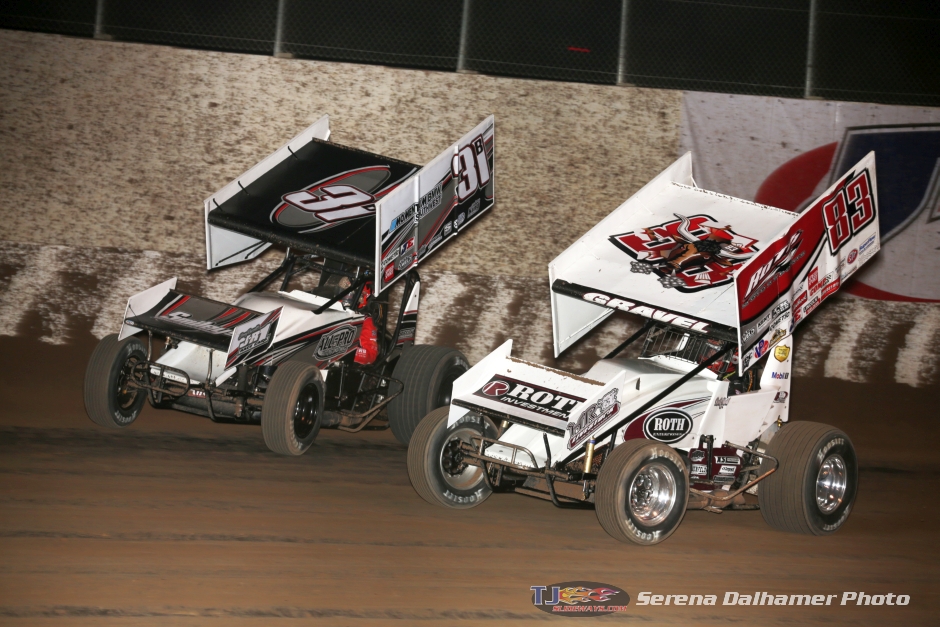 PETERSEN MEDIA- The final night of the Winter Heat Showdown saw Watertown, CT driver, David Gravel turn in his best performance of the week, as he stormed to a second place finish.
"We had a tough week, but it was great to get going so well on Saturday night," Gravel explained. "We have some new crew guys, so it was a work in progress, but we seem to be going in the right direction."
Lining up on the front row for his heat race, Gravel would slip to a third place finish, putting his Roth Enterprises/HR Livestock Transportation/3H Cattle No. 83 machine in the second row of his qualifier, which again would see him finish in the third spot.
With the way the track was on this night, Gravel still found himself ninth in points, and inside the fifth row for the 30-lap feature event.
With a majority of the field using the bottom of the speedway, Gravel was one of the few to try to high-side, and he made it work in the opening laps, as he worked his way toward the top five, before it went away.
Searching around the Cocopah Speedway, Gravel was able to steadily move forward as he got by drivers like Kasey Kahne, Danny Lasoski, and Sam Hafertepe during the later stages of the race.
Finding himself in the third spot, Gravel would close in on Craig Dollansky, and steal the second spot at the finish line.
"The top worked out for us in the start of the feature, and then I was just patient during the rest of the race, and was able to slowly work up to third, and then saw an opening on the last lap, and got us to second to close the week out."
Gravel opened his week up on Tuesday night, and a mid-race flat tire would sideline him during the feature event.
During the Friday night program, Gravel would finish sixth in his heat race before picking up the win in his qualifier.
Lining up 15th in the feature event, Gravel would bring the Roth Motorsports entry home with a 13th place finish.
"I really have to thank Dennis and Teresa Roth for letting us come down here and iron some things out," he added. "It is a dream come true to drive for a team like this, and I can't wait for Florida."
The Roth Motorsports team would like to thank Roth Enterprises, HR Livestock Transportation, 3H Cattle, Mobil1, FK Rod Ends, Weld Wheels, Brown and Miller Racing Solutions, Kent Performance, Kaeding Performance, and Astro Titanium for their support in 2015.
2015 ROTH MOTORSPORTS BY THE NUMBERS: Starts-5, Wins-0, Top 5's-2, Top 10's-2.
ON TAP: Gravel and the Roth Motorsports team will return to action in February when they kick of the 2015 World of Outlaw STP Sprint Car season.
STAY CONNECTED: Stay connected with Roth Motorsports by checking out their new website, www.rothmotorsports83.com, and by following David on Twitter @davidgravel83.
PETERSEN MEDIA: Petersen Media is a promotional agency that can handle your public relations, marketing, and any other promotional needs. Petersen Media utilizes multiple tactics to help you reach your intended audience, to boost awareness.
For more information contact sales@petersenmediainc.com, by phone at 916-342-3424, visit www.petersenmediainc.com, www.facebook.com/PetersenMedia, or follow www.twitter.com/petersen_Media.
PHOTO- Serena Dalhamer