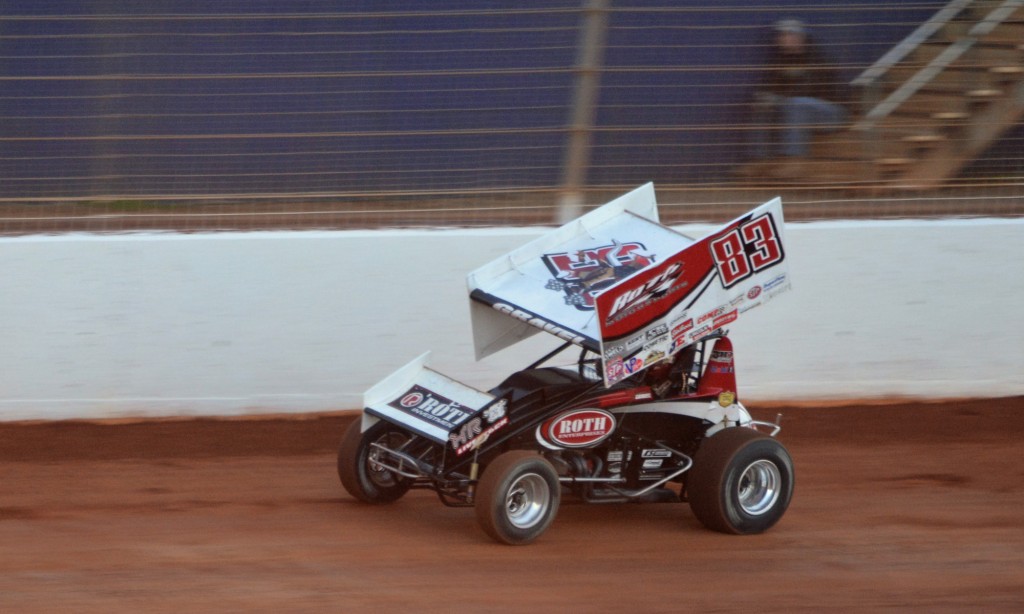 PETERSEN MEDIA- Engine woes hampered David Gravel and his Roth Motorsports team during Thursday's qualifying night at the World Finals, but the Watertown, CT driver rebounded on Friday night as he charged from 25th to ninth during the Friday night program.
"We just had some bad luck on Thursday night, and that really set the tone for our Friday and Saturday night, but the guys worked really hard, and Friday night went well," David Gravel said.
Timing in 44th quickest for Friday night's program, Gravel worked up to the sixth spot in his heat race from his ninth starting spot, but came up just one spot short of transferring into the feature event.
Lining up in the fifth row of the 10-lap C-Main event, Gravel gained a few positions to finish in the sixth spot, but did not transfer to the B.
Utilizing his final provisional of the season, Gravel lined up scratch on the field, and put on a very exciting show for the capacity crowd that was on hand.
Simply going where there was open real estate, Gravel had his Roth Enterprises/HR Livestock Transportation/3H Cattle backed entry on the move as he surged toward the Top-10.
Taking advantage of a late restart, Gravel was able to climb into the ninth spot when the race came to a close, giving himself KSE Hard Charger honors.
"We moved forward all night, it was just unfortunate we had some bad luck during time trials, but the guys never gave up, and we ended up having a good night," he added.
Timing in 26th fastest for the season finale, Gravel missed out on the heat race inversion, before starting, and finishing, sixth in his heat race.
Lining up seventh in the LCS, Gravel needed to get into the top-four to make the final feature event of the year as he used his final provisional of the year just one night prior.
Gravel did all he could as he worked his Roth Motorsports machine into the top-five, but ran out of time to chase down Lyton Jeffery, as he season would come to a close.
"It was not an ideal way to end our season, but you know, it was a really good season for this team, and I am really excited to put a full season together with everyone in 2015," Gravel said. "I really have to thank Dennis and Teresa Roth for brining me on board during the season, and sticking with me. I also need to thank Troy, Brandon, and Scotty for all of their hard work, as well as all of the people who support this Roth Motorsports team."
The Roth Motorsports team would like to thank Roth Enterprises, HR Livestock Transportation, 3H Cattle, Mobil1, FK Rod Ends, Weld Wheels, Brown and Miller Racing Solutions, Kent Performance, Kaeding Performance, and Astro Titanium for their support in 2014.
2014 ROTH MOTORSPORTS BY THE NUMBERS: Starts-93, Wins-4, Top 5's-29, Top 10's-60.
ON TAP: Gravel and the Roth Motorsports team have wrapped up their 2014 season.
STAY CONNECTED: Stay connected with Roth Motorsports by checking out their new website, www.rothmotorsports83.com, and by following David on Twitter @davidgravel83.
PETERSEN MEDIA: Petersen Media is a promotional agency that can handle your public relations, marketing, and any other promotional needs. Petersen Media utilizes multiple tactics to help you reach your intended audience, to boost awareness.
For more information contact sales@petersenmediainc.com, by phone at 916-342-3424, visit www.petersenmediainc.com, www.facebook.com/PetersenMedia, or follow www.twitter.com/petersen_Media.