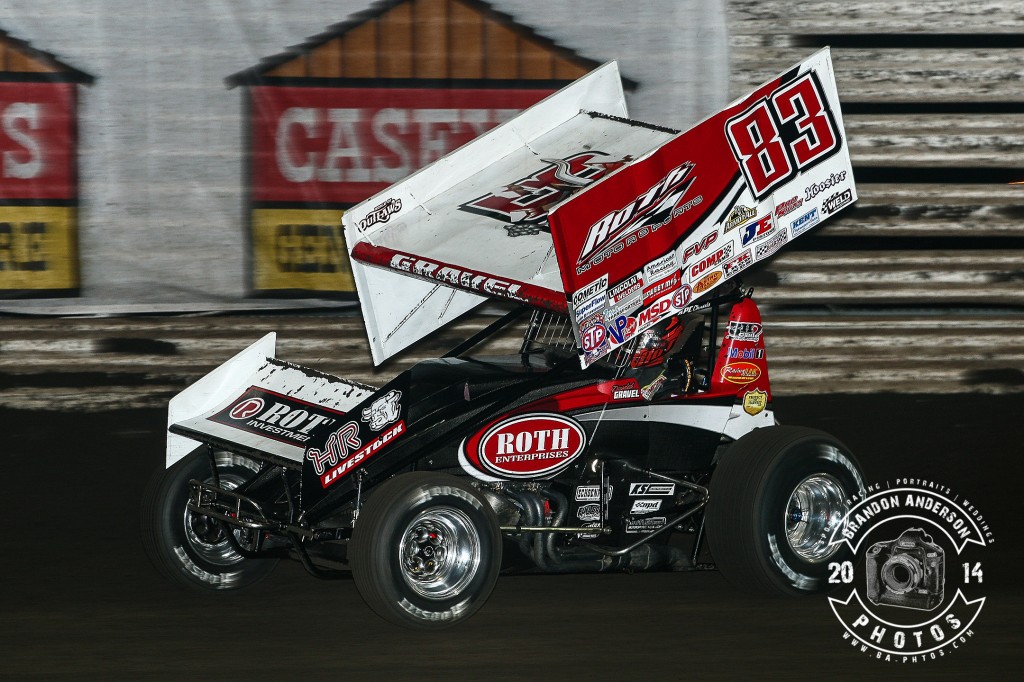 PETERSEN MEDIA- Fresh off of his National Open triumph, David Gravel and his Roth Motorsports team were back in action on Saturday night at the Rolling Wheels Raceway Park where they stayed hot and picked up a second place finish.
"The track was tricky tonight, and we changed a ton of stuff," Gravel said. "My hat is off to Donny Schatz and that team, they were really good."
After timing in fifth fastest, Gravel finished fourth in his heat race, putting his Roth Enterprises/HR Livestock Transportation/3H Cattle No. 83 machine in the dash, where he would ultimately finish in the second spot.
Leading the field to the green alongside Justin Barger, Gravel slipped back to third as Brad Sweet found something on the top, and was able to get around the Watertown, CT driver.
With Barger slipping to second, Gravel stayed on his rear bumper though the duo soon felt pressure from Donny Schatz. Now sitting back in fourth, Gravel was able to get around Barger at the halfway point to take over the third spot, before inheriting the second spot on the 16th lap when Brad Sweet got sideways, and came to a stop.
The ensuing restart saw Gravel jump into the lead as Schatz hung behind him, but a lap later, Schatz was able to get by Gravel to take the top spot, as Gravel kept Schatz in shouting distance.
On this night though, Schatz was simply the better car, and Gravel was unable to get back around him for the top spot, but was pleased with his second place finish.
"We have been really clicking the last few weeks, and I am looking forward to ending the year strong, and hopefully starting 2015 off strong too," Gravel added. "I can't thank this entire team and organization enough for their support and hard work."
The Roth Motorsports team would like to thank Roth Enterprises, HR Livestock Transportation, 3H Cattle,  Mobil1, FK Rod Ends, Weld Wheels, Brown and Miller Racing Solutions, Kent Performance, Kaeding Performance, and Astro Titanium for their support in 2014.
2014 ROTH MOTORSPORTS BY THE NUMBERS: Starts-87, Wins-4, Top 5's-27, Top 10's-57.
ON TAP:Gravel will now head to California and compete in the 21st Annual Trophy Cup at the Thunderbowl Raceway in Tulare, CA this Thursday-Saturday night.
STAY CONNECTED: Stay connected with Roth Motorsports by checking out their new website, www.rothmotorsports83.com, and by following David on Twitter @davidgravel89g.
PETERSEN MEDIA:Petersen Media is a promotional agency that can handle your public relations, marketing, and any other promotional needs. Petersen Media utilizes multiple tactics to help you reach your intended audience, to boost awareness.
For more information contact sales@petersenmediainc.com, by phone at 916-342-3424, visit www.petersenmediainc.com,  www.facebook.com/PetersenMedia, or follow www.twitter.com/petersen_Media.