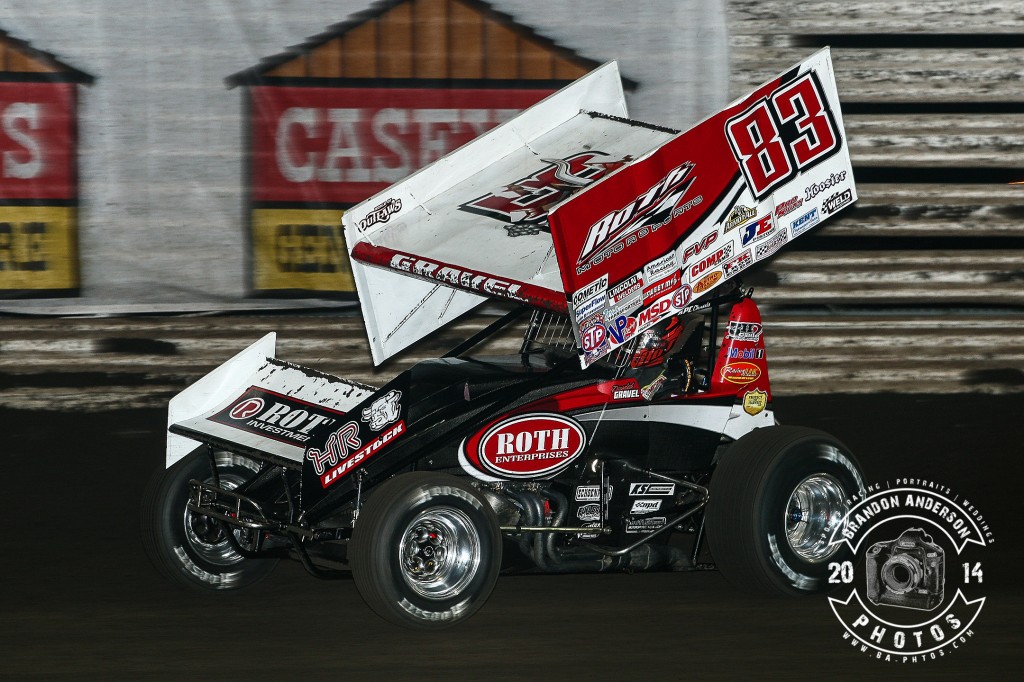 PETERSEN MEDIA- Getting back in the Midwest following a week on the West Coast, David Gravel continued to show serious speed that resulted in a second place finish on Saturday night at the Deer Creek Speedway.
"It was a really strong weekend for our Roth Motorsports team," Gravel said. "We made the dash both nights, and I really wish we could have worked our way to a top five at Clay County, but we are happy with a New Track Record and a second at Deer Creek."
With 33 cars on hand for the Saturday night show at the Deer Creek Speedway, David Gravel was lightening fast in time trials, as he set the standard and also set a track record in doing so aboard his Roth Enterprises/HR Livestock Transportation/3H Cattle entry.
Lining up fourth in his heat race, Gravel would earn a third place finish before finishing second in the dash, putting himself on the front row for the feature event.
Leading to field to green alongside Paul McMahan, Gravel would slip into the second spot as McMahan slid up in front of him, but the duo would drag race down the back stretch as Gravel pulled his wheels up off the ground slightly, giving McMahan the early lead.
Continuing to chase after McMahan, Gravel played cat and mouse with the veteran driver on a pair of restarts, but was unable to do anything with him, and wound up crossing the stripe with a second place finish.
"We had a great starting spot being on the outside, but Paul (McMahan) got a great jump and got up to the cushion in one and two, and took the top spot," he said. "I tried to play a little cat and mouse with him on a couple of restarts, but he just got the better of us. Huge thanks to my team for continuing to give me a great car."
Friday night, the 'greatest show on dirt' invaded the Clay County Fair Speedway in Spencer, IA, and Gravel started his night off by timing in 15th fastest, giving him a front row starting spot in his heat race, which he was able to win.
Finishing seventh in his heat race, Gravel would line up for the feature event in the fourth row, and would spend much of the race battling with the likes of Tim Kaeding, and Paul McMahan inside the Top-10.
On a track that was extremely fast, Gravel would hang on to finish in the eighth spot, to give his team a pair of   Top-10 finishes.
"We put ourselves in a good spot on Friday night, and really saved ourselves after timing in 15th fastest," he explained. "The way the track was, it was huge to get into the dash to give ourselves a chance."
The Roth Motorsports team would like to thank Roth Enterprises, HR Livestock Transportation, 3H Cattle,  Mobil1, FK Rod Ends, Weld Wheels, Brown and Miller Racing Solutions, Kent Performance, Kaeding Performance, and Astro Titanium for their support in 2014.
2014 ROTH MOTORSPORTS BY THE NUMBERS: Starts-79, Wins-3, Top 5's-22, Top 10's-50.
ON TAP:Gravel and his Roth Motorsports team will now be in action on Tuesday in Kokomo, IN, Wednesday in Terre Haute, IN, Friday in Rossburg, OH, at the Eldora Speedway and on Saturday in Sarver, PA at the Lernerville Raceway.
STAY CONNECTED: Stay connected with Roth Motorsports by checking out their new website, www.rothmotorsports83.com, and by following David on Twitter @davidgravel89g.
PETERSEN MEDIA:Petersen Media is a promotional agency that can handle your public relations, marketing, and any other promotional needs. Petersen Media utilizes multiple tactics to help you reach your intended audience, to boost awareness.
For more information contact sales@petersenmediainc.com, by phone at 916-342-3424, visit www.petersenmediainc.com,  www.facebook.com/PetersenMedia, or follow www.twitter.com/petersen_Media.