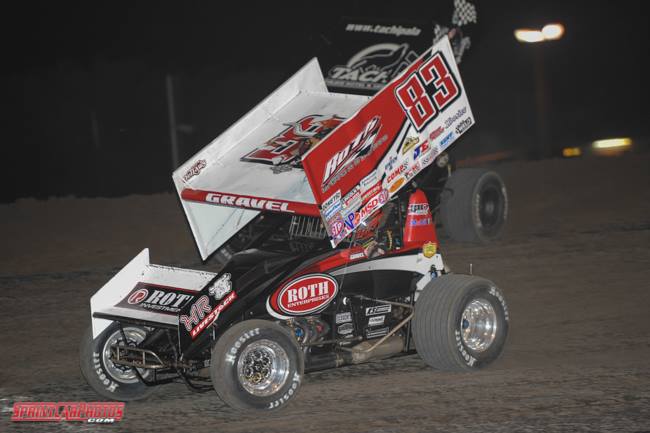 PETERSEN MEDIA- Racing on the West Coast with the World Of Outlaws over the last week, David Gravel picked up four Top-10 finishes including a strong third place run on Sunday night as the series ran their final race out west.
"It was nice to end our trip on the podium," Gravel said. "It was also really cool to be up there with my teammate, Kyle Hirst."
Sunday night at the Antioch Speedway, Gravel timed his Roth Enterprises/HR Livestock Transportation/3H Cattle No. 83 machine in with the fastest lap of the night, to give himself quick time honors.
Running third in his heat race, Gravel would also run third in the dash, put himself in the second row for the 30-lap feature event.
On a track that stayed fast all night long, Gravel got off to a rocky start as he lost few spots in the early goings, and slipped back to the fifth spot.
On a lap six restart, a handful of cars bicycled on the restart, and Gravel was able to take advantage as he and his Roth Motorsports teammate, Kyle Hirst, moved into the second and third spots, as they chased after Kerry Madsen.
Running in the third spot, Gravel would work on his teammate as they ran through lapped traffic, and made several bids at taking over the second spot, but just couldn't make anything stick.
The end result was Gravel finishing in the third spot.
"The track was pretty fast, and my guys worked and worked on getting this car good for the feature, and I have to thank them," he added. "We took advantage of that early restart, and then made some pretty good laps, and ended up on the podium, like we had hoped."
Spending the first part of the weekend at the Silver Dollar Speedway in Chico, CA for the 61st Gold Cup Race of Champions, Gravel and his team had a great run going on Saturday night, as they inside the top-five much of the race.
On the slicked off track with a tricky cushion, Gravel got up over the cushion and into the fence with 10-to go, and his night was over.
Friday night during the opener, Gravel struggled a bit during time trials, as he timed in 28th fastest, but the Watertown, CT driver transferred out of his heat race, and then charged from 23rd to finish ninth.
Kicking the West Coast swing off at the Skagit Speedway in Alger, WA, Gravel scored finishes of 11th and ninth.
At the Gray's Harbor Raceway in Elma, WA, finished 13th before finishing sixth in Lebanon, OR and 12th in Medford, OR.
"I just have to thank all of my guys for all of their hard work over the last week," he added. "It really is a tough trip, and everyone worked hard, and we put together some good runs."
The Roth Motorsports team would like to thank Roth Enterprises, HR Livestock Transportation, 3H Cattle,  Mobil1, FK Rod Ends, Weld Wheels, Brown and Miller Racing Solutions, Kent Performance, Kaeding Performance, and Astro Titanium for their support in 2014.
2014 ROTH MOTORSPORTS BY THE NUMBERS: Starts-77, Wins-3, Top 5's-21, Top 10's-48.
ON TAP:Gravel and his Roth Motorsports team will now head to the Clay County Fairgrounds on Friday night before hitting the Deer Creek Speedway on Saturday night.
STAY CONNECTED: Stay connected with Roth Motorsports by checking out their new website, www.rothmotorsports83.com, and by following David on Twitter @davidgravel89g.
PETERSEN MEDIA:Petersen Media is a promotional agency that can handle your public relations, marketing, and any other promotional needs. Petersen Media utilizes multiple tactics to help you reach your intended audience, to boost awareness.
For more information contact sales@petersenmediainc.com, by phone at 916-342-3424, visit www.petersenmediainc.com,  www.facebook.com/PetersenMedia, or follow www.twitter.com/petersen_Media.