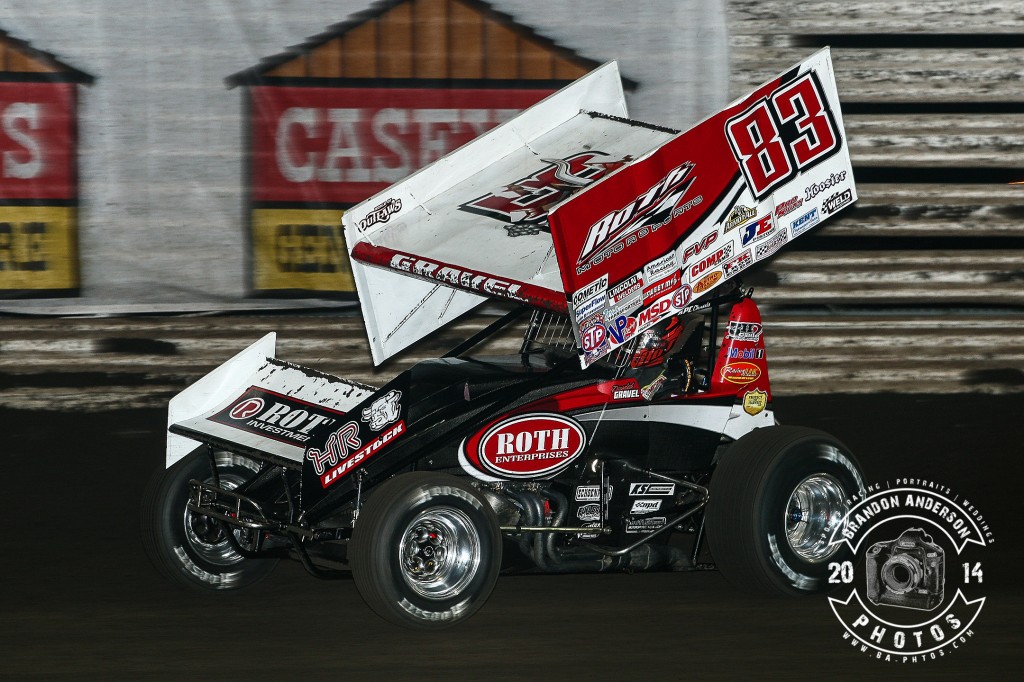 PETERSEN MEDIA- When the checkered flag flew on the 54th Annual FVP Knoxville Nationals Presented By Casey's General Store, David Gravel crossed the stripe in the 15th spot, marking his career best performance at the season's biggest race of the year.
"It was great to get locked in on our prelim night, but we were certainly looking for a better result," Gravel said. "It is a career best for me, and as a team we tried stuff all week, so hopefully we can continue to get better here, but I can't thank everyone enough for working so hard during a pretty grueling week."
With his scheduled Wednesday night qualifier delayed for rain, Gravel and his Roth Enterprises/HR Livestock Transportation/3H Cattle team finally hit the track on Friday night, and Gravel kicked his Nationals off with the seventh fastest lap of the night during time trials.
With eight cars inverted in each heat race, Gravel lined up seventh in his heat, and marched his way to a fourth place finish, successfully transferring his machine into the preliminary night feature event.
Lining up in the second row of the preliminary night feature, the Watertown, CT driver held strong as he battled with one of the best at Knoxville, Donny Schatz during much of the feature.
Crossing the stripe in the fifth position, Gravel found himself sitting 10th overall in points heading into Saturday night, meaning he would roll off from the fifth row in the 50-lap feature event.
After finishing eighth in Saturday afternoon's Speed Sport World Challenge race, Gravel and his team set their sights on the biggest race of the year.
Losing some ground on the start of the race, Gravel would race wheel-to-wheel with some of the world's top competition  as be battled with the Kasey Kahne Racing trio of Brad Sweet, Daryn Pittman, and Cody Darrah.
Making some adjustments during the mid-race pit stop Gravel continued to battle in sprint car racing's biggest event as he searched around the relatively narrow track to work his way forward.
Gravel's end result was a 15th place finish, capping a career best night at the Knoxville National, leaving him looking for more in the years to come.
"It's great to make this show, and run well, but now we will look for more," Gravel said. "It was a little disappointing to go backwards, but like I said, this team worked hard all week to find something, and we missed it a little on Saturday night. I can't thank everyone enough for their hard work. The weather threw us some curve balls, and made things tough, but these guys worked very hard."
The Roth Motorsports team would like to thank Roth Enterprises, HR Livestock Transportation, 3H Cattle,  Mobil1, FK Rod Ends, Weld Wheels, Brown and Miller Racing Solutions, Kent Performance, Kaeding Performance, and Astro Titanium for their support in 2014.
2014 ROTH MOTORSPORTS BY THE NUMBERS: Starts-64, Wins-3, Top 5's-18, Top 10's-40.
ON TAP:Gravel and company return to action Tuesday night in McCool Junction, NE, Friday night at the River Cites Speedway in Grand Forks, ND, and on Sunday night in Minot, ND.
STAY CONNECTED: Stay connected with Roth Motorsports by checking out their new website, www.rothmotorsports83.com, and by following David on Twitter @davidgravel89g.
PETERSEN MEDIA:Petersen Media is a promotional agency that can handle your public relations, marketing, and any other promotional needs. Petersen Media utilizes multiple tactics to help you reach your intended audience, to boost awareness.
For more information contact sales@petersenmediainc.com, by phone at 916-342-3424, visit www.petersenmediainc.com,  www.facebook.com/PetersenMedia, or follow www.twitter.com/petersen_Media.