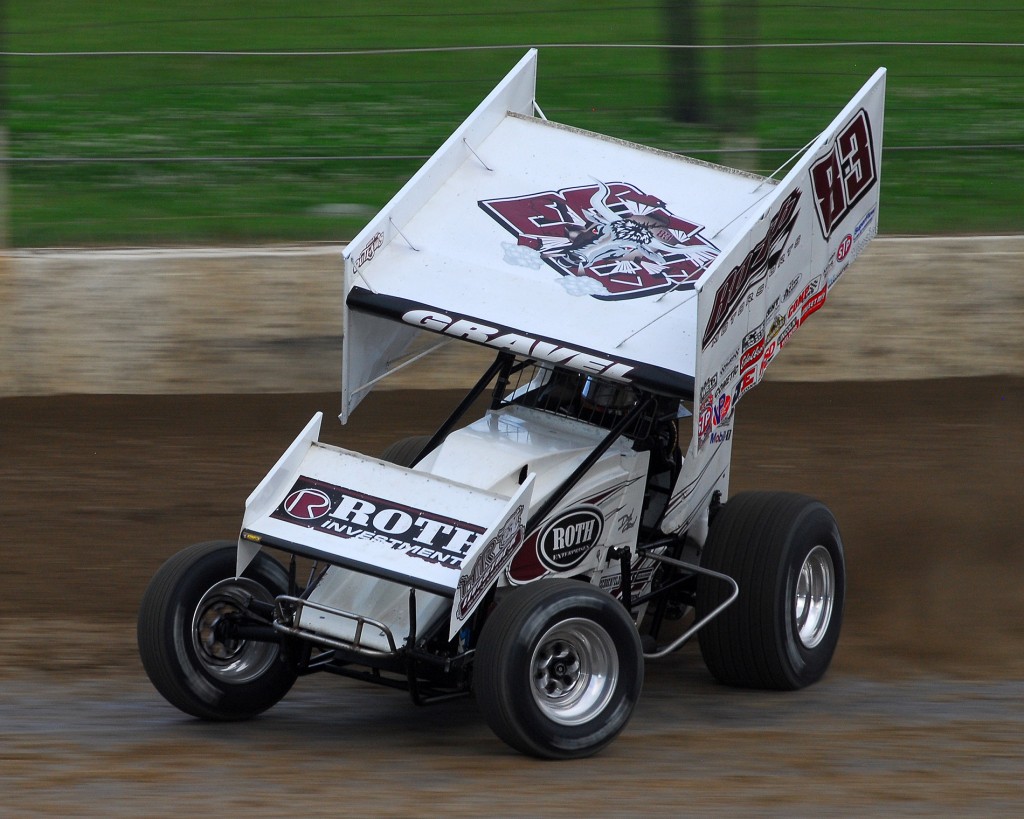 PETERSEN MEDIA- Heading north of the border for one final time in 2014, David Gravel and his Roth Motorsports team put together a great weekend that was highlighted by a second place finish on Friday night before scoring a sixth place finish on Saturday night.
"We qualified really well both nights, and then we raced pretty good both nights too," Gravel said. "We had a really good car at the end of Friday's race, and on Saturday we were good, but we just hung around right where we started."
Leading the way in qualifying time trials on Friday night, Gravel would charge from fourth to second in heat race action, solidifying his place in the night's dash.
Picking up the dash win, Gravel would lead the filed to green, and as the action came to life, he would fall to third as Donny Schatz and Joey Saldana both had great starts.
Running the high-side of the speedway, the Watertown, CT driver kept the lead pack in his sights, as he closed in on Saldana as the laps clicked off.
Getting a huge head of steam in the waning laps, Gravel was able to get around Saldana to take the second spot, as he turned his attention to Schatz.
Visibly closing in on Schatz, Gravel would run out of laps, as he crossed the checkered with a second place finish.
"You know, I though we were just as good, if not better, than Donny (Schatz) during that last stretch," he said. "I wish this race was a little longer, but have to give credit to the 15 team, and I have to thank my guys, and organization for their hard work."
Back in action on Saturday night at the Castrol Raceway, Gravel continued to show great speed as he would end up second fastest in time trials on this night.
Again working his way to second in heat race action, Gravel would finish in the seventh spot in the dash, after the inversion lined him up in the fourth row.
Searching around the track for speed during the feature event, Gravel would battle with Brad Sweet and Steve Kinser as they raced inside the Top-10.
At the stand, Gravel would finish in the sixth spot.
"It was a good weekend for us, and hopefully we can keep it going as we get out to Dennis and Teresa Roth's neck-of-the-woods, and make them proud," he added. "Again, I can't thank everyone enough for this opportunity, and for their continued hard work."
The Roth Motorsports team would like to thank Roth Enterprises, HR Livestock Transportation, 3H Cattle, Mobil1, FK Rod Ends, Weld Wheels, Brown and Miller Racing Solutions, Kent Performance, Kaeding Performance, and Astro Titanium for their support in 2014.
2014 ROTH MOTORSPORTS BY THE NUMBERS: Starts-69, Wins-3, Top 5's-20, Top 10's-44.
ON TAP: Gravel and his Roth Motorsports team will be at the Skagit Speedway this Friday and Saturday night, before racing their way down through Washington, Oregon, and California next week.
STAY CONNECTED: Stay connected with Roth Motorsports by checking out their new website, www.rothmotorsports83.com, and by following David on Twitter @davidgravel89g.
PETERSEN MEDIA: Petersen Media is a promotional agency that can handle your public relations, marketing, and any other promotional needs. Petersen Media utilizes multiple tactics to help you reach your intended audience, to boost awareness.
For more information contact sales@petersenmediainc.com, by phone at 916-342-3424, visit www.petersenmediainc.com, www.facebook.com/PetersenMedia, or follow www.twitter.com/petersen_Media.