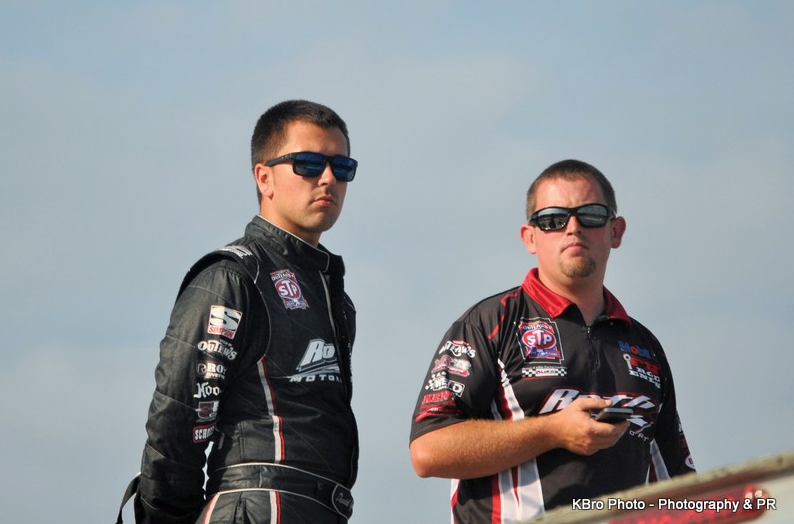 PETERSEN MEDIA- Wasting no time returning back to action following the Knoxville Nationals, David Gravel and his Roth Motorsports team were in action for three nights over the last week, and Gravel picked up a hard fought third place finish at the Nodak Speedway on Sunday night.
"Overall it was a pretty good week," Gravel said. "We had really good speed but one night double file restarts would kill us, and one night they would really work out for us."
On Sunday night in Minot, ND, Gravel's night got off to a quick start as he timed in sixth fastest, before winning his heat race from the second row.
Lining up sixth in the Dash, Gravel would finish in the fifth spot, putting himself in the third row for the 35-lap feature event.
With a quick weather system showering the speedway prior to the feature event lining up, track conditions seemed to change more rapidly during this feature event.
When the race went green, Gravel lost a spot to Daryn Pittman as he rode in the sixth spot, on a track that was very fast following the weather. With scattered cautions slowing the early goings of the race, Gravel used a double file restart to surge up into the fourth spot, and then used a late double file restart to get past Paul McMahan late in the race to get into the third spot where he would finish.
"We lost a spot on the start of the race, and it was tough to pass on," he added. "We had a couple of really good restarts and we ended up on the podium, so that's awesome."
Friday night the series was at the River Cites Speedway in Grand Forks, ND, and again on this night Gravel timed in well as he went 10th quickest, and was able to pick up a win in his heat race.
Finishing in the third spot in the dash, Gravel would line up in the second row for the 40-lap feature event, but things simply did not go his way on restarts as they race was stopped on a few occasions for wrecks.
"There was a ton of cautions and reds in the early gongs of the race, and I couldn't seem to hold my spot," he added. "We were just a little off, and we went backwards."
When the 40-lap feature event came to a close, Gravel crossed the stripe in the 10th spot.
The week started off on Tuesday night as the series invaded the Junction Motor Speedway in McCool Junction, NE.
Timing in 13th fastest, Gravel would finish sixth in heat race action, and line up in the seventh row for the feature event.
With a light car count on this night, track conditions stayed fast, and passing was tough during the feature event. Doing whatever he could to move forward, the Watertown, CT driver was able to pick up a few positions as he took the checkered in the 11th spot.
The Roth Motorsports team would like to thank Roth Enterprises, HR Livestock Transportation, 3H Cattle, Mobil1, FK Rod Ends, Weld Wheels, Brown and Miller Racing Solutions, Kent Performance, Kaeding Performance, and Astro Titanium for their support in 2014.
2014 ROTH MOTORSPORTS BY THE NUMBERS: Starts-67, Wins-3, Top 5's-19, Top 10's-42.
ON TAP:Gravel and his Roth Motorsports team head to the Castrol Raceway on August 22nd-23rd for the Oil City Cup.
STAY CONNECTED: Stay connected with Roth Motorsports by checking out their new website, www.rothmotorsports83.com, and by following David on Twitter @davidgravel89g.
PETERSEN MEDIA:Petersen Media is a promotional agency that can handle your public relations, marketing, and any other promotional needs. Petersen Media utilizes multiple tactics to help you reach your intended audience, to boost awareness.
For more information contact sales@petersenmediainc.com, by phone at 916-342-3424, visit www.petersenmediainc.com, www.facebook.com/PetersenMedia, or follow www.twitter.com/petersen_Media.