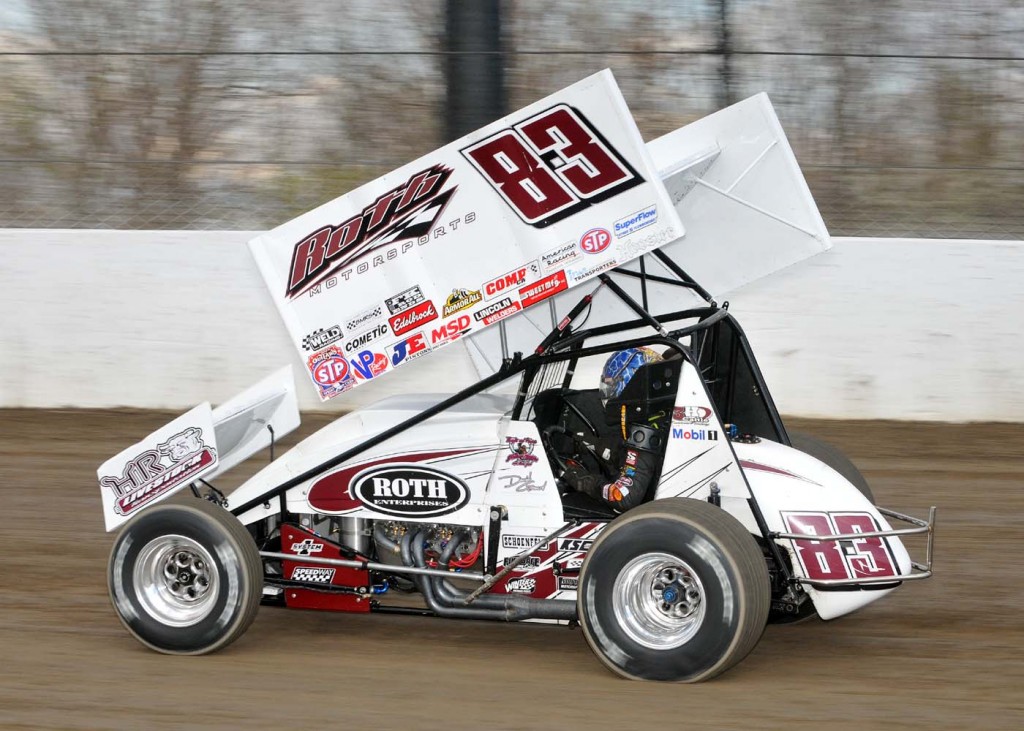 PETERSEN MEDIA- David Gravel closed out his three-race week with a third place finish at the Dodge City Raceway Park in Dodge City, KS, and he is hoping to take that momentum into a very big race week in Ohio this week.
"We timed in pretty well all week, but we just missed it when we got racing at Huset's and at Dodge City (KS), on the first night," Gravel said. "We are all working to get it going the right direction, and we are surely gaining on it."
Saturday night at the Dodge City Raceway Park, Gravel timed the Roth Enterprises/HR Livestock Transportation/3H Cattle machine in sixth fastest.
A fourth place finish in heat race action put the Watertown, CT driver on the pole of the dash, which he won, and started the feature event from the pole position.
Getting off to a nice start, Gravel led the first two laps, until the caution flag flew. The ensuing restart saw Gravel fall to the third spot, but he kept the lead duo of Kerry Madsen and Daryn Pittman in his sights, as the track began taking rubber.
Gravel ran well in the third spot, and finished on the podium, launching his team into a huge week in Ohio this week.
"We started on the pole, and you are never happy to finish third, but at the same time, you can't be upset with a third place finish at any of these races," he added. "Pittman and Madsen were a little more aggressive on the early restart, and we ended up third. Hopefully we can build on this and do well at the Doty and the King's Royal."
Friday night at Dodge City saw Gravel time the Mobil1/FK Rod Ends/Weld Wheels entry in second fastest before finishing 15th in the feature event.
At the Huset's Speedway in Brandon, SD, Gravel was also second fastest in time-trials before finishing in the 18th position.
The Roth Motorsports team would like to thank Roth Enterprises, HR Livestock Transportation, 3H Cattle,  Mobil1, FK Rod Ends, Weld Wheels, Brown and Miller Racing Solutions, Kent Performance, Kaeding Performance, and Astro Titanium for their support in 2014.
2014 ROTH MOTORSPORTS BY THE NUMBERS: Starts-46, Wins-2, Top 5's-11, Top 10's-28.
ON TAP:Gravel and the Roth Motorsports team come back to life on Wednesday in Lima, OH for the Brad Doty Classic, before the Knight before the Royal on Friday night and the King's Royal on Saturday night in Rossburg, OH at the Eldora Speedway.
STAY CONNECTED: Stay connected with Roth Motorsports by checking out their new website, www.rothmotorsports83.com, and by following David on Twitter @davidgravel89g.
PETERSEN MEDIA:Petersen Media is a promotional agency that can handle your public relations, marketing, and any other promotional needs. Petersen Media utilizes multiple tactics to help you reach your intended audience, to boost awareness.
For more information contact sales@petersenmediainc.com, by phone at 916-342-3424, visit www.petersenmediainc.com,  www.facebook.com/PetersenMedia, or follow www.twitter.com/petersen_Media.