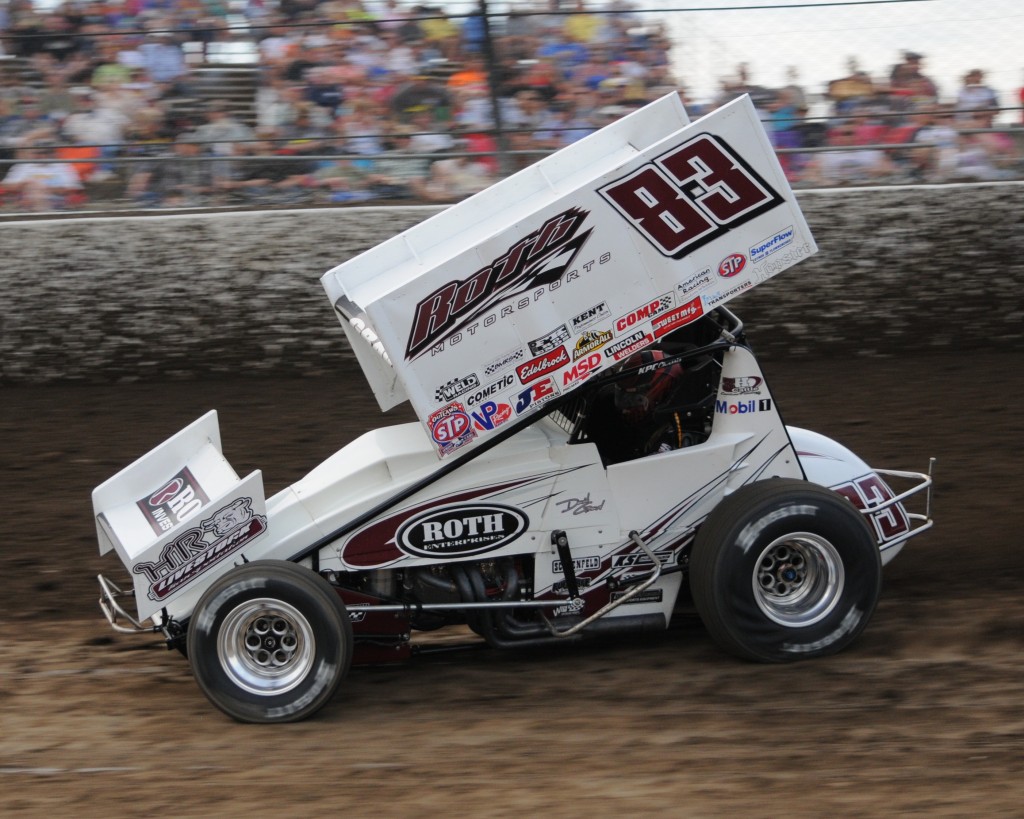 PETERSEN MEDIA- Saturday night at the Eldora Speedway, David Gravel went toe-to-toe with Donny Schatz and Kerry Madsen, and finished third in the prestigious Kings Royal.
"It is pretty cool to get on the podium for the Kings Royal," Gravel said. "We started on the pole and raced hard with Donny Schatz and Kerry Madsen, and we are pleased to start the Month of Money of the podium."
Timing his Roth Enterprises/HR Livestock Transportation/3H Cattle No. 83 entry in sixth fastest, Gravel stormed to the win in his heat race, putting himself on the pole for the 40-lap feature event.
When the green flag dropped, Gravel mashed the gas pedal and jumped out to an early lead, as Donny Schatz flanked him.
Leading the first nine laps, Gravel slipped to the second spot, as Schatz was able to slide in front of him exiting turn four.
With the caution flag waiving on the 11th lap, Gravel took advantage and jumped back into the lead, but slipped back to second on the 13th lap, after a brief battle with Kerry Madsen.
With Schatz also getting by Gravel, the Watertown, CT driver did not let him out of his sights as he hung right with Schatz, looking for an opening to get back into the second spot.
A yellow bunched the field back up on the 38th lap, and taking a shot at Schatz, Gravel would not be able to make anything stick, and took the checkered in the third spot.
"It is a great way for us to rebound after a pretty frustrating week," he said. "Eldora always seems to treat me well, so we will take this and head to PA and look to get a couple of spots better."
Friday night during the Knight before the Royal, Gravel was seventh fastest in time-trials, and won his heat race from his third starting spot.
Finishing seventh in the Dash, Gravel lined the Mobil 1/FK Rod Ends/Weld Wheels machine up in the fourth row for the feature event.
Showing great speed in the feature event, Gravel battled inside the top five as he battled with Kerry Madsen and Jac Haudenschild.
Following a lap 16 restart, contact ensued between Madsen and Gravel, and the end result was Gravel spinning into the front stretch wall, with his night coming to an early end with him being scored in the 20th spot.
"We had a great car on Friday night, but we unfortunately had some contact with another driver we were battling with that ended our night pre-maturely," he said.
Wednesday night at the Limaland Motorsports Park, Gravel got his night off to a great start again as he continues to time in well, and set a new track record during the Brad Doty Classic.
Finishing sixth in the Dash, Gravel would line up in the same spot for the feature event, but on this night he had troubles moving forward.
Gravel would try to get his machine going in the right direction, but on this night it was just not meant to be as he struggled to a 15th place finish.
"We just missed it in the feature," he said. "We timed really well, and got through our heat, and gained a row in the dash, but unfortunately it was just one of those nights. The boys are working really hard, and Dennis and Theresa Roth are making sure we have great equipment, and again, I can't thank all involved for letting us have some fun."
The Roth Motorsports team would like to thank Roth Enterprises, HR Livestock Transportation, 3H Cattle,  Mobil1, FK Rod Ends, Weld Wheels, Brown and Miller Racing Solutions, Kent Performance, Kaeding Performance, and Astro Titanium for their support in 2014.
2014 ROTH MOTORSPORTS BY THE NUMBERS: Starts-49, Wins-2, Top 5's-12, Top 10's-29.
ON TAP:Gravel and the Roth Motorsports team return to action on Tuesday night at Lernerville for the Don Martin Memorial Silver Cup, Thursday night at the Lincoln Speedway, the Summer Nationals at the Williams Grove Speedway on Friday and Saturday, before closing their weekend o n Sunday night at the Lebanon Valley Speedway.
STAY CONNECTED: Stay connected with Roth Motorsports by checking out their new website, www.rothmotorsports83.com, and by following David on Twitter @davidgravel89g.
PETERSEN MEDIA:Petersen Media is a promotional agency that can handle your public relations, marketing, and any other promotional needs. Petersen Media utilizes multiple tactics to help you reach your intended audience, to boost awareness.
For more information contact sales@petersenmediainc.com, by phone at 916-342-3424, visit www.petersenmediainc.com,  www.facebook.com/PetersenMedia, or follow www.twitter.com/petersen_Media.
PHOTO- BILL MILLER