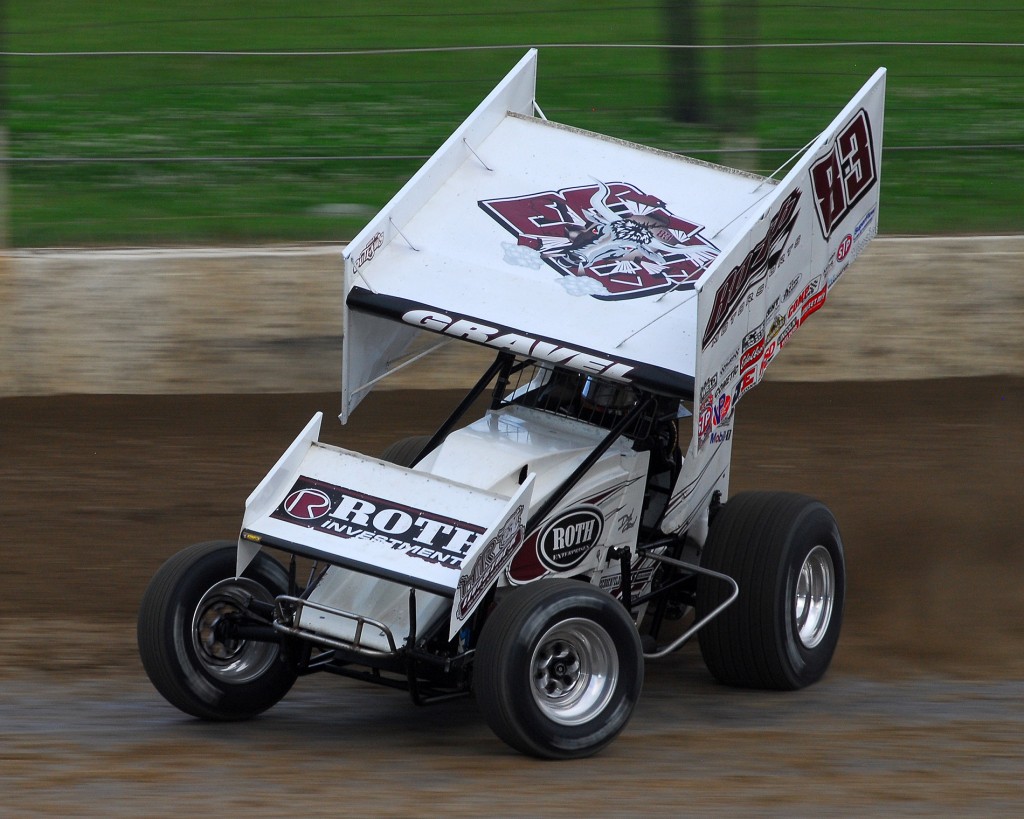 PETERSEN MEDIA- Going to work at the River Cities Speedway in Grand Forks, ND and at the I-94 Speedway in Fergus Falls, MN, David Gravel rebounded from a 13th place finish on Friday night to close his weekend out with a nice charge to the 10th spot.
"It was an okay weekend looking back at it," Gravel said. "Friday night we timed in well, and got into the dash, and in the feature I searched around for some different lines, rather than just falling in line, and on Saturday we didn't time in well, but we were able to work at it all night, and end our weekend with a good finish."
Timing in 10th fastest at the River Cities Speedway, Gravel was able to pick up the heat race win aboard his Roth Enterprises/HR Livestock Transportation/3H Cattle entry and transfer into the dash.
Slipping back to an eighth place finish in the Dash, the Watertown, CT driver lined up in the fourth row for the 40-lap feature event.
With most of the drivers using the high-side of the speedway, Gravel searched around trying to find something to his liking to see if he could carve his way to the front of the field.
"I could have stayed on the top and finished where I started, but I tried to find something else rather than follow everyone, and we ended up losing some positions," Gravel said.
At the stripe, Gravel would cross in the 13th spot.
Saturday night at the I-94 Speedway, Gravel's night started off with him timing his machine in 14th fastest in time trials.
Starting and finishing fifth in his heat race, Gravel put himself in the seventh row for the 30-lap feature event.
In the feature event that would eventually go nonstop, Gravel was able to make some moves and work his machine towards the Top-10.
On the extremely slick track, Gravel chose the high side, as he ripped around the 3/8 mile battling against Tim Kaeding and Steve Kinser.
When the fast moving race came to a close, Gravel closed his weekend out with a 10th place finish.
"We had a good enough car to make the inversion in time trials, and I messed up, and it put uss a littler further back than we would have liked to be all night," he said. "We were really good in the feature, and I am really happy with a Top-10!"
The Roth Motorsports team would like to thank Roth Enterprises, HR Livestock Transportation, 3H Cattle, Mobil1, FK Rod Ends, Weld Wheels, Brown and Miller Racing Solutions, Kent Performance, Kaeding Performance, and Astro Titanium for their support in 2014.
2014 ROTH MOTORSPORTS BY THE NUMBERS: Starts-40, Wins-2, Top 5's-9, Top 10's-24.
ON TAP:Gravel and the Roth Motorsports team will hit the 34 Raceway in Burling IA on Friday, Beaver Dam Raceway in Beaver Dam, WI on Saturday and the Cedar Lake Speedway in New Richmond, WI on Sunday night.
STAY CONNECTED: Stay connected with Roth Motorsports by checking out their new website, www.rothmotorsports83.com, and by following David on Twitter @davidgravel89g.
PETERSEN MEDIA:Petersen Media is a promotional agency that can handle your public relations, marketing, and any other promotional needs. Petersen Media utilizes multiple tactics to help you reach your intended audience, to boost awareness.
For more information contact sales@petersenmediainc.com, by phone at 916-342-3424, visit www.petersenmediainc.com, www.facebook.com/PetersenMedia, or follow www.twitter.com/petersen_Media.