Gravel Hard Charges At Lakeside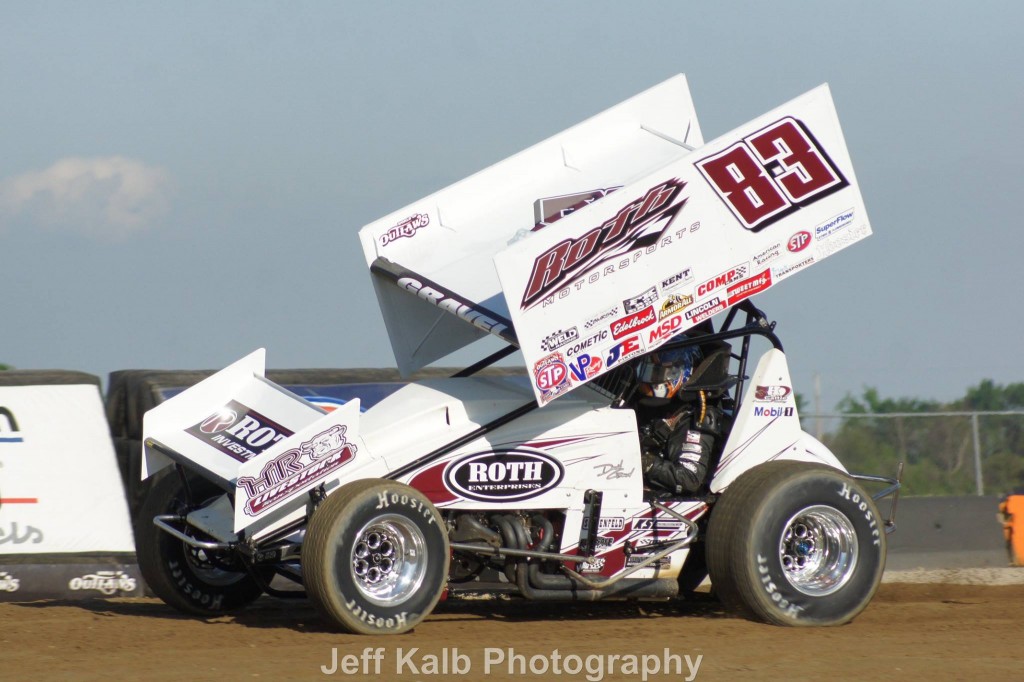 PETERSEN MEDIA- Heading to Nebraska and Kansas with the World of Outlaws over the last weekend, David Gravel picked up finished of 10th and 12th place.
'We just missed it in qualifying on both nights, and with the World of Outlaws, that is huge," Gravel said. "The guys worked hard, and we raced well, but we started too far back."
Friday night at the I-80 Speedway in Greenwood, NE, Gravel timed his Roth Enterprises/HR Livestock Transportation/3H Cattle entry in 17th fastest, putting him behind the heat race inversion.
A fifth place finish in his heat was good enough to lock him into the feature event, though he rolled off the grid in the 15th position.
On a track that did not allow for a ton of jockeying for position, the Watertown, CT driver was able to pick up a few spots, as he found himself 12th at the finish line.
Heading to the Lakeside Speedway on Saturday night, Gravel looked to improve his time trial performance of a night prior, but a 16th fast effort again put him behind the heat-race inversion.
Locking into the feature event by way of his fourth place finish in heat race action, Gravel lined up in the eighth row for the 30-lap feature event.
On the very racy speedway, Gravel showed great speed in the main as he began working his way forward from the drop of the green flag.
Using every inch of real estate on the speedway, Gravel was able to get into the Top-10 late in the race, as he finished 10th and earned KSE Hard Charger honors.
"We were all pleased with how we raced all weekend, and hopefully this week we can get back to timing in like we have been," he said. "I have to thank everyone involved in this organization for the support and hard work the continue to put forth."
The Roth Motorsports team would like to thank Roth Enterprises, HR Livestock Transportation, 3H Cattle,  Mobil1, FK Rod Ends, Weld Wheels, Brown and Miller Racing Solutions, Kent Performance, Kaeding Performance, and Astro Titanium for their support in 2014.
2014 ROTH MOTORSPORTS BY THE NUMBERS: Starts-36, Wins-2, Top 5's-9, Top 10's-22.
ON TAP: Gravel and the Roth Motorsports team be return to action on Friday night in Jackson, MN before heading to the Knoxville Raceway on Saturday night.
STAY CONNECTED: Stay connected with Roth Motorsports by checking out their new website, www.rothmotorsports83.com, and by following David on Twitter @davidgravel89g.
PETERSEN MEDIA: Petersen Media is a promotional agency that can handle your public relations, marketing, and any other promotional needs. Petersen Media utilizes multiple tactics to help you reach your intended audience, to boost awareness.
For more information contact sales@petersenmediainc.com, by phone at 916-342-3424, visit www.petersenmediainc.com,  www.facebook.com/PetersenMedia, or follow www.twitter.com/petersen_Media.