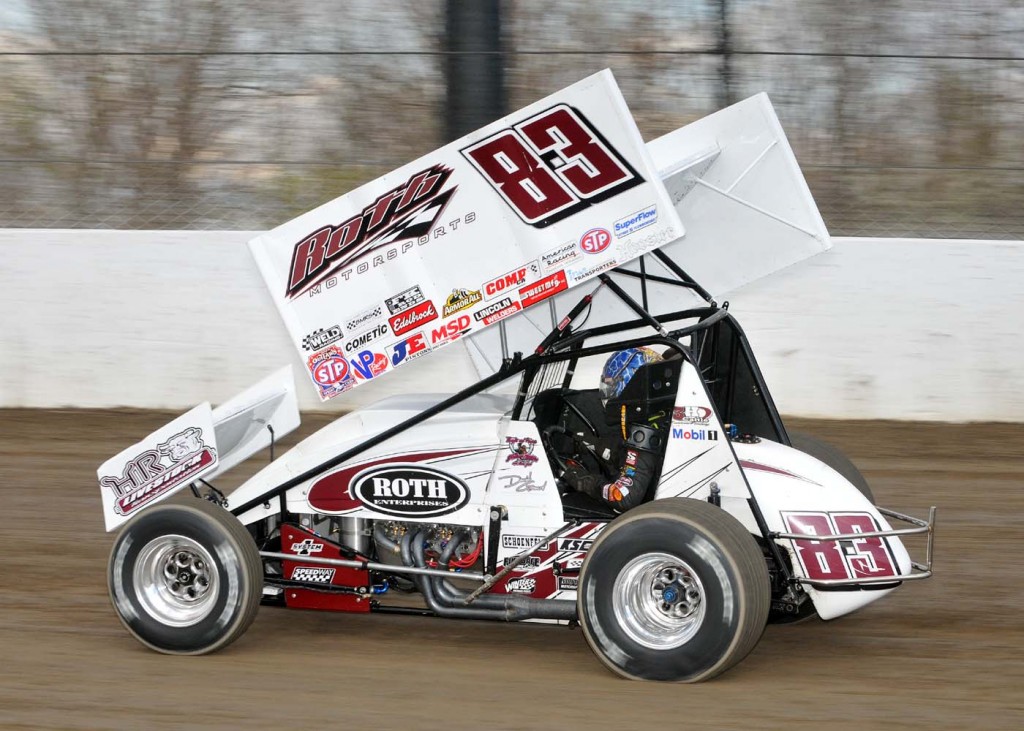 PETERSEN MEDIA- Picking up his third World of Outlaw win of the season, and second with Roth Motorsports in as many weekend, it is safe to say that David Gravel and his new team are gelling just fine. 
"It is awesome how good we have been together," Gravel said. "We've picked up two wins and have been in the hunt every night, it is almost surreal."
Friday night in Wilmot, WI Gravel timed the Roth Enterprises/HR Livestock Transportation/3H Cattle entry in 11th fastest, and won his heat from the front row.
Picking up the Dash win, Gravel found himself on the pole of the 30-lap feature event.
With Joey Saldana to his outside, Gravel fell to the second spot, and chased Saldana for seven laps, until the caution waived.
Saldana opted for the outside on the double file restart, and Gravel was on the inside, and he made it work, as he muscled into the lead, with Saldana and Paul McMahan hot on his tail.
Flawless up front, Gravel was able to fend off the duo who gave it everything they had, and he was able to pocket his second win with Roth Motorsports.
"I have to thank Dennis and Teresa Roth, and everyone involved in giving me this opportunity," he said. "This is like a dream come true."
Saturday night, Gravel and his team were in action at the Tri-State Speedway in Haubstadt, IN where he has had past success.
Timing in 10th fast, Gravel again won his heat, and earned a Dash berth, but on this night the Watertown, CT driver lined up seventh, and finished in the sixth spot, putting him in the third row for the feature.
Getting off to a nice start, Gravel ran in the fifth spot, until a lap five wreck bumped him up to third.
Chasing after Steve Kinser and Paul McMahan, Gravel ran strong in the third spot, until a late caution bunched the field back up, and Kerry Madsen was able to grab the third spot, forcing Gravel to settle with the fourth place finish.
Wednesday night in Jacksonville, IL, mechanical woes plagued the Roth Motorsports team early, and Gravel limped around the speedway during time trials, putting him 39th fastest out of 39cars.
Getting things ironed out, Gravel was able to surge his way from eight to fourth in his heat, putting him safely in the feature event, though he would start scratch on the field.
On the tight, slick confines in Jacksonville, IL, Gravel had his elbows up, and he made some huge moves to gain ground very quickly.
Before the track took rubber, Gravel made his way up to the ninth spot, where he would finish, and earned the KSE Hard Charger award by way of his 15 spots gained.
"Overall we are all pleased with how our week went," he added. "We had a rough start on Wednesday night, but to pick up three Top-10's, a win, and two Top-5's, we will take it and head to the East Coast."
The Roth Motorsports team would like to thank Roth Enterprises, HR Livestock Transportation, 3H Cattle,  Mobil1, FK Rod Ends, Weld Wheels, Brown and Miller Racing Solutions, Kent Performance, Kaeding Performance, and Astro Titanium for their support in 2014.
2014 ROTH MOTORSPORTS BY THE NUMBERS: Starts-25, Wins-2, Top 5's-6, Top 10's-15.
ON TAP: Gravel and the Roth Motorsports team will be in action on Wednesday night at the Lincoln Speedway in Abbottstown, PA before a Friday-Saturday double header at the Williams Grove Speedway, and they close the week out on Sunday at the Orange County Fair Speedway in Middletown, NY.
STAY CONNECTED: Stay connected with Roth Motorsports by checking out their new website, www.rothmotorsports83.com, and by following David on Twitter @davidgravel89g.
PETERSEN MEDIA: Petersen Media is a promotional agency that can handle your public relations, marketing, and any other promotional needs. Petersen Media utilizes multiple tactics to help you reach your intended audience, to boost awareness.
For more information contact sales@petersenmediainc.com, by phone at 916-342-3424, visit www.petersenmediainc.com,  www.facebook.com/PetersenMedia, or follow www.twitter.com/petersen_Media.