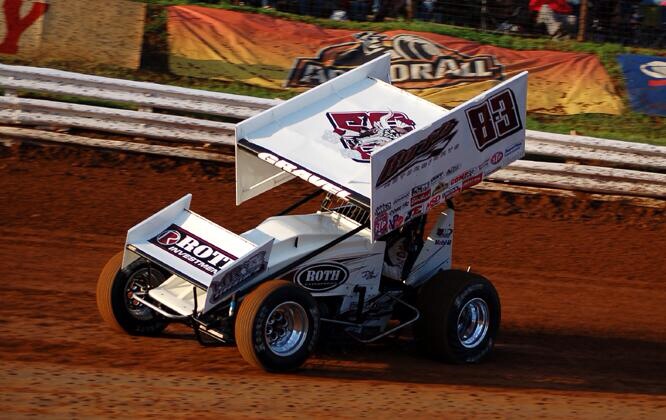 PETERSEN MEDIA- Continuing to have a great start aboard the Roth Motorsports No. 83 machine, David Gravel put a rough night behind him at the Lincoln Speedway, as he finished fifth at Williams Grove on Friday night before picking up two consecutive KSE Hard Charger Awards.
"We had a pretty good car all weekend long, but we had a some tough track conditions that really made things tough on everyone," Gravel said.
On a wet, sloppy night in Abbotstown, PA on Wednesday, David Gravel and his Roth Motorsports team ultimately took a provisional into the feature event, and on the opening lap, a wreck broke out in front of him, and he was collected in a big way ending his night.
"We missed it a little in time trials at Lincoln, but we got better through the night, and ended up having to use a provisional for the A, but we got collected in a lap one wreck, that caused some severe damage," he added.
Heading to Mechanicsburg, PA for a double header at Williams Grove, Gravel kicked his weekend off by timing the Roth Enterprises/HR Livestock Transportation/3H Cattle machine in 14th fastest.
Starting on the front row of his heat race, Gravel was in a very exciting battle with Pennsylvania's, Brian Montieth, and Gravel would earn the win, and move into the Dash.
Starting sixth in the Dash, Gravel would move into the fifth spot at the line, getting on the inside of the third row for the feature, and on the preferred low-line.
In a feature that took rubber very early, Gravel was able to move into the fourth spot, where he would go on to finish.
"We had an exciting night on Friday," he said. "We had a battle with Montieth, and I had to be aggressive to hold the lead, because it was either a spot in the Dash, or a spot in the seventh or eighth row for the feature. In the feature everyone got on the binders getting into turn one, and we didn't get slowed down fast enough and bumped Paul McMahan, and I feel terrible about it, it was not intentional."
Saturday night, Gravel timed in 28th fastest, and had his work cut out for him. Moving from seventh to sixth in his heat, Gravel made a last lap pass exiting turn four to put him in the fifth and final transfer spot and into the feature event.
In a race that went non-stop, Gravel was able to slowly work his way forward on another pretty slick surface, and as he finished in the 17th spot, he earned KSE Hard Charger of the event for his seven spots gained.
Sunday night, Gravel and his team closed out a very busy week at the Orange County Speedway in Middletown, NY.
A very slick surface greeted the teams early, and gravel timed in 16th fastest, putting him behind the heat race inversion with a low car count.
Finishing fifth in his heat, Gravel made his way into the feature event, where he gridded the field in the eighth row.
On a track that was very abrasive on tires, and did not allow for much passing, Gravel did what he could in what was a home race for the Watertown, CT driver, as he worked his way to the 10th spot at the line, and earned Hard Charger honors for the second night in a row.
"It was an okay weekend for us," he said. "We would like to be up front contending for more wins, but sometimes it doesn't work out that way and you have to collect Top-10's and learn some things, and that is what we did. I have to thank Dennis and Teresa Roth and all of my guys for working hard all week."
The Roth Motorsports team would like to thank Roth Enterprises, HR Livestock Transportation, 3H Cattle,  Mobil1, FK Rod Ends, Weld Wheels, Brown and Miller Racing Solutions, Kent Performance, Kaeding Performance, and Astro Titanium for their support in 2014.
2014 ROTH MOTORSPORTS BY THE NUMBERS: Starts-29, Wins-2, Top 5's-7, Top 10's-17.
ON TAP: Gravel and the Roth Motorsports team will remain on the East coast for a Tuesday night race at the New Egypt Speedway, before heading to Charlotte and Friday, closing out Memorial day on Monday night in Lawrenceburg, IN.
STAY CONNECTED: Stay connected with Roth Motorsports by checking out their new website, www.rothmotorsports83.com, and by following David on Twitter @davidgravel89g.
PETERSEN MEDIA: Petersen Media is a promotional agency that can handle your public relations, marketing, and any other promotional needs. Petersen Media utilizes multiple tactics to help you reach your intended audience, to boost awareness.
For more information contact sales@petersenmediainc.com, by phone at 916-342-3424, visit www.petersenmediainc.com,  www.facebook.com/PetersenMedia, or follow www.twitter.com/petersen_Media.