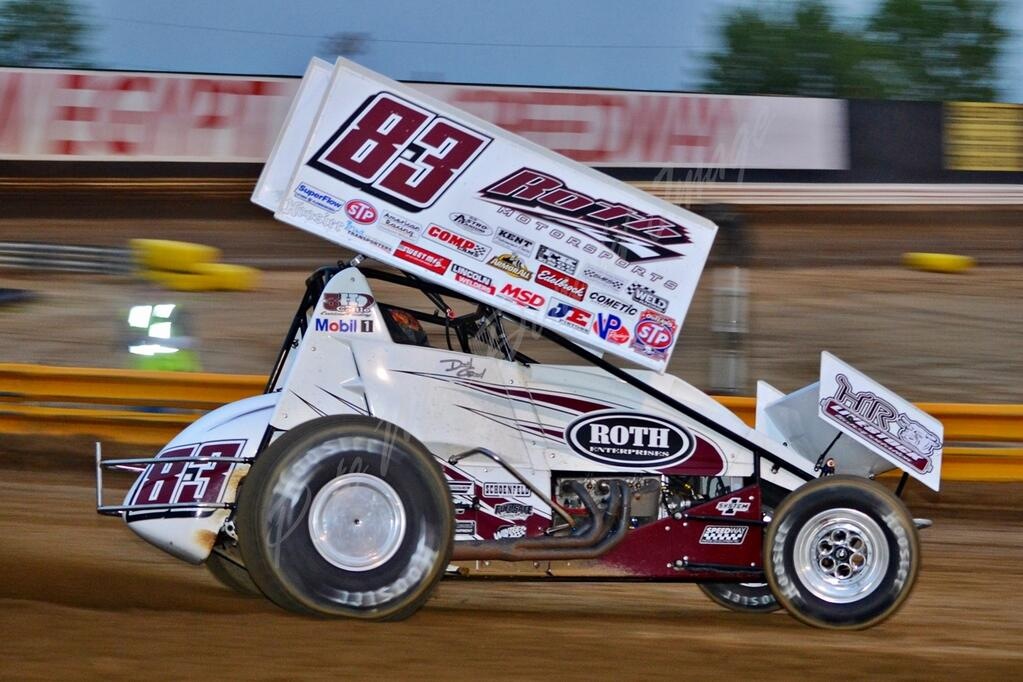 PETERSEN MEDIA- David Gravel and the Roth Motorsports team continue to have success on the World of Outlaw tour and over the last week, Gravel scored a second place finish at the New Egypt Speedway, a sixth place finish at the Dirt Track at Charlotte, and persevered after being involved in two incidents at Lawrenceburg.
"I cannot say enough about everyone on this team," Gravel said. "Everyone has been working hard, and our results show it, and it has been a blast."
Tuesday night the World of Outlaws were in action at the New Egypt Speedway for the Napa Outlaws Classic and Gavel timed the Roth Enterprises/HR Livestock Transportation/3H Cattle entry in 11th quickest before winning his heat race from the pole.
Finishing seventh in the Dash, Gravel line up in the fourth row of the feature, but did not stay there for long.
When the race went green, the Watertown, CT driver went to the high side of the race track, and gained a few positions, as he got into the fourth spot chasing after Kerry Madsen, Daryn Pittman and Joey Saldana.
Sliding up in front of Saldana late in the race, Gravel the third spot, as he watched the leaders battle in front of him.  Amidst in lapped traffic, Gravel was able to snag the second spot, where he would finish, in the closing laps from Madsen.
"Any time you are able to land on the podium it is an awesome night," he said. "Our car came alive towards the end and we got through traffic really well," he explained.
Taking a few days off, Gravel and his team returned to action on Friday night at the Dirt Track at Charlotte, and Gravel timed his Mobil1/FK Rod Ends/Weld Wheels machine in eight fastest.
A second place finish in his heat was good enough to get him in the Dash ,as several drivers qualifying better than Gravel picked up wins, putting him in on time.
Scoring sixth in the Dash, Gravel lined up in the third row, and in the early stages of the feature event, Gravel was very strong, as he looked to land on the podium for the second consecutive race.
Running in the fourth spot, a late yellow and red flag seemed to doom Gravel, as he car was not the same when action resumed, and he lost a couple of positions, and wound up finishing sixth.
"We were really good most of the race, and unfortunately we didn't have a good restart late in the race, and we slipped back to sixth, and couldn't get going in the right direction," he added.
Monday night's event at the Lawrenceburg Speedway went a little different for the Roth Motorsports team.
After timing in 10th fastest, Gravel ran second in his heat and lined up for the feature in the 13th spot.
Early in the feature, a competitor got into Gravel resulting him to spin his machine out and restart in the back of the field. On the slick surface, Gravel was able to fight his way back towards where he was running, when a wreck broke out in front of him, and with nowhere to go, he was collected, and forced to the work area.
With his team, and several other teams on his machine, Gravel was able to restart aboard a very battered machine, and he was able to score a 15th place finish.
"It is never fun to wreck, but my hat is off to my entire team, as well as to all of the other teams that were over helping get us back on the track. It was a tough night, but we all worked hard, and nights like these help us grow."
The Roth Motorsports team would like to thank Roth Enterprises, HR Livestock Transportation, 3H Cattle,  Mobil1, FK Rod Ends, Weld Wheels, Brown and Miller Racing Solutions, Kent Performance, Kaeding Performance, and Astro Titanium for their support in 2014.
2014 ROTH MOTORSPORTS BY THE NUMBERS: Starts-32, Wins-2, Top 5's-8, Top 10's-19.
ON TAP: Gravel and the Roth Motorsports team now head to Ohio for Friday night's race at the Attica Raceway Park before visiting the I 96 Speedway in Michigan on Saturday night.
STAY CONNECTED: Stay connected with Roth Motorsports by checking out their new website, www.rothmotorsports83.com, and by following David on Twitter @davidgravel89g.
PETERSEN MEDIA: Petersen Media is a promotional agency that can handle your public relations, marketing, and any other promotional needs. Petersen Media utilizes multiple tactics to help you reach your intended audience, to boost awareness.
For more information contact sales@petersenmediainc.com, by phone at 916-342-3424, visit www.petersenmediainc.com,  www.facebook.com/PetersenMedia, or follow www.twitter.com/petersen_Media.