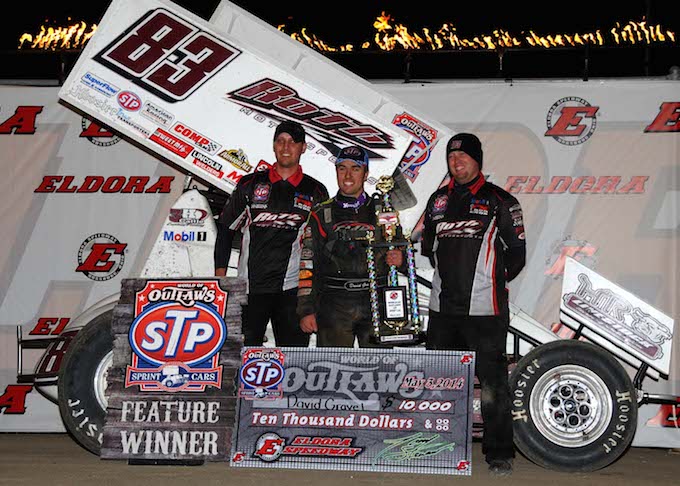 PETERSEN MEDIA- David Gravel wasted no time gelling with his new Roth Motorsports team, as the Watertown, CT driver promptly picked up his second World of Outlaw win of the season, and first with his new team, in thrilling fashion on Saturday night at the Eldora Speedway.
"I am just absolutely thrilled to get a win with this group of guys our first weekend together," Gravel said.
Showing tremendous speed both Friday and Saturday night, Gravel kicked Saturday night off by timing his Roth Enterprises/HR Livestock Transportation/3H Cattle No. 83 entry in sixth fastest.
Finishing fourth in his heat race, Gravel found himself in the Dash on his time, and with the inversion putting him on the pole, Gravel took advantage and picked up the win, putting his entry on the pole for the 30-lap finale.
When the feature went green, Gravel got the initial jump getting into turns one and two, but Daryn Pittman and Joey Saldana surged around him on the cushion, and Gravel fell back to the third spot.
Running in the third spot, Gravel found grip in the middle of the race track, and was able to execute a textbook slide-job on Saldana in the middle of turns three and four to take the second spot, where he began chasing after Pittman.
With his right-rear planted on the thick cushion, Gravel erased Pittman's lead as they got into traffic at the midway point of the feature event, and began exchanging slide-job's with the reigning series champion.
Grabbing the lead by way on lap 19, Pittman did not go away as he kept throwing a slide-job at Gravel, but Gravel kept the momentum, and continued to hold the top spot.
With both Randy Hannagan and Pitman challenging Gravel, Gravel showed he was too good on this night as he held both off, and picked up the very impressive win.
"I just have to thank Dennis and Teresa Roth, Todd Ventura, and my guys out here, Sonny (Kreitzer), Brandon (Hickman), and Gilligan (Scotty Martin) for this opportunity," he said. "This is a great team and I'm excited to keep going."
Friday night, the teams first night together, Gravel and his Roth Motorsports team were just as good, until a parts failure knocked them out of contention.
Timing in sixth fastest, Gravel would work his way up to second in his heat, but on this night would not qualify for the Dash, and lined up for the 30-lap feature in the fifth row.
On the big, slick, ½ mile facility, Gravel instantly showed he was comfortable in his new 'office', as he worked his way up into the fifth spot by the halfway point.
The 17th lap proved to be unlucky for Gravel as he came to a stop with a parts failure and his night was over.
"All in all I think it was a great starting point for us," Gravel explained. "It was a nice shot in the arm for all of us, and hopefully we can continue to get even better."
The Roth Motorsports team would like to thank Roth Enterprises, HR Livestock Transportation, 3H Cattle,  Mobil1, FK Rod Ends, Weld Wheels, Brown and Miller Racing Solutions, Kent Performance, Kaeding Performance, and Astro Titanium for their support in 2014.
2014 ROTH MOTORSPORTS BY THE NUMBERS: Starts-22, Wins-1, Top 5's-4, Top 10's-12.
ON TAP: Gravel and the Roth Motorsports team will be in action on Wednesday night in Jacksonville, IL, Friday night in Wilmot, WI and Saturday night in Haubstadt, IN.
STAY CONNECTED: Stay connected with Roth Motorsports by checking out their new website, www.rothmotorsports83.com, and by following David on Twitter @davidgravel89g.
PETERSEN MEDIA: Petersen Media is a promotional agency that can handle your public relations, marketing, and any other promotional needs. Petersen Media utilizes multiple tactics to help you reach your intended audience, to boost awareness.
For more information contact sales@petersenmediainc.com, by phone at 916-342-3424, visit www.petersenmediainc.com,  www.facebook.com/PetersenMedia, or follow www.twitter.com/petersen_Media.